The manufacturing industry values variable frequency drives (VFDs) to maximize efficiency and productivity, but that appreciation may slip away when a breakdown occurs. A seamlessly functioning VFD delivers tremendous benefits, but it can falter when not adequately maintained. And when a production line or machinery grinds to a halt as a result, it's essential to troubleshoot the issues and quickly resume operations.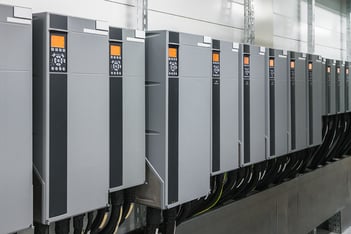 5 essentials of VFD maintenance


To maximize VFD life expectancy, it's crucial to support reliability through a proactive maintenance plan. Such programs are tasked with underscoring the two foundational principles of reliability.
Enhancing failure-free conditions for the VFD
Increasing the probability the VFD will enjoy uninterrupted function under proper conditions.
For these principles to become a daily reality, it's essential to understand the common failures and how they occur. These issues include as reflected harmonics, energy spikes, bearing problems and inadequate temperature controls.
In order to avoid having a VFD falter, it will be necessary to conduct the five following maintenance essentials.
Keep the VFD clean: Commercial and industrial environments commonly include airborne dust and debris and can negatively impact a VFD. According to FactoryMation, regardless of the VFD chassis type, "It is critical that the heat sink and fans are kept clean." It's recommended to periodically wipe, clean and air spray all accumulations from the VFD.
Maintain VFD temperatures: It's not unusual for VFDs to be housed in enclosures that may experience heat spikes. Include temperature control systems and appropriate air circulation.
Prevent moisture penetrations: Water and electricity do not mix well in industrial settings. Moisture will inevitably cause corrosion, erratic behaviors, and equipment failures. Keep the equipment dry.
Maintain tight connections: Vibrations tend to loosen electrical connections over time. This may result in uneven VFD functions. Check the connections as part of an ongoing maintenance plan.
Conduct visual inspections: The first step to proactive maintenance is to visually inspect VFDs weekly. Have maintenance personnel look for the above-mentioned issues and others that could impact VFD operations. Key elements to visually inspect include the connections, fiber optic cables, emergency circuits, and area cooling systems, among others.