Radwell in Latin America
People may not realize that Radwell International has a dedicated Latin American division to support our customers. This division consists of a specialized Bilingual Customer Focused Team which handles and secures the quality and timely delivery of products. In addition, we have an inside/outside sales department, tasked with building relationships and meeting with customers to satisfy their product needs. Finally, we have a Bilingual Marketing Assistant, who coordinates tradeshows and supports sales efforts.
Today, Radwell sells industrial electronic products to 18 Latin American countries and we are hoping to add one more country to the list, as we witness the United States rebuild diplomatic relations with Cuba. Each year, we try to participate in at least two major tradeshows in Latin America. Some of the main benefits of attending these tradeshows are the opportunities to meet with existing and new customers in one place. In addition, tradeshows allow Radwell to make different strategies and competitive agreements.
As a Bilingual Marketing Assistant, I research potential areas in Latin America and compare the area to the company's annual sales for each country. I usually base my research around each country's main industry, their laws, and any significant increasing sales trend. This is done to help determine which trade shows to participate in.
So far this year, Radwell participated in two tradeshows in Mexico: Vallen Expo and Expo Electrica 2015. Mexico has been our largest customer in Latin America during the last 5 years. I was fortunate enough to participate in Vallen Expo for Radwell, and it was an great experience.
When the trade-show began, I immediately noticed that we had an advantage over other companies that were exhibiting. Many of them only offered safety equipment while we had a variety of automation products and three core services (Repair, Sell, and Buy) that our competition didn't offer. People were mesmerized once they heard what services Radwell offered. I was surprised to learn how many people who worked for Vallen had never heard of Radwell. The show was a great opportunity to inform them about our services so that they could use us as a resource. I was able to answer many questions and the two main questions I kept hearing were "Does Radwell plan on expanding to Mexico any time soon? And also, can you explain the repair process?"
This whole tradeshow experience made me realize the potential market that Mexico has with their rising Global Manufacturers. I have been doing a lot of research and the main manufacturing industries in Mexico are aerospace, medical device, cosmetic/ personal care, automotive, and electronics. All of these are industries which Radwell can benefit from.
As a result of this tradeshow, Radwell was able to increase it's sales up to 50% with partner Vallen Proovedora.
I spoke to our Director of Latin America sales, Hector Ortiz, and asked him a few questions about his tradeshow experience.
Can you describe the aspects that have allowed the company to succeed in Latin America?
Radwell International is not your normal automation distributor. Along with all the different new products lines we sell and stock, Radwell International is always offering a solution to your automation needs. What do I mean by this? While most of your "normal" distributors offer the same part or the replacement part you are in search of, Radwell International offers a surplus and repair solution. Our standard practice when we receive a quote request from a customer is to quote new from the factory, surplus, if we have it in stock ($1.8 billion of surplus inventory), and repair. This allows our customers to select the best solution for them.
What do most countries not realize about Radwell as a Company?
As a company we continue to grow. We now have multiple locations throughout the United States and around the world. Many countries do not know of our full capabilities and our dedicated staff that continues to add to our abilities. We are continuously buying "new from the factory" products to have in stock for immediate shipment. We are continuously buying surplus stock or new and obsolete parts. And last, but not least, we are continuously expanding our repair capabilities with over 2,400 test fixtures.
As you can see tradeshows have a huge impact on sales in Latin America. We look forward to continuing to expand internationally and maybe someday open a branch in Latin America.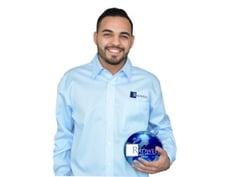 - Martin Solorzano for Radwell International