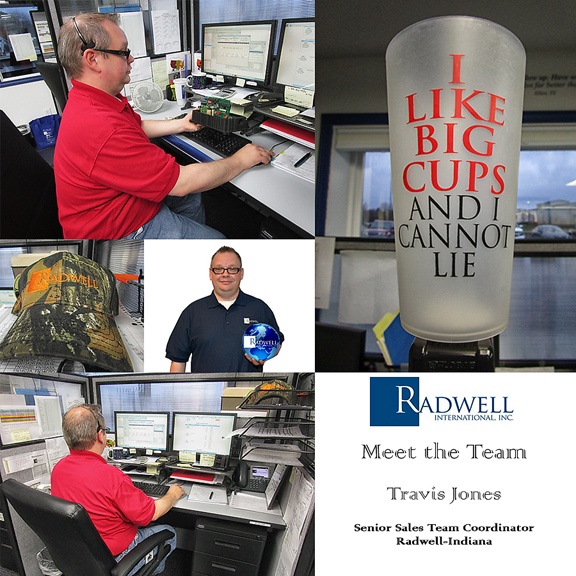 In this week's MEET THE TEAM, we're featuring Travis Jones, Senior Sales Team Coordinator from Radwell-Indiana.
Fun fact about your job that others might not be aware of: I have seen the Franklin, Indiana office grow from a small few to a nice team functioning and maturing into an established branch with a great reputation that is being established across our community.
Favorite Quote: I have two favorite quotes. "A great pleasure in life is doing what people say you cannot do"-Walter Bagehot and "All the rivers run into the sea; yet the sea is not full; unto the place from whence the rivers come, thither they return again" –Ecclesiastes 1:7
What is the craziest thing you've ever done? There are so many things! I love a good adventure filled with mystery and suspense. Fishing in the storm surge on the Mediterranean Sea as water slammed us into a retention wall…roof jumping at 2am across downtown Columbus, Ohio…driving across the desert in a mustang convertible with two friends as we raced to Hollywood, CA and somehow found ourselves in the middle of a parade on the strip, so we smiled and waved and acted like we were part of the parade…and so many other untold tales.
What is your favorite place on earth and why? Sanibel Island, FL where I surprised my wife for our honeymoon over 13 years ago. It wa her first flight, farthest trip from home and we swam with dolphins…unexpectedly. My second favorite place is East Jerusalem, Israel. I spent nearly 4 weeks there on my first big trip away from anyone I knew. It changed my heart, my mind and my life.