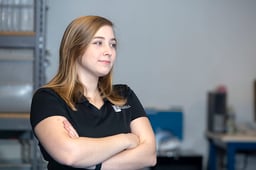 Hi my name is Gabrielle Barton.
I'm a Strategic Services Service Writer at Radwell's Norcross, Georgia branch.
As of November 20th I've been with Radwell for a full year.
My primary job duties are receiving payments and I work jointly with Sales to provide communication straight from Production to the customer.
I love helping and empowering people. I love finding solutions to problems and it just gets me going everyday. What I like most about working at Radwell is the calm and cool environment. My managers definitely have an open door policy and I feel like I can go to them with anything.
My typical work day includes following up on open orders, processing payments as they come in, and handing repairs directly to our Production Manager. I'd say the busiest time for me is in the afternoon after I've received responses from the emails I sent in the morning.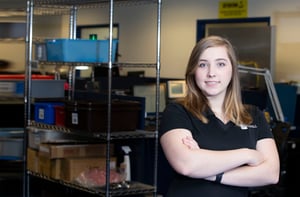 My favorite part of the day is Social 5. Everyday when the clock strikes 3pm, I'll be found in the warehouse playing a quick match of ping pong. It's quick because I'm terrible at ping pong but I strive to get better at it everyday.
When I have free time outside of work I usually like table top gaming with my family. In high school I played a lot of instruments. I used to play the flute, and then the oboe, and I tried learning piano but that didn't work out.
And that's a day in the life of a Service Writer at Radwell Georgia.
Transcribed from Video by Ryan Neuman
Edited by Julie Basello
For more information about Radwell International, visit