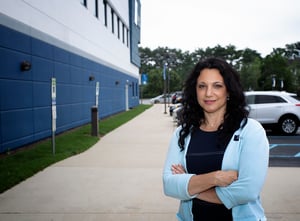 My name is Teresa Kissel. I am the Customer Satisfaction Manager at Radwell Headquarters in Willingboro New Jersey. I am an escalation point for all those little blips that happen in the day to day business of Radwell, not only for my own team members but really for the whole company.
I have been working for Radwell International for over 12 years. I was hired as one of the first web coordinators and I was part-time. My growth path was very interesting. I started out as a part-time admin assistant which was really a web sales associate. From there after about six months I went into the returns department. I became a returns associate, then an assistant to the return's manager, then the returns manager and finally customer satisfaction manager.
My favorite part of the day would have to be sharing positive feedback with the whole company. Quite often when customers place an order, they anticipate their order to go well. They place an order, they get their order, everything's fine. But many times, I deal with the problems that crop up. When customers anticipate an order to go well, they never really think of responding to let someone know that the order was great and how well it was handled. So, when I do get those positive comments, I really like to call out every single person that touched the order before it went out the door. From the person that picked the order, to the person that cleaned the order, to the person that packaged the order and put the postage on the box.
The customers that I come in contact with really drive me to be the best customer satisfaction manager that I can be. I know that I always try to put myself in their shoes and I want to treat them with the same respect and fairness, that I would anticipate when I have a return problem.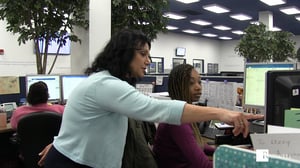 What I like most about my job is working with everyone at headquarters. Because of the type of job that I have, it may entail taking care of a problem. I need the help of many people down in production, or even on the sales floor or purchasing or accounting. I work with every person under this roof. I respect what they do and their expertise that they bring to the job. I rely on them to help me resolve the problems that I come in contact with.
I truly never know when I walk through the door what my job is going to be like first thing in the morning, mid-morning, or even at the end of the day. It's really according to what priority has taken place or what urgency is needed. There could be a problem that popped up overnight and I have to take care of that first thing in the morning. Along with the daily duties that I have, everything gets done by the end of the day.
The busiest part of my day would have to be mid-day to the end of day. Usually I take a very early lunch so I can be here for my team who takes lunches between 12 and 1. I want to be here in case there is an escalation during that time. Also, towards the end of the day we are all focused on what orders need to get out the door that day because that's always a priority.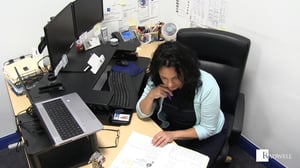 Outside of work I have three grown boys who are out in the working world. One of those boys is going to be making me a grandmother by the end of the month, so that is super exciting. I also have an adorable whoodle, which is a dog. She had stolen my heart from the moment I saw her.
I like to volunteer when I can. I take part in the ROCK crochet for a cause group. We crochet blankets for people who are undergoing chemotherapy. I also like to do the MS bike ride which I've done for that past several years. I find it very gratifying to ride that 80-miles and look at those people on the sideline and know exactly why I'm doing the ride and who I'm doing it for.
I'm Teresa Kissel and that's a day in the life of a Customer Satisfaction Manager at Radwell International.