What is APS software? APS, short for advanced planning and scheduling, allows manufacturers to keep track of materials, labor and production processes in order to optimize plant capacity. Having a solid grasp of resources can greatly improve the productivity and efficiency of a manufacturing operation.
In a recent Twitter chat for USA Manufacturing Hour, participants discussed this very topic, led by hosts, Dan Bigger and John Buglino of Optessa Inc in New Jersey.
Defining APS Software?
The chat began with participants sharing their definitions of APS software and how they think it can assist manufacturing companies.
JD from Cleveland Deburring in Ohio said, "Advanced Planning and Scheduling software. It can assist with the supply chain among other things."
Rebecca Prox from DSI/Dynamatic in Wisconsin said, "Gina Tabasso said it in a promo post, but I'm here to learn more!"
Host Bigger said, "We are here to educate, Rebecca."
Chris Giglio from MFG Talk Radio in New Jersey said, "I'm not even gonna guess and embarrass myself but I'm very much looking forward to learning all about it today!
Adam Baker from Schooley Mitchell in Pennsylvania said, "APS is a scheduling software and, while it can't make hair grow back, I'm confident it will keep schedulers from pulling theirs out!"
Sue Nordman from Obsidian Manufacturing in Illinois said, "Well that's a great selling point!"
She continued, "I had to google to get the correct meaning of the acronym. Advanced planning and scheduling software!! And I'm glad I did google because I thought it was something else."
Paul Kiesche from Aviate Creative in New Jersey said, "If this is starting with the basics, we may be in trouble. Edumacate me please."
Whitney Koch from Welker, Inc. in Texas said, "I have a super basic understanding and am here to learn more today!"
Matt Long from Aviate Creative said, "If that's "Advanced Planning Software" then my understanding is that it helps manufacturers to reduce cost and inefficiencies by figuring out more effective production methods. If not, then I have no clue and I'm clutching at straws."
Kaia Fowler from StratMg in Illinois said, "I'm enjoying the discussion and answers-Nothing to add at this moment as we're on the marketing side of manufacturing."
Ruby Rusine from Social Success Marketing in California said, "Advanced Planning and Scheduling. APS software helps manufacturers optimize their processes, people, and equipment. This can help to improve production efficiency and quality while reducing costs."
Janice Mckee from Burger & Brown Engineering, Inc. in Missouri said, "Being able to tie resources needed to a specific order and following through to see if it was a profitable transaction."
Valerie Weber from Monofrax in New York said, "Advanced Planning and Scheduling software. It keeps everything on schedule."
Nigel T Packer from Pelatis Online in Wales, UK said, "APS enables manufacturers to keep track of all the processes to ensure that they have consistency and efficiency in their sourcing, manufacture and delivery. Improving efficiency, quality and consistency. Usually from one screen."
Ingor van Rooi, the Networking Ninja said, "Advanced Planning and Scheduling Software; it helps optimize the production process."
Hosts Bigger and Buglino said, "APS stands for Advanced Planning and Scheduling. The software assists manufacturers by optimally allocating raw materials + production capacity to meet demand."
They continued, "Advanced Planning & Scheduling helps manufacturing companies to Plan, based on their horizon needed, 1 week or further out (Planning), shift by shift or hour to hour (Scheduling). Optimizing 1 or both allows capacities to be clear in order to maximize efficiency."
Ways to Plan and Schedule
The discussion continued with participants sharing their thoughts on the 2 most common ways manufacturers are generating their production plans and schedules today.
Prox said, "I'm at a loss as I don't manage these things and I'm not in the meetings with those who do. Teach me more, Dan!"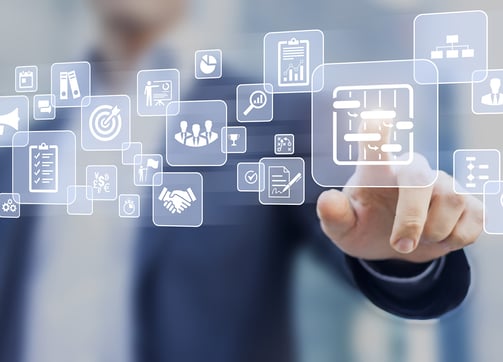 Long said, "Taking a back seat on this one to learn!"
Koch said, "Pen & paper or Excel?"
Host Bigger said, "I'm sure companies do use pen and paper or just guess, but excel is correct."
Baker said, "Excel and back of napkins?"
Gina M. Tabasso from MAGNET in Ohio said, "Excel."
Fowler said, "This seems likely to me, too, Gina, depending on the size of the company."
Host Bigger said, "That is one, Gina."
Giglio said, "Excel has been super helpful for my own personal budgeting and finances but I can see how these documents could get confusing when used everyday in an industrial environment. They certainly can't beat an automated software."
Curt Anderson from B2BTail in New York said, "Excel & chalkboard."
Kati McDermith from IndustryNet in Illinois said, "I was going to say Excel. While I think Excel is great, it has limitations (don't come for me!) I don't know how you could safely run production off it - but I am not the expert."
Host Bigger said, "Lots of limitations, Kati."
Nordman said, "Well, we just hired a project coordinator. Brenda is doing a phenomenal job but we are still designing our process. It's a huge undertaking when you're growing. But very necessary. Waiting to read other's answers."
Packer said, "Backs of cigarette packets, scraps of paper and for the posh ones Excel spreadsheets. Lol."
Fowler said, "With many others, going with the Excel spreadsheet for one common way, too."
Amy Anderson, an Engineer said, "Tribal knowledge/manual processes" A tried and true approach that puts too much power in the hands of too few. Such tacit knowledge is difficult to document/automate leaving enterprises in limbo when the unexpected happens!"
van Rooi said, "Not sure...probably still using old ways...maybe a spreadsheet and in some cases, manually planned by a human."
Paulie Rose from RCF Technologies in Missouri said, "The most common (not most efficient) way most companies are tracking it all? Way too many Excel spreadsheets!"
Host Bigger said, "Excel is 1 answer so 1/2 right, Paulie."
Hosts Bigger and Buglino said, "If you pay any attention to our posts – (1) 90%+ are using Excel (2) Tribal knowledge/manual process."
They added, "With the digital transformation that many manufacturing companies are undergoing, sadly, many are still not ready yet. They are either not mature enough to undergo such a transformation or are set in their ways. "
Risks
The discussion turned to the risks associated with using Excel/Manual Processes over APS software in a manufacturing environment. Participants shared their thoughts.
Koch said, "Lots of room for (human) error, lack of big picture oversight."
Tabasso said, "Things getting lost, error margin, not accessible by everyone, not in real time."
Nordman said, "I would think that human error would be number one. When things aren't fully integrated, items slip through the cracks."
Fowler said, "Guessing here based on knowledge of Excel vs. other automated software: Lack of efficiency in tracking and reporting. Errors. Unhappy customers. . . . lost opportunities."
Nicole Donnelly from Donnelly Marketing Group in Virginia said, "Keeping up with changes in inventory and labor which could lead to unplanned shutdowns and lost money. Amount of time it takes to schedule things manually."
Baker said, "Fzt fungers - missteaks whan manually inputing dota." (We love this comment!)
Missy Moorefield from Southern Fasteners & Supply, Inc in North Carolina said, "The file could be accidentally deleted without a - gasp - backup. Or someone could accidentally overwrite it. Just to name a few fears."
Pavel Stepanov from VirtuDesk said, "More human error if you will be doing this manually. We've been there before."
Prox said, "I think it would be a longer process and easy for mistakes to happen."
JD said, "Not everyone is an expert at Excel. One wrong formula and poof, problems. (I hate excel-full disclosure)"
Tabasso said, "Pivot tables in my nightmares."
Weber said, "Losing track of the slip of paper with the calculations. The chief seer going on vacation.
Rusine said, "Often with manual process this is what occurs data errors. And I believe many will agree."
Long said, "Human error, especially with manual processes."
Host Bigger said, "Manual process is the key here Matt."
Packer said, "Errors when re-entering and transferring data across different spreadsheets. Long timescales when doing analysis of productivity, profitability and reordering."
VirtuDesk said, "Time-consuming and a hassle really. It's much easier if you have automation tools."
van Rooi said, "Definitely less optimized if using Excel / Manual Processes! Leading to loss in profit"
Brett from FreightPOP in California said, "Manual processes open the door to human error. Just one small typo (missing decimal, extra 0, etc.) can wreak havoc on a formula or graph."
Host Bigger said, "We have seen some amazing excel sheets Brett, but as amazing as they are, they still cannot keep up with technology that is designed to produce production plans."
Hosts Bigger and Buglino said, "Risks include increased likelihood of errors. Generation of a plan that is of low quality or proves to be not feasible."
They added, "With all manual processes the risk of error is always high along with dedicating a lot of time to make sure these errors are corrected. When the plan is created, it is often out of date due to the rapid change happening on plant floor daily."
They continued, "With the risk of change and not "doing things they way you have always done it" there are usually benefits to upgrading your systems and processes."
Benefits
What are the benefits of using APS software over Excel/Manual Process?
Prox said, "Opposite to Q3, there would be fewer errors, I'd suspect. Projects could be tracked differently (better), and everything is in one central place."
Rusine said, "We have no idea what APS software is, but we know that SAP/SaaS allows easy management, tracking, and reporting."
Koch said, "Increased oversight, production, and efficiency. Fewer errors. Hopefully also more money!"
Nordman said, "I don't know much about APS software BUT seeing how I answered Q3, I'd say it helps eliminate some of the human element thus decreasing human error."
McDermith said, "Time and accuracy is what I would think..."
Host Bigger said, "Saves a tremendous amount of time, Kati-Minutes instead of hours or days."
Baker said, "Quite a few benefits, but when you implement this software, all of that time that used to be spent managing schedules and putting out fires because of errors can now be used on something more productive. it's a "force multiplier"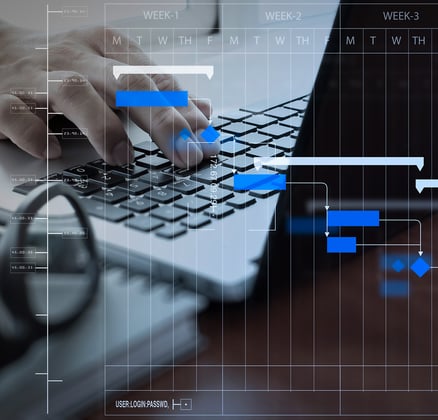 Host Bigger said, "Putting time to better use to look at the production schedule as a whole and make adjustments if necessary. Good call, Adam."
Moorefield said, "I'm guessing the software would automate quite a bit of the entry process, which would make the whole process quicker. And, going back to an answer from Q3 - staying current w/plans."
Host Bigger said, "Time time time time time and time. Saved time which allows you to do more, like what if scenarios. This is huge with supply chain situations now."
Packer said, "Speed, accuracy and data, to make informed decisions."
Weber said, "It's always there, unlike those scraps of paper or the antique Ouija board."
Giglio said, "Like we talked about earlier, this software was designed for scheduling and managing tasks while Excel isn't. It eliminates the glitches and challenges that arise when trying to make something achieve a task it wasn't built for."
Anderson said, "A huge benefit of your APS should be a valid archive permitting process analysis, supplier evaluation, and continuous improvement in a manner compliant with regulations."
Host Bigger said, "Continuous improvement by using the data you already have to make better decisions based on your own rules, Amy."
Long said, "Minimal room for human error and I imagine APS software is more sophisticated than Excel."
Host Bigger said, "Just a little bit Matt We use everyone's favorite word, Algorithms."
McDermith said, "That's a lot of time. Time is money! This issue has to cost mfrs so much $$$."
Nordman said, "Integration!"
Host Bigger said, "Yes, it does take all of the necessary data into consideration Sue. The more and clean your data is the better the results will be."
van Rooi said, "Harmonized supply & demand; increased profit."
Hosts Bigger and Buglino said, "There are many benefits to using technology to your advantage and one of the main ones is the visibility of your entire facility and the data that you already have. Speed/Time gained during process is another."
They added, "Benefits include reduced manual processes & errors. Generation of feasible plans/schedules considering a manufacturers' entire production environment – available materials, workforce, and plant capacity (machines, lines, tools, and more)."
Suitability
The discussion concluded with participants sharing their thoughts on whether APS can be implemented and used by every manufacturing company.
Moorefield said, "I would think so."
Packer said, "If you have always done what you've always done, you will always get what you've always got" Only the ones that want to grow and survive. All the others don't need it."
Prox said, "I think the correct answer is YES. (AmIRight?)"
Brett said, "I think YES! Just about every company can benefit from the simplification and synchronization of its manufacturing processes offered by APS software."
Donnelly said, "Yeeeesssssss!"
Rose said, "My guess is yes- as long as the company has the right data to enter into the aps software to begin with."
Host Buglino said, "Data is so crucial."\
Giglio said, "From what I've heard today I feel like the answer has to be yes. Granted, like any software it's what you make of it. As long as you're using the tool properly and keeping up with it you'll undoubtedly see some sort of benefit."
McKee said, "Oh you know it can."
Baker said, "I'm going with yes on this one."
Cris A. Young said, "Heck yeah, especially the smart ones."
Nordman said, "I'm going to go with my gut on this one. Yes!"
Hosts Bigger and Buglino said, "The answer to Question #5 is a tough one, but the facts still remain. All Manufacturing companies could use an APS Solution, but most are not ready, digitally, to make the change or do not have the correct data to use."
They continued, "The answer is yes and no. Yes, in the fact that they need it, but most manufacturing companies are not digitally mature enough to effectively implement the software."
********
About #USAMfgHour
Anyone who champions U.S. manufacturing can join in on a new conversation each week on Twitter using the hashtag #USAMfgHour. The chat starts at 11 a.m. Pacific Standard Time/2 p.m. Eastern. Share positive blog posts, helpful articles, news, important information, accomplishments, events, and more with other manufacturers and supporters from throughout the country.
Are you interested in hosting a #USAMfgHour chat? Contact organizers @DanBiggerUsaMfg, @DCSCinc, @SocialSMktg and @Radwell_Intl
To learn more about how Radwell International can support your manufacturing operation