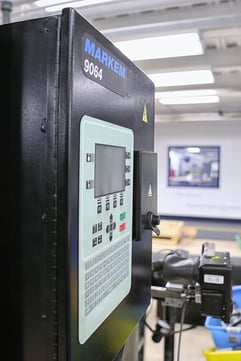 We've recently added a Markem Hot Melt Ink Printer to our engineering department and its an interesting addition.
How does this printer actually work?
Markem ink jet systems use Markem Touch Dry inks. These inks are instantly drying, non-toxic solid inks that contain no solvents and require no special handling. The printer produces prints that are crisp and do not smudge. It is also suitable for printing on a wide variety of packaging materials. Code changes and real time updates can be completed without any downtime too. The printer has a user-friendly control panel and easy-to-use screen graphics that allow operators to program the entire day's code changes only once.
Pre-programmed messages and graphics can easily be stored, recalled and displayed. The printer system also has a diagnostics display that provides a quick check of print counts, line speeds, registration setting, temperatures and ink levels among other conditions. Routine maintenance and service functions can be performed with minimal impact on production due to the efficient modular design. This design also requires minimal manufacturing floor space which is always a positive thing.
Markem's hot melt printer is a great way to provide quality labels and codes on high speed packaging lines. It's been added to Radwell's headquarters to better handle requests from customers. The system will help simplify operations while increasing product coding efficiency, as it can print up to four lines of code. It's also a great alternative to continuous ink jet printers. For more information about Markem Hot Melt Printer or to take advantage of this new service offering for your operation, please contact us at Radwell.com