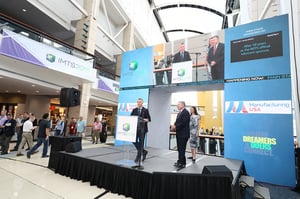 As the virtual world collides with real-world manufacturing issues, the winners will be those who successfully navigate the challenges of both the technology and the people who will operate it. That was the central theme of the 2018 Global Automation and Manufacturing Summit (GAMS), presented by CFE Media and Hannover Messe USA and sponsored by Siemens, SAP, Advantech, Beckhoff, Infor, Stratus, UL, Universal Robots, and Lapp.
The half-day thought leadership event that took place Sept. 12 as part of IMTS 2018 in Chicago drew a full house of manufacturing leaders looking to navigate the challenges faced in an age of robotics, artificial intelligence (AI), and the Industrial Internet of Things (IIoT).
Big Data and its benefits
Even in a technological age, the key continues to be how the human workers can take full advantage of the data.
"Merging the virtual and real world frees innovation from old-world boundaries, from traditional constructs, to achieve new things," said Raj Batra, president of the Digital Factory division of Siemens, during his GAMS keynote address. "U.S. manufacturing is really firing on all cylinders, and the digital disruption is critically important. It's a game-changer to be able to digitize and virtualize. Every industry can benefit."
In her keynote address on the digital supply chain, SAP executive vice president Hala Zeine said, "What we want to do with supply chain is create visibility. We're bringing the customer into the supply chain. It's mass customization, in an automated way, for a party of one. That's the magic."
In order for manufacturing to reach these goals of speed, flexibility, and productivity in a safe environment, manufacturers will have to change the way they approach their work. That's not always an easy task, said Jerry O'Gorman, senior vice president for Advantech. "Interoperability between IoT systems will always be a challenge," he said. "Industrial IoT adoption is a journey, and manufacturing by nature is conservative. They will adopt IoT in one segment or section. They rarely do it all at once."
The panel discussions at GAMS focused on three critical areas where change is needed: maintenance in an IIoT age, robotics and AI, and cybersecurity. Panelists focused on how data can be used effectively to drive greater productivity from all machines.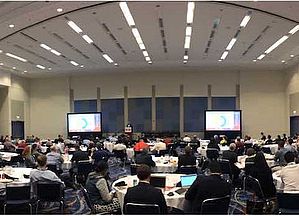 Maintenance in an IIoT age
"When you hear about digitalization, what is the one crucial aspect? The answer is data," said John Fryer of Stratus. "One thing that companies grapple is working with all the data they have. It's a journey in terms of that. In terms of being successful, if you don't collect the data and use the data, you're going to struggle."
"If you cannot define what you want to achieve, then you're going to fall off," noted Dr. Kurt D. Bettenhausen of Siemens. "If you don't have the connectivity, you cannot analyze the data. People are so excited about new technology, they don't know how to utilize it. It's just noise."
Robotics will help in manufacturing to deal with the need for speed, but also to address a critical workforce shortage. Stuart Shepherd of Universal Robots asked for a show of hands from the audience on how many attendees were having trouble filling open positions in their plants. Almost every hand went up.
"We've learned there's not so much a skills gap as there is an interest gap," Shepherd said. "Part of getting people interested in manufacturing careers is getting rid of the dangerous, dirty, and dull parts of job through automation. We need to enable low-volume, high-mix manufacturing."
Robotics and AI's joint role in manufacturing
Session moderator Bob Doyle, vice president of the Robotics Industries Association (RIA), noted that robotics and AI already have had an impact on manufacturing.
"From where we started in 1959, I would certainly say robotics has changed manufacturing. Robotics has changed with the growth of robots," Doyle noted. "The projected AI spending will be $52.2 billion by 2021, and 44% of respondents from automotive and manufacturing sectors classified AI as highly important-and 49% said it was absolutely critical to success."
Maintaining these new systems as well as the legacy systems is an area where data is proving to be valuable. "With Industrial IoT, we're able to bring maintenance on demand," said Sal Spada of ARC Advisory Group, who moderated the maintenance panel. "We're able to maintain machines at a much higher rate than before. We've also seen a digitalization of machine services. AI is also making machines more autonomous.
"Maintenance is the low-hanging fruit of the IIoT evolution," Spada added.
Turning that maintenance data into action still is an evolving practice, noted the panelists. "With maintenance management over the years, being able to understand the state of the asset was the key," said Kevin Price of Infor. "If you can automate something and know what to do and how to do it, you've got a chance of maintaining it."
"The challenge is, how can we take that intelligence and share it while introducing new practices?" added Patrick Crampton-Thomas of SAP. "I do see manufacturing and operations coming together to provide maintenance services and other things to improve lifecycle efficiency."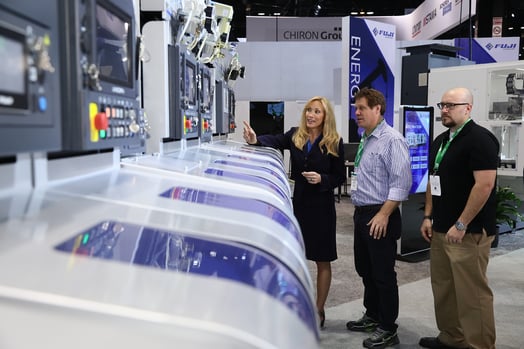 One area of contention is how the technology impacts the existing maintenance workforce. Third-party maintenance providers analyze the data and deliver maintenance orders from a remote site.
"What I see routinely is an issue of trust. Maintenance technicians don't like to give up trust," said Price. "We're seeing now it's not necessarily the manufacturer, it's someone else providing recommendations to fix something because they have the information. They know everything and provide real-time recommendations.
The issue of cybersecurity is one that has captured headlines, but panelists on this topic noted that thinking of cybersecurity in the same way as you consider safety as a whole is an important first step.
"Security is not a problem that's going to go away," said Dr. Richard Soley, executive director of the Industrial Internet Consortium (IIC), who moderated the cybersecurity panel. "You need the same level of security for your PC as you do in a shop environment."
"You need to think of cybersecurity as a race," said Mark Voigtmann, an attorney with the law firm of Faegre Baker Daniels LLP, "and it's a race where we didn't realize the starting line was a decade ago."
"It's easy to take cybersecurity for granted," added Daymon Thompson of Beckhoff.
"It's all about evaluating and assessing risk. Cybersecurity is your backbone," said Ken Modeste of UL. "Start with the basics. That can take you all the way to different standards and best practices."
Chris Vavra, production editor, CFE Media, cvavra@cfemedia.com.
To learn more about Radwell International