Implementing industrial robots in a manufacturing setting isn't as simple as buying the robot and plugging it in. There are many different financial and logistical considerations to take into account before a robot can productively automate anything. While industrial robots may serve a wide variety of purposes, the challenges manufacturers face when implementing them are relatively similar.

Understanding the common challenges that manufacturers experience when investing in robotics can help you prepare for the day when you invest in new robotic automation equipment.

Four major challenges for manufacturers

Every manufacturer will have unique challenges based on their industry and individual business model. Generally speaking, however, there are typically four main challenges to robotic automation.

1. Employee skillset and training: When new robotic systems are implemented, a new level of expertise is required from employees. Many will have to be trained on how to operate in this new environment, while other employees will have to be hired that have the proper certifications, education, and robotic experience.

2. Safety measures: Industrial robots introduce many new safety hazards into the workplace and there are strict regulations, as well as stiff penalties, surrounding robotic safety. Manufacturers have to prepare for this before the robots are installed to ensure compliance and create a safe environment for workers.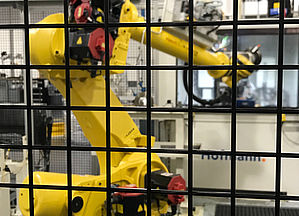 3. Budgeting for the cost of the system: There's typically a large upfront investment associated with industrial robots, although prices are steadily dropping. Sales levels and production volumes need to remain steady during the expected ROI period to compensate for the initial investment.
4. Managing product workflow: There are many considerations when determining what product workflows will look like when a robot is installed. The orientation and speed of part presentation to the robots must be carefully calculated to ensure maximum productivity without producing too much for existing systems to handle.
Employee skillsets, new safety protocols, budgeting, and managing product workflows are some of the biggest challenges manufacturers face when implementing industrial robotic automation systems.
There's far more to implementing robots than purchasing and integrating them. Manufacturers have to be prepared for the challenges listed above in order to get the most out of their automation systems.
This article originally appeared on the Robotics Online Blog. Robotic Industries Association (RIA) is a part of the Association for Advancing Automation (A3), a CFE Media content partner. Edited by Chris Vavra, production editor, Control Engineering, CFE Media, cvavra@cfemedia.com