Keeping up with the latest technology is beneficial when operating a warehouse. Automation is rapidly improving, and making investments in the new technology will benefit a warehouse's efficiency and productivity. Automated Guided Vehicles are tools that can be utilized by warehouses to maximize work efficiency.
What is an automated guide vehicle?
Automated guide vehicles, also called AGV's, are computer-controlled transport systems. These systems are controlled by computer programming, floor markers, cameras, sensors or a combination of these. They don't require any type of human control; they are able to run completely independently. They are commonly used throughout warehouse and manufacturing facilities in order to streamline operations.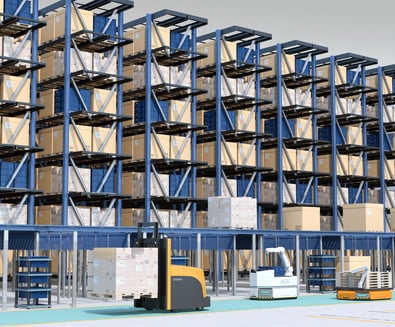 What can an AGV accomplish?
AGVs can perform many tasks in a warehouse. There are different types of AGV's that all perform different functions, typically repetitive tasks that are beneficial to warehouse production. These repetitive tasks may include towing, unit load handling, transportation and heavy burden carrying. There are even autonomous mobile robots, or AMRs, that are more advanced versions of AVG's. These have improved navigation systems to improve capabilities of the AGV. While typical AGV's have fixed navigation systems, like wires or magnets, AMR's use cameras and sensors to navigate. This allows for even more efficiency.
How will this improve warehouse operations?
AGV's can improve warehouse operations in a variety of ways. With each task that an AGV is performing, there is less room for human error. This will dramatically decrease any loss or damage of products and structures. They are reliable when performing repetitive tasks, and through this they can increase productivity and efficiency.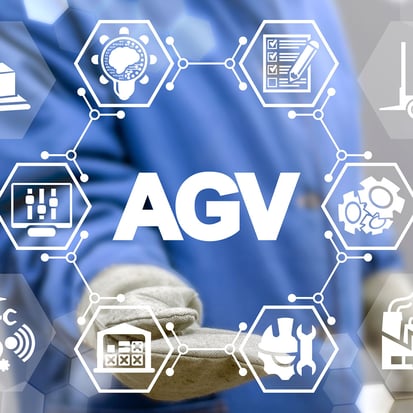 AGV's also increase safety in a warehouse. They are capable of handling tasks that are difficult or dangerous for people to perform. There is also a level of safety to consider in terms of the workers not needing to come in direct contact with products or materials. This is beneficial in a warehouse with potentially dangerous materials, or a sanitary benefit if handling food production or packaging.
Another benefit to AGV's is cost consistency and reduction. There is no fluctuation based on human labor. This will reduce costs and also decrease any fluctuating costs. The cost of AGV's are predictable and there is no worry of change based on human labor.
An additional cost benefit is utility cost reduction. Machines can work in conditions that may not be comfortable or convenient for human workers. This includes utilities such as heating/cooling, and lighting. Automated warehouses are able to lower their lighting or even turn it off and can also opt against the use of AC or heaters.
Are there any Downsides?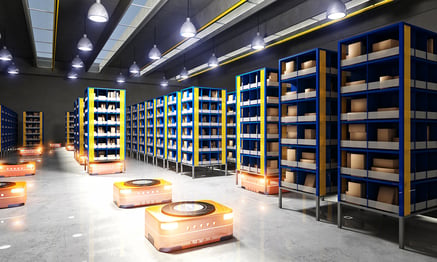 It is important to be aware not only of the advantages, but of the disadvantages of AGV's. AGV's are typically more suited to repetitive tasks. While this is a benefit in some respects, if a warehouse needed a machine to jump between tasks, AGV aren't the best option for that. The flexibility of human labor is worth it in an environment that requires more than just tasks that are performed repeatedly.
Not necessarily a downside but another factor to consider is the initial investment in AGVs. Automated Guide Vehicles are an expensive investment. However, in the long run they will help decrease other costs. This makes AGVs an investment worth making if they are properly utilized and incorporated into warehouse operations.
Overall, AGV's can benefit warehouse operations in a variety of ways. Fully automated machines can increase safety, efficiency, and productivity, while decreasing costs, risk, and room for error. Keeping up with automation and technology in the industry is crucial to keeping your company competitive.
To learn more about Radwell International
Join Radwell Automation Nation