Can Public Relations support business objectives? That is the question that was answered in a recent chat for USA Manufacturing Hour on Twitter. Host, Dana Engelbert, a freelance PR and content developer focused on small- to medium-sized businesses led a discussion about how PR can not only support but also enhance business objectives.
What is Public Relations?
The discussion began with defining what public relations is. Participants shared their thoughts on the definition of public relations.
Rebecca Prox from DSI/Dynamatic in Wisconsin said, "Public relations is the information we put out that provides the public with the perception of who we are."
Adam Baker from Schooley Mitchell In Pennsylvania said, "Public Relations is how organizations manage the way their brand is seen and felt by others outside of their own organization."
Kelley Plats from North America Coating Laboratories in Ohio said, "Here's my guess - How you manage the perception and reputation of a brand."
Dan Bigger from Optessa Inc in New Jersey said, "I'll keep it simple this week: Relating to the Public."
Kyle from Tuffaloy Products Inc. in South Carolina said, "Public relations are a set of strategies related to managing how information about an individual or company is viewed by the public."
Gina Tabasso from MAGNET in Ohio said, "PR is your branding. Showing the world who your company is rather than what it does/makes."
Nicole Fiene from ADP said, "Is Public Relations the liaison between a person/entity and the press/publicity?"
Pavel Stepanov from VirtuDesk said, "It helps brands increase brand awareness and be recognized by the public."
Ruby Rusine from Social Success Marketing in California said, "Public relations is about managing communication between an organization and the publics they interact with. This includes but is not limited to: > media relations > crisis communications, > corporate communications, and > community relations."
Emily Kite from Obsidian Manufacturing Industries in Illinois said, "Public relations is the image that we share about ourselves through things like social media or newsletters and how the public perceives those reflections."
Host, Engelbert said, "Public relations is the management function that establishes and maintains mutually beneficial relationships between an organization and the publics on whom its success or failure depends. (from Effective Public Relations, 11th edition)."
She added, "A key differentiator for PR is that it is mutually beneficial relationships - meaning a two-way conversation. Sometimes difficult to remember when reading online comments, but still true."
PR Strategies and Tactics
The chat continued with a discussion about what PR strategies and tactics companies are using. Participants shared their strategies and tactics.
Prox said, "We participate in community events, publish news items and advertise in local business publications, and obviously use social media, to name a few."
Plats said, "We work to ensure that anything we publish or share aligns with our company values as well as align with what we want the perception of our company to be."
Kyle said, "Participating in industry events & consistently taking advantage of social media."
Bigger said, "Great question. I have no idea. John Buglino?"
John Buglino from Optessa Inc in New Jersey said, "We try to promote good news, like customer acquisitions, new hires, and team highlights Our main channel is social."
Bigger said, "And there you have it. Thanks John This is the "Official" Optessa answer."
Tabasso said, "Our CEO publishes articles in Forbes, Industry Week and other journals regularly. He also is on TV all the time, recently on @fox8news Kickin It With Kenny. And many more. We are always in the news locally."
Allway Tools Inc. in New York said, "Currently we are implementing all sorts of tactics. We are collaborating with micro-influencers to expand our brand outreach. Our sales team is involved in major industry events throughout the year, the most recent one being the National Hardware Show. And we are on social media."
VirtuDesk said, "As far as we know, we are doing pitches, guest posting, press releases, interviews, and applying for awards."
Whitney Koch from Welker, Inc. in Texas said, "We are on social media, attend trade shows & schools, and our Senior VP was interviewed for the most recent episode of the Radwell International podcast, Radwell's Automation Nation! I hope to get us more involved in our local community."
She continued, "Here's the link if you want to take a listen:"
https://podcast.radwell.com/921511/10317191-episode-23-meet-the-manufacturer-welker-inc-guest-david-fish
Julie Basello from Radwell International in New Jersey said, "Thank you for sharing the podcast."
Host Engelbert said, "Great! That community support can be key to attracting new employees, building/moving facilities, and (hopefully you never find out) necessary to getting through a crisis situation."
Fiene said, "Are client testimonials part of a PR strategy?"
Host Engelbert said, "Definitely. We can use them to tell so many stories in so many ways."
Stepanov said, "I am not sure. I have a PR team working on this one."
Host Engelbert said, "Yay! Ask them about what they're doing. You might be surprised!"
Erin Courtenay from Earthling Interactive in Wisconsin said, "Yesterday we attended a huge event hosted by our city's chamber. the chamber happens to be a client of ours and they made an announcement to 800 members about our partnership. that might be the best PR we've ever experienced."
Bigger said, "I saw that Erin Seems like you had a blast."
Matt Long from Aviate Creative said, "PR is essentially reputation management. As a smaller agency, we do this through regular social media engagement, networking events, and by appearing on podcasts."
Brett from FreightPOP in California said, "We publish blog posts, share industry news, and attend trade shows whenever we can! We also love interacting on social media!"
Nigel Packer from PelaTis Online in Wales, UK said, "We do work for local service organisations and support charities by helping them get noticed. It is all done quietly, we do not sing about it. Those who have been helped know."
Host, Engelbert said, "PR activities include media relations, speaking opportunities, content development, social media development and management, community affairs, internal communications, thought leadership, influencer relations, events, crisis management, and more.
She continued, "Likely, your company is engaging in PR in some form even if you don't have a formal PR program."
Business Objectives Impacted by PR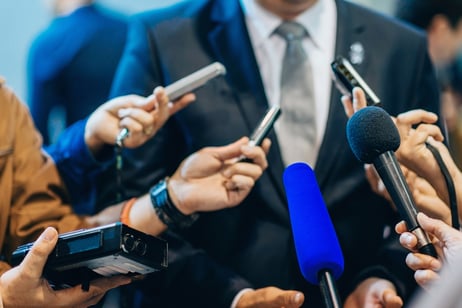 The discussion continued with participants sharing what business objectives they think can be impacted through PR.
Bigger said, "Community relations, and handling problems. I'm guessing nothing cannot be impacted????"
Host Engelbert said, "You are in for a surprise then, Dan!"
Buglino said, "Increase in demand + lead generation (if applicable) PR cannot impact how well you do in progressing a deal."
Tabasso said, "Can impact branding and SEO with backlinks; cannot impact lead generation and sales directly/the bottom line."
Host Engelbert said, "Those backlinks are important! There are ways that it can impact lead generation. Ran a localized media relations program for years that generated leads. Not possible in today's state of media though."
Courtenay said, "There's the obvious (biz opportunity) but I also love how good PR helps build morale and employee engagement. Everyone wants to work for a company that makes them look good!"
Chase Bodor from Plastics Plus Technology, Inc in California said, "Oh I love the engagement piece! Like when you win a local or industry award for best places to work. That's a great PR piece that gets everyone in the company involved."
Fiene said, "Great answer!!"
Koch said, "Truth!"
Prox said, "That's a thinker..."
Stepanov said, "Business objectives that can be impacted by PR: Increasing brand awareness, networking, strengthening your brand, and managing your reputation."
Allway Tools Inc. said, "Effective public relations has a positive correlation with building leads and sales as it can increase the visibility of the brand and the products and services."
Brash Inc in Canada said, "Most of them! Sales/recruiting/marketing/supply chain. Especially if you have bad PR, no one wants to associate with a runaway train!"
Kite said, "I think having positive PR attracts a better culture within your company but also quality employees."
Kyle said, "PR is involved with brand reinforcement by maintaining positive relationships with key audiences and continuously helping to build a strong image. And hmm...I would say any press is good press. PR can impact anything."
VirtuDesk said, "Brand visibility is the major business objective impacted by PR."
Plats said, "So many! Employee Retention, Sales, Recruitment, and more! Not as strong of an effect on supplier relations and research, but perhaps I'm wrong! Interested in seeing what others say!"
Bodor said, "I think brand affinity is a big one. You want to share similar values as your customers. And PR is one way of communicating those values."
Host Engelbert said, "Love this!"
Packer said, "That's a difficult question, I will have to speak with colleagues."
Long said, "Since PR is all about the relationship you have with the public, the strategies you develop can impact any business objective which relies on public opinion for a result. Bad publicity can negatively impact your bottom line and vice versa."
Baker said, "I thought perhaps PR couldn't impact employee safety, but remembered a huge PR campaign we undertook to improve employee safety and our relationship with the community - I don't know if there is anything PR can't touch."
Paulie Rose from RCF Technologies in Missouri said, "Everything is impacted by PR. The way you are perceived means everything."
Host, Engelbert said, "PR can have both direct and indirect impact on business objectives.:
Attracting people to the top of the sales funnel through an earned article or owned content, like a case study.
Attracting quality employees through earned and owned media, events, etc.
Earning favorable support from community, lawmakers, regulatory bodies for a new facility/process.
Elevating reputation within your industry.
Navigating a crisis situation."
Measuring PR Outcomes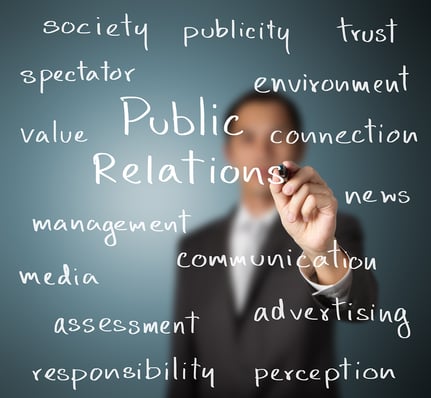 Measuring PR outcomes is important. The discussion continued with how PR outcomes are measured. Participants shared their thoughts.
Prox said, "Positive feedback, traffic to your website, social media engagement, even positive word of mouth/referrals."
Brett said, "There are a variety of ways you can measure PR outcomes, including impressions, social interactions, mentions, website traffic, likes, etc."
Tabasso said, "I would say traffic to your website and maybe social mentions."
Host Engelbert said, "Two good ways of measuring. And love that you can even pinpoint timing of announcements, etc.
Plats said, "Depending on the goal of a PR campaign, you can use different metrics to measure effectiveness. I'm not 100% sure how you would attribute the outcomes, but I feel like you can support them!"
Allway Tools Inc. said, "Tracking the amount of press clippings on print publications that mention your company and the products/services. 2. Website analytics. 3. Lead sourcing. 4. Social media mentions"
Koch said, "Do you have a good way of tracking those mentions?"
Host Engelbert said, "There are several services out there to track both social and online mentions. There are services that monitor TV, too. DM me and I can send some specific services to you. Many even free."
Fiene said, "This is a great Q and I equally do not know the answer ... but excited to know it in just a few mins!"
Rusine said, "No perfect answer, IMO. It all depends on what the goal of ANY PR is and what the success metrics are. Tool: Google Analytics."
VirtuDesk said, "Getting potential leads, increasing website traffic and engagements, and SEO ranking."
Tuffaloy Products Inc. said, "Impressions!"
Bigger said, "Yup, no idea. I quit for the day."
Kite said, "Some PR outcomes could be by measuring content analytics and website traffic."
Koch said, "There with you, Dan! Nodding in agreement with all the responses but no words."
Host, Engelbert said, "The great thing about PR is that there is no universal measurement standard. That's also the bad thing. So, when planning your efforts, define the desired outcome and how it will be measured."
She added, "The best way according to the SMART goal established for the program/campaign. Specific, measurable, achievable, relevant and timebound. Measures can be direct or indirect."
She shared direct and indirect examples.
| | |
| --- | --- |
| Direct Examples | Indirect Examples |
| Social Engagement | Reputation |
| Attendance | Awareness |
| Downloads | Brand Engagement |
She continued, "Some of you may know about Ad Value Equivalency (AVE). Most PR practitioners no longer use this value to measure media or influencer placements."
PR Results
The discussion wrapped up with participants sharing their thoughts on how long it takes for PR to start showing results.
Packer said, "PR is a marathon that never ends. You have to keep feeding it and never stop. The results of your PR campaigns build with the growth of your business. Stopping will have a damaging effect, your customers will soon forget you."
Kite said, "I feel like PR results would take at least a couple of months to truly see the impact. It most definitely won't happen overnight."
Prox said, "It depends on what we're measuring. Generally speaking, we can usually have some kind of results within the same month."
Koch said, "I think it could be immediate…depending on the situation."
Bodor said, "I think this depends on a lot of different factors, namely, goals and activities. If the goal is to recover the brand rep after a flop - could take years. If it is something like an announcement of a partnership that is highly anticipated - could be instant."
Tabasso said, "I would say pretty immediate since they are associated with an event, a post, a news story. It's a moment in time then gone."
Brett said, "Spot on, Gina. Usually, it only takes a day or two to see some results!"
Courtenay said, "Too long! Always too long! (says leadership)"
Stepanov said, "This may take 3 months or longer I believe."
VirtuDesk said, "We agree. You have to give it some time."
Kyle said, "According to Google...anywhere from 6 months to 33 months."
Tabasso said, "But that's SEO not PR. "
Allway Tools Inc. said, "I think it would be fair to assess results after a period of six months."
Plats said, "I believe I know the answer to this one...it depends!"
Rusine said, "PR can show results quickly or it can take a long time. Example, if a press release is picked up by a major news outlet, that can generate results very quickly. If a company is working on a long-term PR campaign, it can take months to see results."
Host, Engelbert said, "The best answer: It depends. PR is usually the long game. However, recruiting events with a relatively short planning time can have immediate impact. Building reputation, awareness and brand engagement does take time."
She continued, "PR does place your story all over the Internet. Keeping in mind that most B2B buyers do about 75% of their research before ever reaching out to a human, PR results are very valuable."
********
About #USAMfgHour
Anyone who champions U.S. manufacturing can join in on a new conversation each week on Twitter using the hashtag #USAMfgHour. The chat starts at 11 a.m. Pacific Standard Time/2 p.m. Eastern. Share positive blog posts, helpful articles, news, important information, accomplishments, events, and more with other manufacturers and supporters from throughout the country.
Are you interested in hosting a #USAMfgHour chat? Contact organizers @DanBiggerUsaMfg, @DCSCinc, @SocialSMktg and @Radwell_Intl
To learn more about how Radwell International can assist your manufacturing operations