Process improvement is something that should remain a top priority within a company, especially in the manufacturing industry. Making process improvement a priority can be difficult as it is easy to get caught up in other areas. In a recent USA Manufacturing Hour, on Twitter, host, David Crysler from The Crysler Club, led a discussion that highlights some tips and tricks for prioritizing process improvement.
Methods to Prioritize
The chat began with participants discussing some common methods to prioritize process improvement initiatives within an organization.
Ruby Rusine from Social Success Marketing said, "Understanding the current state of processes and how they contribute to organizational goals; using SWOT analysis to identify gaps in a process system... and more..."
Susannah replied, "Very robust and comprehensive approach!"
Host, Crysler added, "SWOT is a great framework to use!"
Susannah from Capri said, "Not sure if this is a common method, but our approach to process improvement is to empower our employees to think critically about the task they are performing and bring feedback to management about how the process works and if there are areas for improvement."
Host, Crysler replied, "Love this! Engaging and empowering people closest and adjacent to the processes being executed is the best way to ensure sustainable changes!"
Amy Anderson added, "This always brings unexpected but very relevant information!"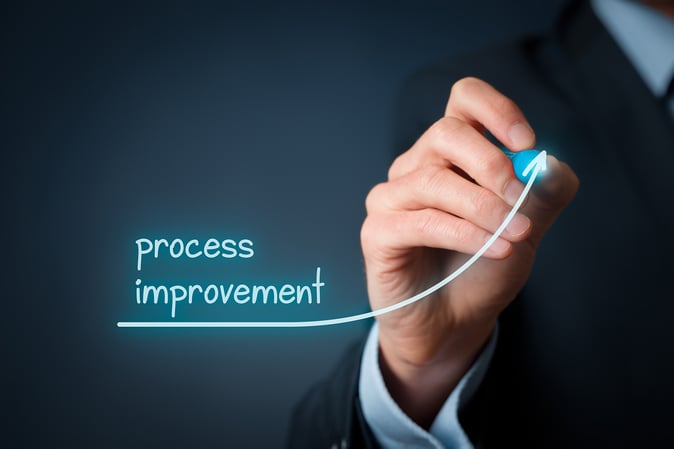 Susannah replied back, "Employees have different perspectives and levels of insight that management often don't get to see, it's super important in our opinion!"
Anderson responded, "Yes! A lot of times management will be surprised at something obvious they've failed to consider."
Missy Moorefield from Southern Fasteners and Supply said, "Hmm.... I'm just gonna read through other folks' answers."
Nigel Packer from Pelatis Online said, "Start with a benchmarking exercise to establish current processes. Do a Failure Mode Effect Analysis FMEA exercise on your process and identify the weaknesses. Fix and repeat. It may be worth applying FMEA to your supply chain."
Rebecca Prox said the Digital Marketing Pro said, "Simplified: Take a look at where things are now, see where you want them to be, and then communicate about how you might get from point A to point B"
Pavel Stepanov from VirtuDesk said, "It is best to involve your employees. Since they are directly involved in the processes. They can provide valuable insights into pain points, bottlenecks, and areas for improvement."
Kirsten Austin from DCSC Inc. said, "Piggyback off of Pavel. In fact I just had a meeting with my team & had no idea in order to accomplish something faster I just needed another software license for a team member who needed access. Sometimes it's little things we just don't realize."
Host, Crysler said, "Common methods include aligning with Organizational Goals and KPIs, utilizing Customer and Team Feedback, and employing a Prioritization Matrix. These methods help ensure alignment with goals and effective utilization of resources."
He continued, "Here is a resource to learn more about these prioritization methodologies: https://thecrysler.club/how-to-prioritize-process-improvement-initiatives/"
The Importance
Next, they discussed why it is crucial to prioritize initiatives instead of selecting them randomly.
Prox said, "Prioritizing keeps things in order."
Susannah replied, "Amen! Order of operations is imperative for success."
Prox replied back, "I'm a planner. If there's no plan, there's no order. If there's no order, there's chaos."
Rusine added, "Right-o! We don't want that chaos thing..."
Rusine then said, "Prioritizing initiatives is like choosing which battles to fight - you need to pick the ones that are most pressing and have the highest potential for positive impact."
Susannah said, "Resources are always going to have a limit, so if you select your initiatives randomly you may spend resources in an unfruitful area. But if initiatives are prioritized properly, it allows for the greatest ROI in resource investment."
Moorefield said, " One reason may be because handling one initiative may help you with another initiative... At least that's my story and I'm sticking to it."
Stepanov said, "You'll have the upper hand on improving your processes, products, and services more effectively than competitors pursuing random or unstructured improvement efforts."
Host, Crysler said, "Random selection often leads to longer, more expensive implementations, and may result in failure to sustain changes. Proper prioritization aligns with organizational goals and typically yields more successful outcomes."
Some Examples
Participants then shared an example of how Organizational Goals and KPIs help in prioritizing process improvement.
Susannah said, "Goals and KPIs provide the framework for determining what is a priority. Like how can't pick the quickest path to the end of a journey without knowing where you're going, you can't prioritize initiatives to accomplish goals without knowing what those goals are."
Prox said, "At a previous company, we established a 12-month written plan for Sales & Mktg. Within that plan were the goals and KPIs that we all needed to manage (individually and as a team). Without those, no one would've known what to focus on to meet our sales numbers."
Moorefield said<, "hose metrics will let you see the areas where the business is struggling and therefore "fix" those areas. Also, they can see the areas that are doing well and figure out what processes are working and may be able to be applied to the struggling areas."
Rusine replied, "Yes... make the necessary adjustments along the way..."
Bill Garland said, "I used our KPI's to pinpoint and prioritize specific areas. One process was full of measurement errors and huge time variances. I worked with engineering to get a R&D project qualified for full production. Time required of 5 to 8 minutes to less than 20 seconds."
Rusine said, "Organizational Goals are like your GPS, guiding you on the right path to success. They provide a clear sense of direction and purpose for anyone involved in the process. Meanwhile, KPIs are like mile markers along the journey; they let you know how far you've come and if you're still on track."
Packer said, "Don't underestimate the fast that any imitative you introduce into a company will start with an adverse effect on the KPIs as you transform to a new way of working. Once it has been completed the efficiencies and benefits will be greater."
Stepanov said, "By aligning your initiatives with KPIs and organizational objectives only ensures that your improvement efforts are strategic, focused, and geared towards a favorable outcome."
Host, Crysler said, "Organizational Goals and KPIs can guide prioritization by aligning with overall objectives. For instance, if the goal is to increase net profits, initiatives targeting quality defects in manufacturing may be prioritized over other areas."
Prioritization Matrix
They then discussed how the Prioritization Matrix works, and why it can be a valuable tool.
Rusine said, "I'm going to wait for your thoughts here, Dave."
Crysler replied, "This is my personal favorite when it comes to effectiveness! Stay tuned!"
Prox said, "I don't know what a prioritization matrix is... did I miss it?"
Crysler replied, "I mentioned it in A1... it's one of the methods (my favorite) for prioritizing improvement initiatives!"
Garland said, 'Stack the odds in your favor. Compare cost, benefit, risk, potential pitfalls, and expected duration. The more you know, the more effective you can be. Some also include the change champion and THEIR track record. Don't go blindly into making changes."
Rusine replied, "Absolutely! Any decision should be made with careful consideration and research."
Moorefield said, "eek.. I'm gonna have to just check the answers on this one."
Stepanov said, "It helps you make informed decisions by removing personal biases and emotions using quantifiable criteria and weights."
Packer said, "Just watching this one out."
Host, Crysler said, "The Prioritization Matrix rates each initiative on various factors, calculating a results number. Higher numbers indicate higher priority. It visualizes priorities and can be combined with other methods for effective decision-making."
He continued, "Here's an online prioritization matrix tool: https://thecrysler.club/process-improvement-prioritization-tool/"
What Are the Steps?
Finally, they shared some steps that can be taken to ensure that the prioritized process improvement initiatives lead to successful and sustained changes.
Prox said, "Communicate, communicate, communicate! Have regular check-ins to find out what's needed, how things are going, and what the status is. Also, be consistent and have these written goals each week, month, year."
Host Crysler replied, "Agree Rebecca... we can't communicate enough during any type of change initiative!"
Susannah said, "Determine what success looks like before the initiative is implemented, what KPIs will indicate that the change is being sustained, and what steps to take if it is successful but not sustained."
Austin said, "I think you need to keep checking in on the progress. If you don't, who even knows what the initiative did for your company."
Rusine replied, "Yes! It's crucial! We get to see if something's working or not and act accordingly."
Garland said, "Besides a great plan, including the team from the start. Getting and keeping them empowered is critical. It takes a special kind of leader for this. You have to be able to think quickly, handle the emotions and failures that happen along the way, and not get lost."
Susannah replied, "Great point about the failures! Recognizing that failure is a part of the path to success is crucial to achieve what is desired."
Stepanov said, "Have clear objectives and always involve your stakeholders. Their input and buy-in are crucial for successful implementation and adoption."
Anderson said, "Get the titled, as well as the default leaders onboard in a positive manner as quickly as possible."
Rusine said, "Be proactive. Be mindful of the way you communicate these initiatives and processes."
Host, Crysler said, "Developing a detailed plan that considers organizational goals, customer feedback, and visual tools like the Prioritization Matrix ensures alignment and success. Regular review and updates are vital for sustaining the improvements.
He continued, "I've found the best way to create a detailed plan is by starting with a Process Mapping activity. Check out this video resource to get started: https://thecrysler.club/process-mapping/"
********
About #USAMfgHour
Anyone who champions U.S. manufacturing can join in on a new conversation each week on Twitter using the hashtag #USAMfgHour. The chat starts at 11 a.m. Pacific Standard Time/2 p.m. Eastern. Share positive blog posts, helpful articles, news, important information, accomplishments, events, and more with other manufacturers and supporters from throughout the country.
Are you interested in hosting a #USAMfgHour chat? Contact organizers @DCSCinc, @SocialSMktg and @Radwell_Intl
To learn more about how Radwell can help your operation