Stress is inevitable and everyone experiences stress at one point or another. Stress is defined as a state of mental or emotional strain caused by adverse circumstances. What are some tips to managing stress effectively?
In a recent chat for USA Manufacturing Hour on Twitter, host Professor Pete Alexander from Washington led an online discussion about ways to manage both physical and mental stress.
Stressing Out
The discussion began with participant sharing common life issues that stress us out.
Gina M. Tabasso from MAGNET in Ohio said, "Job, health, money, relationships."
Julia Gardner from Hourly – Insurance & Payroll in California said, "Balancing work and personal life!"
Host Alexander said, "Yep, that's a big one!"
Ruby Rusine from Social Success Marketing in California said, "Money, relationship, health, job, and other life issues."
Host Alexander said, "To name just a few..."
Dan Bigger from Optessa Inc in New Jersey said, "There are so many: kids, work, in laws, car trouble, a house, work, the news, society in general, and work."
Beth Bigelow from Home Building Solutions LLC in Michigan said, "I'll be honest, I keep my life pretty stress free by KISS. But if I had one thing that unnerves me, family haha!"
Rusine said, "Same here, Beth."
Janice McKee from Burger & Brown Engineering, Inc. in Missouri said, "Getting stuck."
Adam Baker from Schooley Mitchell in Pennsylvania said, "Common life issues that stress us out - family and work are my top two."
Chris Giglio from Rovere Media in New Jersey said, "Money, work, relationships, family. At least those are the things that stress me out!"
Kelley Plats from NACL in Ohio said, "Work-Life-School balance!"
Kati McDermith, the Manufacturing Hype Girl in Illinois said, "Health, Finances, Guilt..."
Brett from FreightPOP in California said, "A few examples include finances, relationships, work/responsibilities, transportation, global and local events, etc. There are too many to name them all!"
Whitney Koch from Welker, Inc. in Texas said, "Finances, Family, Work."
Jeanette Stevens from GENEDGE in Virginia said, "Money, work, planning & events, etc."
Rebecca Prox, a Digital Marketing Professional from Wisconsin said, "Money is probably the biggest one. I'd also say work, relationships, not having enough time to manage life, health issues... the list can go on."
Host Alexander said, "Financial problems, work/loss of job, parenting, death of a loved one, divorce, moving, getting married."
Consequences of Stress
The discussion continued to what can happen over time if we don't effectively handle our stress. Participants shared their thoughts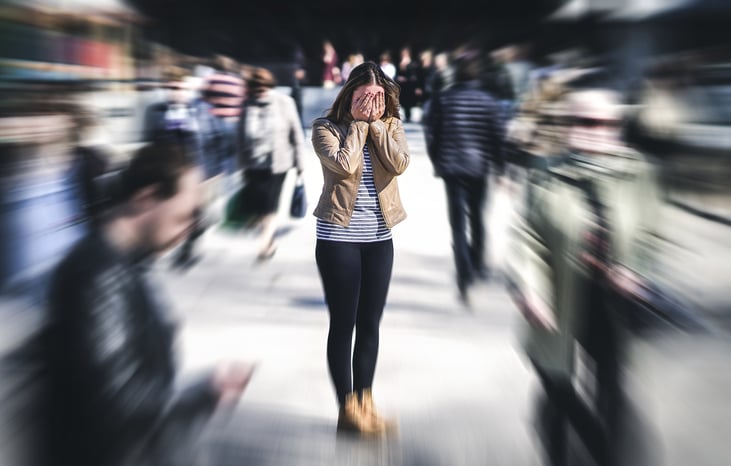 Rusine said, "Over the long term, stress can have serious consequences on your health."
Sherri Darby from Wisco Lift in Wisconsin said, "Health issues, substance abuse and inability to get enough sleep and function efficiently."
Kirsten Austin from DCSC Inc in Missouri said, "I totally forgot about loss of sleep. That's so true. UGGGG."
Bigelow said, "For me, stress has a very negative effect on my health."
Tabasso said, "Hair loss, heart issues, digestive issues, total body health issues, back issues, you name it; lost relationships, lost jobs."
Rusine said, "These are the serious consequences that we mentioned."
Mandy from Tech Financial said, "Dis-ease causes disease! So important to take care good care of ourselves."
Koch said, "Love that!"
Prox said, "We get sick (mentally and/or physically)."
Giglio said, "I know a variety of health issues, especially with the heart, can start popping up."
Bigger said, "Yep, you get sick and cause yourself and early exit."
Missy Moorefield from Southern Fasteners & Supply in North Carolina said, "Health issues - both physical and mental ones."
Koch said, "Poor health outcomes, relationship difficulties, probably also negative financial impact."
Host Alexander said, "Yep, any or all of these."
Brett said, "Unhandled stress can lead to both physical and mental problems, such as hair loss, weight gain, excessive wrinkles, anxiety, and eating disorders, just to name a few."
Host Alexander said, "And those are all valid reasons to reduce our stress!"
Plats said, "It can and will negatively impact your overall health! Very detrimental to your heart and other body systems!"
McDermith said, "I can say from experience, it can lead to heart attack and stroke!"
Host Alexander said, "So sorry that happened to you Kati."
Chase Bodor from Plastics Plus Technology, Inc in California said, "It pushes us into similar responses as fight or flight. Flight might look different aka dissociation, depression, lack of follow through. Fight on the other hand can turn into exhaustion, less productivity, and frustration."
Common Raven in New Mexico said, "Serious effects on our health and on our organization?"
Host Alexander said, "Yes!"
Erin Courtenay from Earthling Interactive in Wisconsin said, "Damage to our physical, emotional, and social well-being."
Stevens said, "Yes it can show up in many ways: Health decline, poor sleeping, anxiety, depression, outwardly, poor work performance, relationship breakdowns and more."
Amy.M.Anderson said, "Failing to effectively balance stress leads to inflammation - the root cause of so many physical ailments."
Host Alexander said, "Cellular inflammation that can lead to chronic diseases like cancer, heart disease and/or diabetes L"
Reducing Mental Stress
Everyone gets stressed both mentally and physically. Participants shared their thoughts on what they like to do to reduce mental stress.
Common Raven said, "And how do you make sure you do it, not just put the stress relief off. Also, how long is optimum if you are short on time to do a stress relieving activity?"
Bigger said, "Exercise: Long walks, tennis, biking, going to the beach, I have to get back to reading, movies and so on and so forth."
Host Alexander said, "Most of those are great for both our mental and physical stress."
Koch said, "Go outside, take a walk, read, yoga, journal, call a friend."
Prox said, "Walk away. Seriously. I take a physical walk somewhere else. I listen to nothing. I talk to no one. I walk in silence and let my brain clear itself out. Works like a charm!"
Rusine said, "A bit of gardening. I read a book or two on weekends. I try to be mindful of my white space."
Nigel Packer from Pelatis Online in Wales, UK said, "Drink!"
He continued, "Only joking! Walking, swimming and other forms of physical exercise to burn the adrenaline off."
Tabasso said, "Yoga, meditation, pet the cat, barn, junk journaling, rest, cook, cooking shows, read."
Darby said, "When it's sunny, I like going for a walk after work; eating healthy and getting sleep is important too. It improves my mood tremendously."
Moorfield said, "Reading is my primary go-to. Other then that - watching TV or playing video games."
Brett said, "When I'm feeling stressed out, I like to get outside for a bit, work out, or play my guitar. And I like to combine these when I can with activities such as surfing, snowboarding, or playing guitar under a tree." Mandy said, "You knew this answer was coming... YOGA and meditation!"
McDermith said, "Well, beer / wine and friends is always fun, but more so I love to read and hike (sometimes at the same time)"
Prox said, "Laughter is also great stress relief!"
Stevens said, "Jazz and cooking, also a good movie. The Botanical Gardens always helps me destress.. (corny but true!)"
Giglio said, "Hiking, fishing, and camping. The outdoors has always been my happy place. It always feels like you're in a different universe when you've spent a couple nights in the woods."
Austin said, "I like to Hike and get away from the world. Also once a month I get a massage. Goodness I love that! I wish I could get one every day!"
Bigelow said, "Doing it right now! Listening to Yacht Rock and talking to my virtual co-workers (not really co-workers, but my virtual water cooler friends)."
Plats said, "I'll take a walk or play a mindless game for a bit to destress and unwind, especially if working on a difficult task. Or I eat a piece of sour candy."
Neil Hussey from Denco Lubrication in the UK said, "Practice mindfulness, 5 mins outside, 30 seconds concentrating on my breathing, anything like that. Walking and the gym are also good stress relievers."
Host Alexander said, "My favorite mental stress tips include gratitude, eliciting your personal values, visualization, detoxing from technology and forgiveness of yourself and others."
He included some links to different helpful videos:
Gratitude: https://youtu.be/Un7xFmN5KE0
Values: https://youtu.be/yb5AB_f38bw
Visualization: https://youtu.be/3sM4mKtjUBY
Detoxing from Technology: https://youtu.be/Bgbda-NQiZU
Forgiveness: https://youtu.be/Zr95d9jLFuA
Reducing Physical Stress
The chat concluded with what people like to do to reduce physical stress. Participants shared their thoughts.
Prox said, "I review what I've been eating or drinking and make those changes right away. I increase my supplementation as needed. AND, I give my body rest."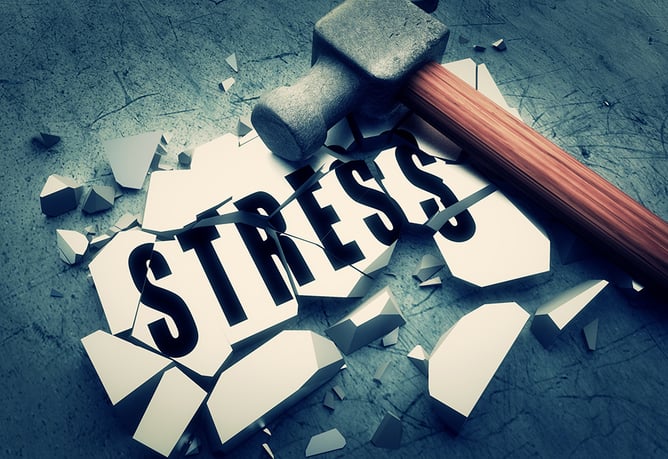 Koch said, "Yes! Rest is so important!"
Courtenay said, "I actually bought a neck Massager. I feel ridiculous using it but it's kinda amazing."
Host Alexander said, "I have a massage chair and it is a go-to in the mornings while I have my first cup of coffee :)
Koch said, "Stretching or yoga, mindful breathing, a massage."
She continued, "Rebecca gave me some ideas... I like to try and say NO when I can so I am not stressed by busyness and build in downtime to my schedule."
Rusine said, "Exercising- biking around the neighborhood. Getting enough sleep."
Bigger said, "Same answers as before. Exercise and getting outside and away from my computer."
Giglio said, "While it should be maintaining a regular stretching and meditation routine, normally it's sitting on the couch binge watching some new series or true crime on YouTube."
Bigelow said, "I like to make sure I spend time outside, it's so nice being in the sun!"
Host Alexander said, "Nature is a wonderful thing!"
McDermith said, "Hiking, yoga, massage, naps."
Host Alexander said, "Simple and very effective!"
Packer said, "Sit on a beach and look out to sea. It is a form of meditation."
Host Alexander said, "My favorite physical stress tips include microbreaks, take a walk in nature, traction stretches, 30 second shake and ask the pendulum a yes/no question."
He included some links to different helpful videos:
Microbreaks: https://youtu.be/divv1IMxkkk
Walk in Nature: https://youtu.be/QoWTVneaflU
Traction Stretches: https://youtu.be/97N0h1TrBVg
30 Second Shake: https://youtu.be/Ab5QwaTW8nU
Ask the Pendulum: https://youtu.be/4zzz-NSVkC4
To continue your stress management journey, host, Alexander included links to the following resources:
********
About #USAMfgHour
Anyone who champions U.S. manufacturing can join in on a new conversation each week on Twitter using the hashtag #USAMfgHour. The chat starts at 11 a.m. Pacific Standard Time/2 p.m. Eastern. Share positive blog posts, helpful articles, news, important information, accomplishments, events, and more with other manufacturers and supporters from throughout the country.
Are you interested in hosting a #USAMfgHour chat? Contact organizers @DanBiggerUsaMfg, @DCSCinc, @SocialSMktg and @Radwell_Intl
To learn more about how Radwell can help your manufacturing operation