Manufacturing Day is a celebration of all things manufacturing. It is a way to highlight what your companies do to spread the word to your community, potential customers, and the next generation workforce.
Does your manufacturing organization host any special events for Manufacturing Day? Ruby Rusine of Social Success Marketing in California and Dan Bigger of Custom Profile in Michigan led a discussion for USA Manufacturing Hour Chat on Twitter about tips to help businesses maximize Manufacturing Day. The goal of this discussion was to gain tips and insights from everyone in the USA Manufacturing Chat community. Those businesses that intended to host an event would then be armed with actionable tips for celebrating the day moving forward.
Awareness
The discussion began with learning about how many businesses are aware of Manufacturing Day and whether or not they've organized or been a part of Manufacturing Day celebrations and activities.
Gina M. Tabasso of MAGNET in Ohio said, "Yes, I organized one for a former company that bought and sold used industrial surplus and equipment. We hosted tours and a celebration. I also wrote a blog about it and social posts to promote it."
Kelley Pernicone from NACL in Ohio said, "I just learned about Manufacturing Day a few weeks ago! We're looking forward to celebrating for the first time!"
Shannon Simpson from DuraTech Industries in Wisconsin said, "Yes. We have always participated with local colleges/universities."
Erin Courtenay from Earthling Interactive in Wisconsin said, "Not until I saw Dan Bigger's announcement on LinkedIn. What an awesome opportunity to celebrate the awesomeness that is manufacturing!"
Paul Kiesche from Aviate Creative in NJ said, "I try to attend the MFG Day event that @NJMEP puts on each year."
Kati McDermith of Industry Net in Illinois said, "I have been celebrating manufacturing day for years. But this will be the first year I think I will really be able to have an impact! I am looking forward to today's topic!" She added, "I have been a fan of Manufacturing Day for many years but I think this year is the year I will be able to have a part in it!"
She continued, "I forgot to mention, the school in our area does a manufacturing day every year where the kids work on making things themselves and selling them at an event. I like to go and take pictures of their items and write a blog post on it."
Michael Womack of NJMEP in NJ said, "We know #MFGday well as do all the MEP's in the @NIST_MEP National Network. NJMEP hosts New Jersey's largest manufacturing networking event of the year on MFG Day called, 'MADE in New Jersey' Manufacturing Day."
Val W, a Customer Evangelist for Monofrax in NY said, "We participated in Manufacturing day once — plant tours & give-ways for students from local schools."
Macy from StratMg in Illinois said, "Yes, we are aware of Manufacturing Day! Excited to hear some ideas from everyone."
Rebecca Hart from DSI/Dynamatic in Wisconsin said, "We were made aware of it last year! So, yes! We haven't been part of one yet, though. We're hoping to change that."
Womack from NJMEP added, "It's such a valuable way to get kids and young adults excited about a career in #Manufacturing!"
Rusine commented, "Your tips and ideas will be helpful , Mike! "
Sue Nordman from Obsidian Manufacturing Industries in Illinois answered, "Yes, we are aware of Manufacturing Day! We've done a variety of things in the past with it."
Chase Bodor from Plastics Plus Technology in California said, "We're aware of Manufacturing Day and we used to do a few things. Local council people and state representatives would visit to see #CAMFG in action. We also give factory tours to local students."
Chris from Zero Surge in New Jersey said, "We're definitely aware of manufacturing day! Thanks to company's like @NJMEP spreading the word."
Nicole from Snaptron in Colorado said, "Yes! We're looking forward to celebrating and bringing awareness to Manufacturing Day through our social media channels."
VirtuDesk said, "We are not familiar with this. We are looking forward to great insights here."
Lermit Diaz from SC Tools in Michigan said, "No I was not aware of a manufacturing day. I look forward to learning about it."
Janice Mckee from Burger & Brown Engineering, Inc. in Missouri said, "I'm aware of MFG Day but haven't participated in the past."
Nigel T Packer from PelaTis Online in Wales said, "I was not aware of one and just looked up in UK. We have ours on the First Friday in October. I will be pushing this here in October."
Felix Nater of Nater Associates said, "I am aware of Manufacturing Day but have never been a part of or organized one. If anyone is looking for a speaker or support, call on my complimentary offering in support."
Gwen Bradley from Momentum in Michigan said, "Yes, I am well aware of MFG DAY. I think it's an awesome way for our young people to be introduced to and learn about the manufacturing world. College is not for everyone and there are awesome opportunities at all levels."
Co-host, Ruby Rusine responded, "Truth be told, I only heard about manufacturing last year in one of those chats within chats that we did on the USA Manufacturing Hour chat."
Co-host, Dan Bigger said, "Manufacturing day is a celebration of all things manufacturing. It is a way to highlight what your companies do in order to spread the word to your community, potential customers, and the next generation workforce."
He added, "They are great events. If you are not having one for your company others have them that you can attend. I will be attending NJMEP and others maybe."
Benefits
There are many benefits to hosting a Manufacturing Day celebration for a manufacturing organization. The next part of the discussion led to some opinions on some of the many benefits to hosting a Manufacturing Day celebration.
Tabasso said, "It brought people in our doors but more importantly, it sewed the seeds among students to make them aware of STEM programs and careers in manufacturing."
Nater added, "I could spend the entire session on the benefits. Educating the workforce will pay handsomely in dispelling rumors."
Hart said, "Benefits to us would be getting our name out there. We were forgotten after our Eaton Corp. days. Many don't know who we are or what we do. That should change. We're pretty cool."
She added, "We'd love to reach out to students in our area to get them interested in what we do and what Wisconsin Manufacturing is all about. It's one of my goals this year. We'll see what we can pull off with little time left."
Kirsten Austin from DCSC Inc. in Missouri said, "I think it would be really great to get more USA Manufacturing Companies to collaborate and continue building a community. While Global Trade will always be relevant we should be manufacturing more things in the US so we don't have to wait on supplies.
Jeanette Stevens from Genedge Alliance in Virginia said, "It is a great way to introduce ourselves to the local manufacturing community. Show them what we can do, give back by hosting a tour. Keeping us top if mind for those who are curious, didn't know we existed and need us."
Paul Kiesche of Aviate Creative in NJ said, "I don't plan on putting on a celebration, but there are some nice benefits from attending a celebration for MFG Day. Good networking, building awareness, educational, exposure, relationship building and growing the community."
Bodar added, "The benefit for us is showcasing the industry and our business to the community. This gives us exposure to different workers, govt officials, local community programs, and businesses."
Pernicone said, "The biggest would be to celebrate the team, the work we do, and the services we provide with the broader community. It is like an amazing spirit day where we can share how proud we are to be a manufacturer in the US!"
Dave Meyer of Bizzy Web in Minnesota said, "Our entire team supports manufacturers, and connecting with their needs and meeting the real folks behind the scenes is going to be amazing!"
Gail Robertson, a Manufacturing Marketer and Owner of Gail Now said, "Even if you can't do an in-person event you can still join in a hashtag and provide some virtual value!"
Val W said, "Community awareness and teaching students the importance of manufacturing is a great benefit. Never pass up the opportunity to impress."
Macy from StratMg in Illinois added, "It's an authentic and fun way to show how we support manufacturers and help us spread awareness. Who doesn't like a celebration?!"
Erin Courtenay from Earthling Interactive in Wisconsin said, "There's a tendency in our city to focus on the bright shiny new industries like biotech and startups - it would be super fun to find ways to show how those sectors rely on manufacturing and to lift up the whole business community!"
Nordman said, "The biggest benefit is bringing awareness to manufacturing, of course! We all provide an essential function to the country and world and it's nice bring that awareness to it. Plus the added effect of bringing awareness to each of our companies and products." She added, "I think it is a great way to bring all manufacturing together in our country. Each of us is unique so our experiences are different but the common thing for all of us is that it brings people in our doors and raises awareness of our product, services & what we do."
Bigger contributed, "Benefits are increased visibility, Potential New Customers, Awareness of your industry, Developing the next Generation."
Rusine added, "What stood out for me as to why this initiative is great is for inspiring the next generation of manufacturing workforce. I heard a lot about shortage in workers – including manufacturing. Per Business Insider, "worker shortages at US manufacturers risk costing $1 trillion in output by 2030." That's disturbing. Educate the present generation now!"
Target Audience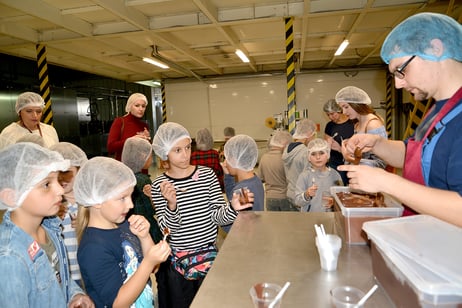 There were some insights about who a target audience should be for a Manufacturing Day
celebration. Everyone had opinions.
Stevens said, "STEM students, high school seniors, local manufacturing companies for starters."
Hart added, "We'd like to target the next generation of manufacturers. High school and college students, mainly."
Freight Pop in California said, "We love supporting (and celebrating with) our clients, and showing them how much we appreciate them. It's also a great way to open a line of communication with them and let them know we are in this together!"
Pernicone added, "Our direct and related industries and then our community! We're hidden in an industrial complex. People are often surprised to hear what we do in a suburb of Cleveland!"
Womack said, "We use Manufacturing Day as a way to connect and reengage with our local industry leaders. However, it offers incredible value to Manufacturing as a whole. Our industry needs the attention it deserves! Manufacturing is critical and so often overlooked."
Tabasso added, "Target audience could be local politicians, news media, local businesses and residents, schools, clients
Nordman said, "The easiest answer to this is that it's like free marketing. Jump on that hashtag, submit your event to the list, post on social media, and so much more! Get yourself seen by sales leads and help inspire more people to work in our industry. It's a win-win!
Packer added, "I have been involved with Engineering week through the universities. They try to find placements for students."
Austin said, "There are so many great opportunities for our younger generation and I think they need to know. Manufacturing is not just a "factory job" Project Management, Development, Engineering, Sales, Supply Chain the list goes on and on! "
Hart said, "We like to say "It's not a factory job, it's a future job!" So many opportunities for growth."
Tabasso added, "Automation and additive are really growing areas with huge opportunity. Plus we need welders and machinists!"
Val W contributed, "Our audience was students. We hosted multiple groups of high school students. Showed a video & gave plant tours. Students received snacks & t-shirts."
Meyer said, "Our audiences - other manufacturers, news pubs, potential hires for our clients, etc."
Nordman said, "The ideal target for us is the future of manufacturing. We're facing a labor shortage with the next generation and manufacturing day helps us address that."
Bigger added, " You can target any all the way down to grade school. They get just as much if not more from seeing machinery run and parts being made."
Womack said, "Any time a manufacturing entity can get the word out about their business, so many lives benefit! Manufacturers offer great local career options and are incredible economic stimulators. "
"We had 6/7th grade campers in this summer and we shared our backgrounds to show that everyone can have a place in manufacturing! It was so fun, " said Pernicone
Dan Bigger's recommended targets include News organizations (Papers, News, Industry Journals) Existing customers, Potential Customers, Tech/High/Middle/Grade schools, Your community
Ruby Rusine added, "Who you target, depends on the outcome that you want to happen. I would also include Elected officials, Youth organizations, Third-party service providers and Families."
Unique Challenges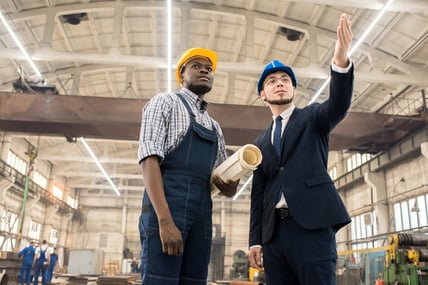 With the uptick of COVID cases, marketing a Manufacturing Day event for 2021 might present some unique challenges. The discussion turned to some of the best ways to market this type of event and some of the challenges that can be overcome this year due to COVID.
Freight Pop said, "Due to the uptick in COVID cases, the perfect Manufacturing Day celebration is held outdoors, for those who are local, and can also be attended virtually, for those who can't make it in person or want to stay home!"
Macy from StratMg in Illinois said, "You could have a digital celebration by hosting a party via Zoom or go LIVE on LinkedIn, Facebook, or Instagram. You can create a pre-launch content plan to build momentum around these digital parties for Manufacturing Day."
Tabasso added, "Virtual tour, virtual happy hour, social media campaign, blog for awareness, ad in the local paper."
Nicole from Snaptron in Colorado said, "Use your social media channels to livestream a virtual tour or host a Q&A."
Shannon Simpson from DuraTech Industries in Wisconsin said, "Live video stream on a social media platform."
Stevens said, "Virtual Zoom celebration, social media live stream. Or hybrid in person events with proper safety measures in place, but also virtual for those who feel it best not to attend in person."
Meyer added, "We're doing 100% virtual - links, content and sharing of topics to our audience."
"A livestream is a GREAT option," said Hart, "Anything virtual, of course, is great during COVID, though people are getting burned out from being online. Maybe there are ways to get students involved through their teachers in an extra-curricular way."
"We'll likely do a virtual celebration and partner with our Chamber of Commerce to help us spread the word," said Pernicone. "We're going to show off a "Day in the Life of a Lens" in our building!"
Diaz contributed, "I would do a mix of virtual and in person, complying with all health & safety requirements."
Courtenay said, "October is usually a pretty nice month weather wise. An outdoor event at a local public space where a regional manufacturer has an installation - maybe a park with play equipment made in the area could be super fun."
Nordman said, "Virtual events have been the way to go since COVID started. Having speakers virtually, videos, live streams, etc. could be a good start."
Courtenay added, "Another fun thing could be a game where people post pics on social media of "Made In USA" things in their home, office, city and tag the manufacturer that built it."
Chris from Zero Surge said, "We don't mind virtual events although we understand there are plenty of difficulties that come with the territory. Between technical issues and garnering interest, it can be a real struggle. Hopefully, live events will be more reasonable next year!"
Hart said, "A livestream is a GREAT option. Anything virtual, of course, is great during COVID, though people are getting burned out from being online. Maybe there are ways to get students involved through their teachers in an extra-curricular way."
Rusine added, "You can bring Manufacturing Day to schools if you don't want them to come over to your facility. Tap those teachers you know."
Pavel Stepanov of VirtuDesk said, "Stay safe and compliant. Covid is still out there and not all people have been vaccinated."
Packer added, "There are so many opportunities to do a live stream walk around the plant to see what happens to raw material and how it gets to the end product. Interviews with different people in the company about the jobs they do and a Q&A session for those who want to ask."
"Valued information could be shared," said Nater. "The Families First Coronavirus Response Act provides access to paid sick and family and medical leave for reasons related to COVID-19 for employees who work at companies with less than 500 employees through the end of the year.
Nater added, "Workplace Environment Issues like the following could be addressed. Sharing of success stories are priceless Sanitation Vendor Services Personal Protective Equipment (PPE)
Nordman said, "Social media has been so important for B2B marketing during COVID and this is just another example. One year we used "#wemake" during the month of October. The hashtag was created by @TMAInfo. It was an easy way to bring us all together."
Rusine added, "Depending on state restrictions, you can do just mere virtual tour. Or you can do a hybrid tour – mixture of virtual and in-person - because there's nothing like engaging the five senses."
Improvements
Next to be discussed were some of the many ways to improve upon Manufacturing Day. The goal of every celebration is always to make the event better for attendees and the hosting organization.
Tabasso suggested, "Do something fun and interesting and have food! We had a demo from the high school robotics team at our event."
Bradley said, "Most times the hosts only offer a plant tour. I think that some live interactions would be more beneficial in getting the students excited; more hands on."
McDermith said, "I would love to attend an event where I could participate in a part of production, depending on the product I guess."
FreightPop said, "Everyone loves live music! And plenty of pizza. On a more serious note, making your own hashtag for attendees to share on social media is a great way to get everyone more involved."
Tabasso added, "We had a guy who built these huge robots that walked and roared and breathed fire in our parking lot. He was a big draw. Everyone was out there watching."
Dana Engelbert, a Manufacturing supporter in Mississippi said, "Two suggestions because all of you are stretched: You don't have to focus all of your energy on one single day. Spread outreach activities out. Partners can help lift the load. Look at science-based children's museums, makerspaces, etc. They share the mindset."
Womack from NJMEP said, "Well said, Dana! Many @NIST_MEP centers are celebrating the entire month. We do make great use of partners as well to ensure our event is a success. Fantastic advice."
Nordman said, "Demos, career fairs, or just working with the younger generation with anything is a good starting point. Serves as a promo of products/services, shows the younger people interested in manufacturing what they could be doing, and helps tech programs."
"Plan around your goal (hiring talents, awareness, etc.) and how adoption of technology – can impact your objectives," said Rusine.
Bigger added, "Show a manufacturing process (how it's made), highlight the company's work (How your company makes a difference, show a project-start to finish (understanding of the process), and highlight employees (their journeys/responsibilities)."
Broadening the Scope of Manufacturing Day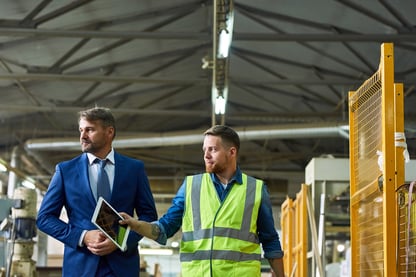 There was some discussion about whether Manufacturing Day should remain just a one day a year event or if it should be broadened in scope.
Bradley said, "Not necessarily; but since Oct 1st is so widely known as MFG DAY it's good to keep it on the calendar. HOWEVER, local schools/colleges should be working with manufacturing companies throughout the year to bring awareness to students."
Pernicone said, "Every day is Manufacturing Day at NACL."
Hart added, "Ditto!! We'll show people what we do anytime. Why host a Manufacturing Day? It can be done anytime, not just on Oct. 1."
Nordman said, "We spread it out all month long in October. I believe it is designated "Manufacturing Month".
Janice Mckee of Burger and Brown Engineering in Missouri said, "We give tours to visitors all the time, but it's not so much of an "event" and much more managable in small bits."
Nicole from Snaptron said, "Manufacturing day can be any day!"
Bodnar said, "I think Manufacturing Day is a unique marketing opportunity. Specifically, it engages non-MFG organizations and enables them to do some of the promoting for us. The question is- how can we make this enablement and collaboration become a regular thing."
Packer said, "Many of the events I have been involved with have been over a few months dealing with different target groups. These all lead to a single day of activity where all the people who have attended along the way can meet up."
Courtenay said, "It is good to have one day that everyone puts the focus on it. But all year round it makes sense to celebrate manufacturing. Confession: before I joined #USAMfgHour I didn't realize how warm-hearted manufacturing is. The public needs to know it isn't all steam and grit."
Womack said, "Well said and such a great point! This is an amazing community of professionals. The world needs to see this side of manufacturing. Couldn't agree more about the fact that the industry should be celebrated all year long!"
Nordman added, "Manufacturing Day is every day for most of us! This just provides us a day to spring board our industry into the eyes of everyone else."
Rusine said, "For the sake of the next generation, manufacturing awareness should not just be a one day event. It should be an ongoing initiative. IMHO, the one day should highlight the wins of small and big manufacturers for the entire year."
"Plant tours, shadowing, presentations, job fairs, etc. can be done all year long," said Bigger. "It's important to bring in students at an early age & as many as you can to expand the reach to possible manufacturing employee in the future."
Planned Manufacturing Day Events
A brief survey was taken to see which manufacturing operations were celebrating Manufacturing Day 2021 with an event or activity. Custom Profile, where Dan Bigger works, is not celebrating Manufacturing Day due to the covid pandemic and possible risk to our employees and the production of their customers. However other participants in the discussion were mixed with some having upcoming plans and some just planning to attend other events for Manufacturing Day 2021.
Jonaed Iqbal from NoDegree.com said, "We will celebrate it this year! "
Hart said, "We'll be doing something, but we haven't got it all figured out just yet. Probably a landing page on our website and a social media campaign. No links ready yet."
Val said, "We aren't planning anything, but it might be a good project for our new social media intern."
Bradley said, "No we are not. MOMENTUM is a digital marketing agency; but we encourage our B2B industrial/manufacturing clients to participate."

Nordman from Obsidian Manufacturing Industries said, "Yes, we are! Still working on the execution of what we're doing but it is in the works!"
Packer said, "I will be looking out for the links so I can support where I possibly can.
Womack from NJMEP said, "Our event has a virtual option! We hope to see you all there: events.bizzabo.com/njmep2021 Excited to learn more about the events being shared here. We'll be helping to spread the word!"
Rusine answered, "We are not but since we are social media specialists, we will support initiatives of our #USAMfgHour community and the manufacturing industry at large including @TheMfgInstitute @NIST_MEP @mfgday by resharing their #mfgday21 posts when able.
A few participants shared helpful resources about Manufacturing Day.
Hart contributed, "Lots of resources on the Mfg Day page, but this webinar is a great start:
https://documents.nam.org/MI/MFGDay/2021/messaging_webinar_recording.mp4
Tabasso offered a link to posting events or looking for events for Manufacturing Day
creatorswanted.org/find-events/
Attending Events
The discussion concluded with whether those who weren't planning a Manufacturing Day event would be attending another company's Manufacturing Day celebration.
Hart added, "Yes! We will be attending events. Maybe we'll get some ideas for next year, too! If you have an event you'd like us to check out, leave your link for us!"
Rusine said, "Yes, I will attend events if my schedule permits."
Iqbal said, "So many great ideas in this chat!"
Packer responded, "I dropped in one evening over a year ago and have not been able to leave."
Bigger said he planned to attend an event or two.
Womack said, "Manufacturing Day is just the introduction to Manufacturing Month! Let's celebrate all October long."
Iqbal added, "The future of manufacturing looks bright!"
Manufacturing Day is a great opportunity to share a Manufacturing operation with the community.
Manufacturing Day is held on the first Friday of October. Organized by the National Association of Manufacturers, its purpose is to raise awareness among students, parents, educators and the public about modern manufacturing and the rewarding careers available. Since its inception, federal agencies and senior officials have enthusiastically supported Manufacturing Day in countless ways – including official proclamations, factory tours, presentations, and other outreach initiatives.
Manufacturing Day 2021 activities and celebrations will take place both virtually and in-person. Ways to get involved:
About #USAMfgHour
Anyone who champions U.S. manufacturing can join in on a new conversation each week on Twitter using the hashtag #USAMfgHour. The chat starts at 11 a.m. Pacific Standard Time/2 p.m. Eastern. Share positive blog posts, helpful articles, news, important information, accomplishments, events, and more with other manufacturers and supporters from throughout the country.
Are you interested in hosting a #USAMfgHour chat? Contact organizers @DanBiggerUsaMfg, @DCSCinc, @SocialSMktg and @Radwell_Intl