As marketing procedures progress over the years, businesses have started to transfer away from digital ads and popups, due to sensory overload from the shear number of ads seen on the internet today. Since these ads are no longer reaching their target audiences, businesses have started creating videos with real, authentic and helpful content. Marketers have found that a video presence is a versatile and extremely shareable medium to reach their audiences.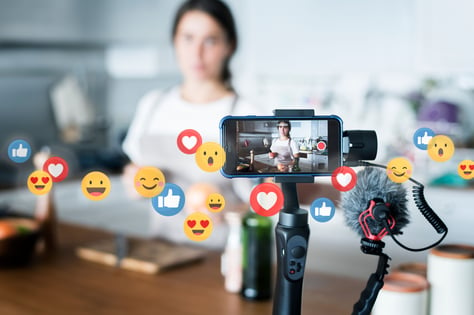 About a Video Presence
Video marketing is a strategy involving the use of videos to promote and market a product or a service. In addition, this type of marketing can increase engagement on digital and social channels, educate consumers and customers, and reach a desired audience with a new medium. There are many different types and uses of videos that can help showcase an operation on all platforms. As an example, a company can present how-to instructional videos, promote customer testimonials, live-stream events and even deliver entertaining viral content.
Having an online video presence for a business has proven to be effective and has many benefits. First, videos help a company connect with its target audience. Video provides a platform to say who a company really is as well as allow customers to get to know a brand. Next, as algorithms have changed over the years, video has become an SEO gold mine. Video can be used to help build backlinks to a blog and drive traffic to a website. Lastly, customer's preferences highly favor watching a video about a product more than reading a description. Providing relevant imagery to a product helps boost information retention, thus educating customers more.
In today's business environment, video has begun to take over every corner of the room. This is because consumers want to see videos from their brands over any other type of content. Having an video of a team/company on a company's website homepage can cause a decrease in visitor bounce rate and an increase in conversion rates. Companies have even seen an increase in their email open rates when the email subject line simply contains the word "video".
Radwell Example
Radwell uses video in every category imaginable. Video is included in Radwell's website, social media platforms, YouTube, and even embedded in some blog posts. For Radwell's video objective, the goal is to humanize the company toward the consumer. Radwell uses four steps to better achieve that goal:
Brand Awareness – The definition of brand awareness is the extent to which consumers are familiar with the distinctive qualities or image of a particular brand of goods or services. Radwell actively posts videos on multiple platforms to reach as many potential customers as possible and to expand their reach.
Behind The Scenes – Radwell posts short, snappy video clips on social media platforms to help build strong connections with their audience and in return, increase audience engagement rates.
Education – Radwell's YouTube channel has personalized playlists that speak on certain educational topics. This ranges from explaining a product,
to showing a new technological advancement in a warehouse. By educating consumers through these videos, Radwell builds credibility in related industries.
Behind The Scenes (Employee) – Also posted on Radwell's social media are behind the scenes video clips of employees. This illustrates what type of work environment Radwell is, as well as helps build stronger connections with the viewer.
These are just some of the ways in which a company can use video marketing. Using video can effectively showcase an operation and provides measurable benefits. If a company hasn't posted any videos to any type of platform, its definitely time to start.
To learn more about how Radwell can assist your operation
Listen to Radwell's Automation Nation Podcast