The Pump Act is a new law that makes changes to the Break Time for Nursing Mothers law, which required that employers provide reasonable break time and a private, non-bathroom space for lactating employees to pump milk during the workday.
The full name of this legislation is Providing Urgent Maternal Protections for Nursing Mothers Act. It was signed into law by President Biden on December 29, 2022.
How does the PUMP Act affect manufacturers? In a recent chat for USA Manufacturing Hour on Twitter, host Whitney Koch from Welker Inc in Texas, led a discussion about how manufacturers can successfully navigate the parameters of this new law.
Time and Space for Mothers
The discussion began with participants sharing their opinion on manufacturers providing time and space for breastfeeding mothers at work.
Julie Basello from Radwell International said, "I think time and space is definitely required but I don't know the exact specs for how much (?)"
Ruby Rusine and the Social Success Marketing said, "I would like to believe so. This is an important step towards creating a more equitable working environment for all."
Missy Moorefield Southern Fasteners and Supply said, "I'm going to guess that companies in all industries (at least in the US) are not required..."
Host, Koch, replied, "Well, America does lag behind a lot of other countries in terms of maternal care and support, so I totally understand where you're coming from."
Rebecca Prox said the Digital Marketing Pro said, "Honestly, I have no idea if this is a requirement or not, but it should be if it isn't."
Host Koch replied, "Isn't that the truth, Rebecca?! For context, here's the first chat from last fall."
Kati McDermith, the Manufacturing Hype Girl said, "I would have assumed so, but I don't know for certain."
Chris Giglio from Zero Surge said, "I would hope so, this is a necessary biological function for many. If it's not, then it absolutely should be!"
Host, Koch replied, "Necessary biological function--right on, Chris!"
Beth Bigelow from Home Building Solutions said, "I have no idea about this, I've never breastfed haha!"
Basello replied to Bigelow with, "Me neither but I attended Whitney's last hosting gig for this chat and learned a few things ;)"
Gina Tabasso from Magnet said, "Yes."
Nigel Packer from Pelatis Online said, "I believe employers are now expected to provide these facilities in the US. The UK and most of Europe have had this as law since 2010."
Brett from FreightPOP said, "I'm not sure if it is currently a nationwide requirement, but I feel as though it should be! I also think there should be designated, comfortable areas for them to do this (i.e. not a closet!)."
Ingor van Rooi the Networking Ninja said, "I should hope so, but please do tell!"
Felix P. Nater from Nater Associates said, "I think workplaces need to be proactive if they are really interested in creating workplace environments that supplement the workplace efficiencies."
Host Koch said, "Prior to the Pump Act, there was a good chance that small manufacturers were excluded."
She continued, "The Fair Labor Standards Act (FLSA) was amended in 2010 to require employers to provide a nursing mother reasonable break time and a place for an employee to express breastmilk after the birth of her child. However, an employer w/ less than 50 employees was not subject to this if these requirements would impose an undue hardship."
She added, "Under the PUMP Act, employers of ALL sizes are required to provide a reasonable amount of break time and a clean, private space for lactating workers to express milk for up to one year following the birth of the employee's child. Employers that have fewer than 50 employees may be excused from complying when providing the required break time and space would impose an undue hardship, though this is rare."
Potential Repercussions
The discussion continued with participants sharing what potential repercussions there are for employers that do not provide pumping breaks and a private space to employees.
Kirsten Austin from DCSC Inc said, "It would certainly give them a bad reputation if nothing else."
Host Koc replied, "And good reputations certainly have a lot of value!"
Rusine said, "They may risk legal action and financial penalties, as well as losing the trust of their employees."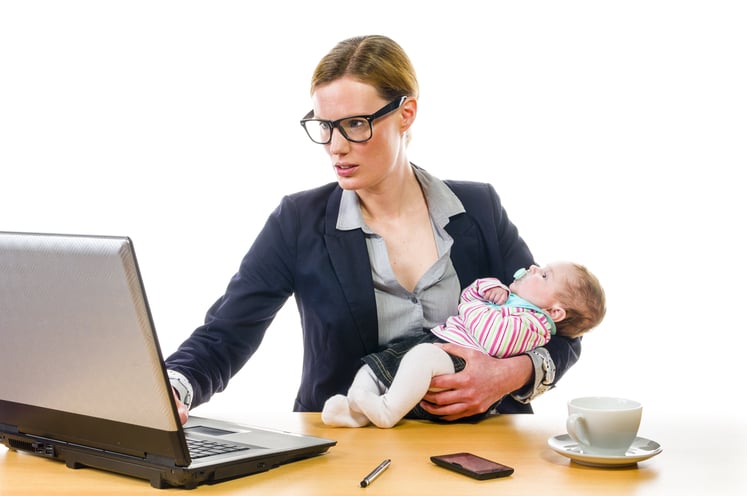 Host, Koch replied, 'Losing trust is huge! Thank you for including that."
Packer said, "Absenteeism and good employees not returning after the birth of their child. They will also get a reputation of being unfriendly to their staff."
Moorefield replied, "Ohh, those are good answers, Nigel!"
Host, Koch, also replied, "Ooh, thank you for including these, Nigel! There are more nebulous but for sure have costs associated with them."
To which Packer replied, "Yes, I would assume that there are fines and compensation payments if provision is not made. There have been some cases in the press over here."
McDermith said, "Probably warnings and fines?"
Moorefield replied, "I was also thinking the company would get hit with fines!"
Tabasso said, "Lawsuit for discrimination? Fines?"
Bigelow said, "I'm going to guess fines!"
Prox said, "Hm... since it would be a violation of law, I'd say they'd be subject to lawsuits."
Brett said, "I hope that there are some sort of fines or legal warnings to the employer if they don't provide pumping breaks/private spaces."
Van Rooi said, "Repercussions? I suppose there would be fines at the very least."
Host Koch said, "If an employer refuses to comply with the law, an employee can.
File a complaint with the US Department of Labor Wage and Hour Division

File a lawsuit against their employer."
She added, "The enforcement provision of the PUMP Act, which gives a right to file a lawsuit, goes into effect on April 28, 2023."
She continued, "A lawsuit can be filed right away under these circumstances.
For violations of the break time requirement

If the employer has indicated, it has no intention of providing space for pumping.

If an employee has been fired for requesting break time or space



Inadequate Space
Before filing a lawsuit for a "violations of the lactation space" requirement, an employee must notify their employer that an adequate space has not been provided. This may give the employer an opportunity to provide what is needed.
Participants shared their thoughts on what the minimum requirements for a compliant pumping space are.
Prox said, "Am I allowed to look this up? I wouldn't be able to say otherwise. This article is a nice resource!
Austin said, "I have no clue."
Rusine said, 'There should be a space dedicated for this purpose alone. Not in the bathroom, if it can be helped. (I'm guessing here.)"
Host, Koch, replied, "It would be AMAZING if it was a 100% dedicated space, though that's unfortunately not required at this time."
Tabasso replied, "We have a dedicated space at my office."
Brett said, "I'm not exactly sure!"
Tabasso said, "separate room with privacy (no windows), door that locks and comfortable seating with access to refrigeration, I would imagine."
Host, Koch, replied, "Gina, you are on fire."
Packer said, "In the UK it is mandatory that companies provide a suitable safe and comfortable environment for mothers expressing. It cannot be the lavatories and should have a sink and suitable seating. I am not aware of the rules for the US"
Host, Koch, replied, "They're pretty similar, Nigel!"
Amy M. Anderson said, "Private space, thus ruling out most bathrooms!"
Moorefield said, "I figure privacy (which includes a locking door) is definite. Past that, I'm not sure."
Austin replied, "Very good point."
McDermith said, "Not sure what's required, but one of my past employers had a mom's room with a couch, glider, drink refrigerator with water, high calorie snacks, heavy curtains and soundproof. There was a separate fridge that moms could refrigerate. It was really nice!"
Rusine replied, "That is awesome! Quite the standard... Happy that there are companies like them who value mothers and care for them."
Moorefield said, "Got a question back to you... Once an employee has notified their employer of the lack of adequate space, how long does the employer have to correct this?"
Koch replied, ""It is important to be aware that to be allowed to file a lawsuit for a violation of the lactation space requirement, an employee must notify their employer that an adequate space has not been provided. Employees must do these 10 or more days before filing a lawsuit in court. Informing an employer that the lactation space is not adequate may give the employer an opportunity to provide what is needed."
Nater said, "I would imagine accommodations would be the next logical concession. Make sense to me."
Van Rooi said, "Not sure...looking forward to learning, though!"
Host Koch said, "Employers must provide a space that is
Functional for expressing breastmilk (has a chair and flat surface for pumping equipment)

Shielded from view

Free from intrusion

Available whenever a mother needs to express milk

Not a bathroom"
How to Meet Requirements
Participants then shared thoughts on what some ways are that an employer could meet the space requirement.
Rusine said, "We don't work in an office, but we have a teammate who's a mother. And we always make sure she has time to feed her baby. It's really all about accommodating the needs of employees."
Tabasso replied, "That's so true. Need for feeding may not coincide with meetings, especially in the world of back-to-back Zoom calls. Sometimes, I don't eat or use the bathroom."
Rusine replied back, "Even online work can pose harsh challenges for working moms, so we really have to be aware and find ways to help them out"
Prox said, "Designate an office space with a door & no windows, use spaces with curtains or screens, etc. And don't forget to label the space appropriately!"
Moorefield said, "Converting an office is my first thought."
Tabasso said, "We built a new HQ that opened in October. Leadership built it into the design. On the second floor, there is a men's restroom, women's, handicapped, and a lactation room in a little quiet corner. Otherwise, retrofit a small office or even a storage closet?"
Packer said, "Identify the number of women at any one time are likely to need such a facility and create it suit. Some companies provide creche facilities, if this is the case, then close to the creche."
Van Rooi said, "Perhaps convert an unused space (like an office) or even divide a boardroom / meeting room to meet the requirements."
Host Koch said, "At Welker, we modified our smallest conference room to include a lock and window shade (shielded from view & free from intrusion). This room already had a table and chair (functional). Pumping employees can reserve the room in Outlook, so it is available when needed."
She added, "The solution can be outsourced as well.
@MAMAVA designs & manufactures pods and room solutions
@workandmother works with landlords to build out lactation suites w/ access for all tenants and operates them
Takeaways
The discussion wrapped up with participants sharing their takeaways from the chat.
Tabasso said, "This one is: @MAGNETOhio"
Host, Koch, replied, "Love it! I remember you sharing that your new building included a mother's room."
Giglio said, "Thank you for hosting today! I certainly learned a lot, mainly that we're not nearly as progressive as I thought when it comes to this issue."
Host, Koch, replied, "Thanks so much for being here, Chris! I am glad you learned a lot. We are behind, but we're taking steps forward"
Prox said, "I believe many smaller employers (if not exempt) will be in violation. I worked for a larger employer once that had a room for any use, including lactation. I only walked past it as I never needed it, but it was pretty nice. It was like a small health room."
Host Koch said, "Please reach out if you have questions about becoming a mother-friendly worksite or how to support women in manufacturing."
********
About #USAMfgHour
Anyone who champions U.S. manufacturing can join in on a new conversation each week on Twitter using the hashtag #USAMfgHour. The chat starts at 11 a.m. Pacific Standard Time/2 p.m. Eastern. Share positive blog posts, helpful articles, news, important information, accomplishments, events, and more with other manufacturers and supporters from throughout the country.
Are you interested in hosting a #USAMfgHour chat? Contact organizers @DanBiggerUsaMfg, @DCSCinc, @SocialSMktg and @Radwell_Intl
To learn more about how Radwell can help your operation