A podcast is a digital audio file made available for downloading to a computer or mobile device. Podcasts are typically available as a series and new installments can be received by subscribers automatically. The term podcast is a combination of iPod and Broadcast.
Podcasting started as mostly a way for individuals to get their message out there and build a community of people with similar interests. Although that still exists, podcasts today are produced by people, groups and organizations from across the globe for all kinds of purposes from community building to marketing and more.
How can podcasts benefit manufacturers?
In a recent Twitter chat for USA Manufacturing Hour, participants discussed this very topic, led by host, Chris Giglio of Manufacturing Talk Radio in New Jersey.
What is a Podcast?
The discussion kicked off with participants sharing what a podcast is.
Rebecca Prox from DSI/Dynamatic in Wisconsin said, "I like to say, podcasts are AM talk radio for the modern world."
Host Giglio said, "That is a great way of putting it! Part of the reason we have "Radio" in our name."
Brett from FreightPOP in California said, "A podcast is a piece of content that includes a group of people getting together (in person or virtually) and talking about particular topics or opinions. They are also usually recorded on video so you can watch and listen, or just listen if you are multitasking."
Mike Womack from NJMEP in New Jersey said, "That multitasking ability is fantastic. There is so much content to consume in the world. When you can listen in on an interesting discussion while handling other work/responsibilities, it allows for even more learning with the same amount of time being available."
Whitney Koch from Welker, Inc. in Texas said, "It's a portmanteau of iPod and broadcast But I think of it kind of like on-demand radio talk shows."
Adam Baker from Schooley Mitchell in Pennsylvania said, "Podcasts are my mental escape while I run in the mornings!"
Host Giglio said, "They are my favorite gym time listen as well!"
Missy Moorefield from Southern Fasteners & Supply in North Carolina said, "I also like listening to podcasts when I run! I do switch between podcasts and music, though."
Dan Bigger from Optessa Inc in New Jersey said, "Podcasts are where a host has guests that talk about a topic that is relative the community it serves."
Womack said, "They really are such a great tool for engaging with niche markets."
He added, "A podcast can take on so many different forms! Rebecca had a great comparison to AM talk radio in the 21st century. An awesome benefit is that you can listen to them on demand."
Prox said, "On-demand feature is SO nice. I can listen when I want, where I want and never feel like I'm missing out."
Matt Long from Aviate Creative in New Jersey said, "If I recall correctly, 'podcast' comes from the blending of 'iPod' and 'Broadcast'. I would define a podcast as a digital broadcast available for downloading or streaming directly from the internet."
Kati McDermith from Industry Net in Illinois said, "Podcasts are an audio recording or session."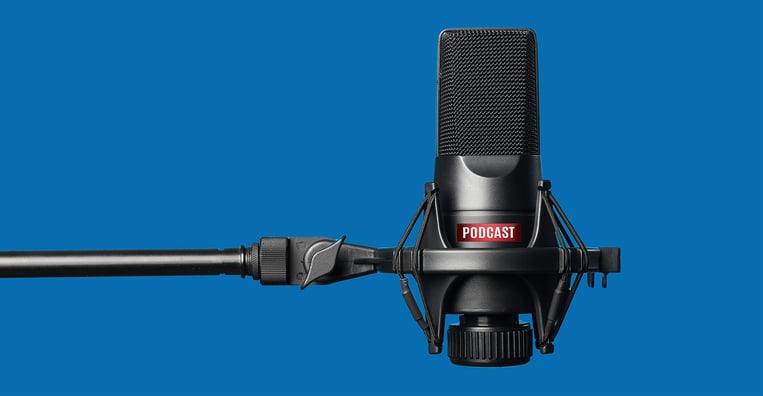 Ruby Rusine from Social Success Marketing in California said, " Podcasts are internet-downloadable digital audio files."
Nigel T Packer from Pelatis Online in Wales, UK said, "A podcast or series of Podcasts is an inexpensive internet broadcast tool to reach out to a wider audience. Sharing knowledge and opinion to your followers to promote your business or self. Grow the audience Grow the message Grow your conversions."
Erin Courtenay from Earthling Interactive in Wisconsin said, "Podcasts are a digitally distributed (usually spoken) form of content. also: a must have for enduring the tedium of laundry and dishes."
Pavel Stepanov from VirtuDesk said, "In simple words, it's audio content where you can choose different topics to listen to based on your needs."
Gina Tabasso from MAGNET in Ohio said, "Podcasts are a series of online audio or video chats on a specific topic to be educational and help with branding."
VirtuDesk said, "Like a radio but more specific. They don't have broadcasting channels like radios but you can find them on apple."
Host Giglio said, "A podcast is a program that is created and made available over the internet in a digital format. Typically a podcast is presented as an episodic series with a recurring host that engages with listeners, although there are plenty of other forms a podcast can take."
Business Benefits from Podcasting
Next participants discussed some of the benefits a podcast can hold for a business.
Prox said, "I've mulled this many times. Perhaps education and awareness."
Host Giglio said, "Definitely two important benefits of a well done podcast!"
Courtney Houtz from Butler Technologies in Pennsylvania said, "Podcast listeners are a captive audience seeking both education and entertainment, so it's easy to find a specific target audience and deliver what they're looking for."
Womack said, "That is true! Didn't even think about that point. Podcast listeners are a specific kind of content consumer. Brands can put that to work."
Bigger said, "Brand recognition."
Baker said, "Podcasts build credibility, keep you front of mind, and can introduce you to audiences you didn't think to go after."
JD from Cleveland Deburring in Ohio said, "Build brand awareness, medium for discussing new products, culture, innovation and provides an opportunity for the potential customer to get to know the company."
FreightPOP said, "Hosting a podcast can provide you and your team with a platform to share your knowledge and skills to help you be seen as a thought leader within your industry. It can also help you further connect with others in your industry."
Koch said, "Reach new audiences. Showcase industry knowledge. Build relationships. Content repurposing."
Baker said, "Content repurposing is great. I have a podcast I listen to now. I visited their website once but was overwhelmed by the content. Because they can deliver the same content verbally, I was able to better understand their value - now I catch them every week."
Womack said, "Brand Awareness - Organic brand exposure to listeners Collaboration/Networking - Bringing on a guest is a great way to start a relationship Content Marketing - Speaking on a topic your audience will find of value in an engaging way & share via social/email/etc."
Ingor van Rooi from Networking Ninja in Canada said, "It can help your business tap into a new / separate audience and therefore, also prospects."
McDermith said, "Another channel to address your audience."
Rusine said, "It builds your brand and provides a more personal connection, reaching a different audience."
Tabasso said, "Lead gen, branding, SEO"
VirtuDesk said, "Brand visibility and establishing yourself as an influencer, and expert in your field. People will be looking for your advice!"
Host Giglio said, "There are a multitude of marketing reasons behind starting a podcast. These include repurposing content, increasing your search potential, redirecting traffic to your landing pages, and utilizing a media form that isn't nearly as saturated as YouTube or blogs. (currently there are under 3 million podcasts while there are over 37 million YouTube channels)"
Statistics
Next in the discussion, participants talked about statistics. Host Giglio asked everyone to take a guess at the percentage of Americans that are aware of podcasting and the percentage that has at least listened to one podcast episode.
Bigger said, "Aware 67% Listened 45%"
Tabasso said, "My guess is 40%"
FreightPOP said, "I think it's safe to say at least half of all Americans have listened to a podcast at one point or another... and maybe around 75% are aware they exist."
Prox said, "My guesses: 56% of Americans are aware of podcasting 90% have listened to at least one episode of something."
Koch said, "I think maybe 30% are aware and 25% have listened to at least one episode."
JD said, "Aware = 90% Listened to = 65%"
Long said, "Aware of Podcasting: assuming awareness translates as "I've heard the term before" then this should be on the higher end - 75%+? Listened to 1 episode: Probably less than 50%."
Baker said, "85% of Americans are aware of podcasts, 62% have listened to at least one - maybe??"
Rusine said, "Aware-60-70% Listened to-30%"
van Rooi said, "My guess is probably at least 50-75%"
McDermith said, "I can't even guess on this but I can say that I was shocked when I found out how popular they are! As such a fan of audiobooks (looking at you @JulieBasello) I am surprised I haven't yet found one I love"
Stepanov said, "Wild guess: Aware: 92% Listened: 50-60%"
Host Giglio said, "According to the most recent data pulled by Statista, 79% of Americans are aware of podcasting while 62% have at least listened to one episode of a podcast with millennials being the leading generation in podcast listeners."
Koch said, "Surprised the overall stats are so high, honestly. Often I mention podcasts and get blank looks. But I am not surprised that Millennials are leading listeners."
Podcast Hosting Platform v. Podcast Directory
Next, participants discussed their thoughts on the differences between a podcast hosting platform and a podcast directory.
JD said, "I do not know but look forward to the answer."
Tabasso said, I have no idea since I never made or hosted one and only been a guest. This answer interests me. "
Packer said, "Me Too Gina."
Bigger said, "Yup"
Courtenay said, "Kind of like the difference between a website and a search engine?"
Koch said, "Not sure—never heard of a podcast directory. I know there are differ platforms for recording and producing a podcast. I think…"
Rusine said, "I have no idea. But I'll just listen to everyone's answers and learn."
VirtuDesk said, "Podcast hosting platforms - you can record, create, add episodes, etc. Podcast directory - a digital place where you can find numerous podcast collections.
Prox said, "Podcast hosting platform is where you'd upload your edited content. Podcast directory is where you'd find and listen to that podcast."
Stepanov said, "This is how I differentiate them: Podcast hosting platforms include acast, http://zencast.fm, and finecast. Podcast directories include Apple and Spotify."
Host Giglio said, "A podcast hosting platform is where you record and where your show will live. Some of these platforms include Podbean and Megaphone, these sites then create an RSS feed to directories where your audience will listen including apps like Spotify, Apple Podcasts, Youtube, and Stitcher."
Monetization
Next participants discussed what some methods of monetizing a podcast are, beyond using a podcast to advertise a product or service.
Bigger said, "Sponsorships I learned this from Hey, it's Julie @JulieBasello or @Radwell_Intl"
Julie Basello from Radwell International in New Jersey said, "Sponsorships, affiliate marketing, advertising, and merch."
Butler Technologies said, "Merch!!!"
Courtenay said, "Something like Patreon?"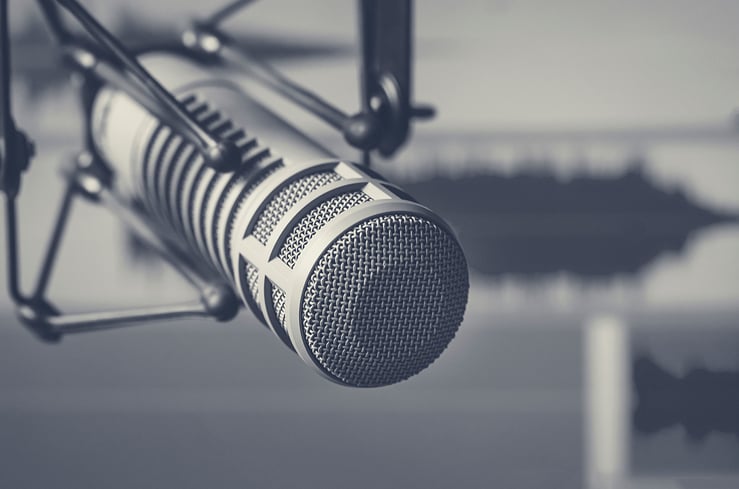 Koch said, "You could have a free podcast and then offer additional related content to paid subscribers."
Baker said, "Other than sponsorships, I'm not sure."
Long said, "Donations, crowd sourcing, selling premium content, tiered memberships. Similar tactics that you might use to monetize a YouTube channel or your streaming platform."
van Rooi said, "My FAVE – Sponsors. Other than that, I'm not sure."
Womack said, "Advertising and sponsorships! The podcast can pay for itself while it generates leads and additional business for the organization running it. A podcast can be an overhead-free marketing initiative."
JD said, "By sharing the podcast episodes on social media platforms, its creative content that may bring more potential visitors to social platforms and hopefully the company website itself. It also could create "link juice" back to the website but that's debatable."
Rusine said, "I agree with you, Dan. The most common way to make money from a podcast is through sponsorship. It's also the easiest way to make money because you don't have to make or sell anything. All you need to do is make a deal with a sponsor."
Packer said, "If you can build up a big audience then sponsorship opportunities become available. As a business it is a fine line between promoting your own business and that of others. Consider the possibility of alienating your audience."
Host Giglio said, "Manufacturers that want to maximize profits on their podcast should consider selling ad space in their show. This could come in the form of live reads or prerecorded snippets. You could reach out and try to sell ad space personally or join an ad network that will act as a middleman between hosts and sponsors but will take a cut of the revenue."
Sharing
The chat concluded with participants sharing if their business already has a podcast or if they take part in a podcast in their free time. He invited participants to plug their show or their favorite industry podcasts because people would love to take a listen.
Basello said, "Yes we have a podcast! I co-host Radwell's Automation Nation podcast. It's available wherever you listen to podcasts or here:
She added, "I also host my own podcast about business reinvention called Hey It's Julie, available wherever you listen to podcasts or here:
https://heyitsjuliepodcast.buzzsprout.com/
Packer said, "I mostly go on others podcasts and zoom shows. I enjoy the interaction and banter. I am now considering establishing a podcast for myself and interviewing others, telling stories and sharing knowledge."
JD said, "We do not have a podcast but I love listening."
Bigger said, "I do podcasts when I am asked. We have talked about
One for Optessa, but we are not ready.
Prox said, "We do not have a podcast. We'd need more people or more hours in the day to make it happen."
Butler Technologies said, "No podcasts here yet! We're dedicated listeners but haven't participated yet."
Courtenay said, "*dun da da dun* our moment has arrived!
We host a BROADcast for Manufacturers to have fun and bring important topics in the manufacturing space to the forefront:
https://mfgbroadcast.com/episode/08-how-e-commerce-helps-manufacturers-attract-more-of-their-dream-customers-with-curt-anderson
Manufacturing Talk Radio shared:
Jacket Media Shows: https://jacketmediaco.com/shows/
Manufacturing Tomorrow: https://omi.osu.edu/mfg-tmw-podcast
Host Giglio said, "Our main show is Manufacturing Talk Radio but we also host a variety of other podcasts through the Jacket Media Co. network including Manufacturing Matters, Women And Manufacturing, and Moser on Manufacturing. We would also like to promote Manufacturing Tomorrow, a podcast from our friends at the Ohio Manufacturing Institute. You can find the links above!"
********
About #USAMfgHour
Anyone who champions U.S. manufacturing can join in on a new conversation each week on Twitter using the hashtag #USAMfgHour. The chat starts at 11 a.m. Pacific Standard Time/2 p.m. Eastern. Share positive blog posts, helpful articles, news, important information, accomplishments, events, and more with other manufacturers and supporters from throughout the country.
Are you interested in hosting a #USAMfgHour chat? Contact organizers @DanBiggerUsaMfg, @DCSCinc, @SocialSMktg and @Radwell_Intl
Join us at Radwell's Automation Nation