Travel for work has made a huge comeback in the last two years. When traveling with work, it's important to plan. In a recent USA Manufacturing Hour Chat, Host Anna Scheller from Capri Temporary Housing led a discussion on some tips to properly prepare and reduce stress when traveling for work.
Lessening Work-Travel Stress
The chat kicked off with the chat participants sharing the last time you traveled for work and what they did to lessen any stress they may have had surrounding it.
Ruby Rusine from Social Success Marketing said, "My team and I work from the comfort of our homes. When we do travel, we can bring our work with us. In my case, I was able to go on a holiday while my team held the fort. We use our project management tool to help us get a glimpse of the tasks we need to accomplish."
Pavel Stepanov from VirtuDesk said, "I do travel a lot because of the nature of my business. To lessen the stress, I make sure I organize everything in my bag, especially my travel needs."
Janice McKee with Burger & Brown Engineering said, "I don't like to travel much but sometimes we host guests from out of town, so it's good to know what we might do to make life a bit easier for them."
VirtuDesk said, "We do travel when attending events. We make sure we plan and prepare everything we need a week before the day of the travel."
Nigel Packer from Pelatis Online said, "My wife does all of my travel arrangements from booking flights to travel docs and hotels. I always pack my own bags to ensure I have what I need when I get to my destination. When travelling I interact with other travelers on trains, planes and in taxis. I learn so much."
Host, Scheller replied, "I bet interacting with other travelers makes you more aware of your surroundings and therefore prepared for the unexpected too!"
Packer then replied, "What will be will be. I have learned that stressing about it does not benefit anyone. I have occasionally missed a connection But I usually get to my destination on time and get home again."
Host, Scheller said, "My last work trip was taken by car, and we worked extra time into our allotted travel time to provide buffer time for delays and offer breaks from travel. Some was to reduce stress include, leaving early, bringing a book, having puzzles or games available, planning a treat, etc. "
Air Travel Challenges
Roughly 16% of all long-distance (plane) travel is done for business trips. The chat shared some of the challenges they have faced with air travel and how they handle it.
Rusine said, "The most challenging for me are those long flights. And to prepare for them. It's also a challenge to sleep. I'm forced to take a supplement to aid in sleeping."
Kirsten Austin from DCSC Inc. said, "Me too Ruby, the last time I flew back from Germany I had a head cold, I was miserable and despite taking a sleep aid, I could not sleep. Plus, I was stuck in a middle seat with 2 big people on either side."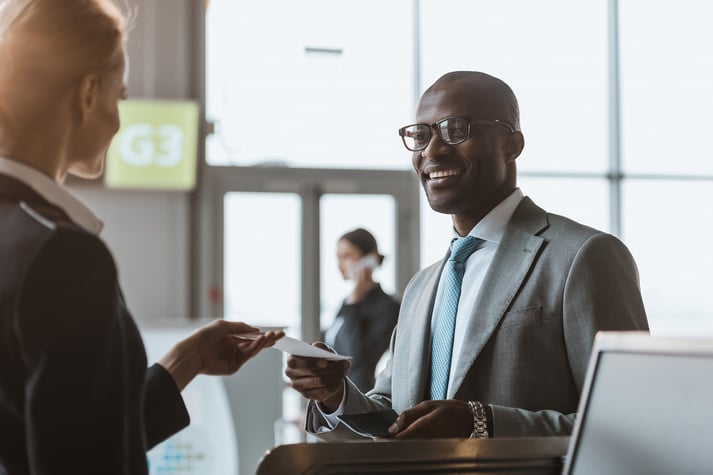 Host, Scheller said, "Long flights are super exhausting, especially if you can't sleep or are a light sleeper. Crossing a lot of time zones makes it especially difficult! What's your favorite supplement?"
Packer said, "For me, traveling locally is far more stressful than travelling by air, I am always driving. Travelling by air is much more fun as everything is done for you if you prepare well before leaving. I can also have a few medicinal tinctures to help enjoy journey."
Stepanov said, "Missing luggage, canceled, delayed, and rescheduled flights, security procedures, and more."
Rusine replied, "Ahhhh... all too familiar issues when flying... and it's more stressful because they're so unexpected."
Host, Scheller said, "Canceled flights and tight layovers have been my biggest challenge. But I've found that a calm demeanor and kindness to airline employees makes a world of difference!"
Go-To Food
The first thing most people do when in a new city is to drop their bags, then they grab food. The chat shared their go-to food in a new city.
Rusine said, "I'd usually go where the locals go or places that has gotten some very good reviews. I'm an adventurous person when it comes to food. As long as there's safe drinking water and good coffee."
Host, Scheller said, "Haha, nice! Yeah, safe drinking water and *good coffee* are a must in my book...!"
Austine said, "Great question but I always ask my clients or business associates what's their favorite locally owned restaurant. I can eat almost anything."
McKee said, "Going for local food seems like a really good idea. putting a plug in here for the new airport in Kansas City, they've installed local restaurant businesses in the terminal which is good because the airport is far away from everything."
Packer said, "Local food and drinks. I will try anything once."
VirtuDesk said, "Our go-to food in a new city would likely be something iconic or unique to that place."
Host, Scheller said, "My go-to is to find a neat local restaurant, but I also love bringing a jar of dried ingredients for my mother's pasta-sauce with me (like we leave in our apartments)! It brings a little taste of home into my work trip."
Managing Travel and Costs
Long-term trips are more common in industries like manufacturing and oil, where new drills stations and plants go up and take time to put together. Participants discussed how they manage travel and costs on projects like these.
Rusine said, "Plan ahead. Stick to your budget. Anticipate possibilities and have a backup/contingency plan."
Stepanov said, "Planning is key. Establish a detailed budget considering various aspects like transportation, accommodation, meals, equipment, and miscellaneous expenses. Forecasting potential expenses helps in allocating funds effectively."
Packer said, "Travelling for business is passed onto the client. If I can I get them to make the arrangements. I have stayed in some of the top hotels in the world and travelled first class on a number of occasions."

Austin said, "When we take a client live w/ our WMS Software, we ask them if they have good rates at a hotel. Also, when I do consulting engagements, I check @vrbo for little cabins or homes close to my clients but more quaint and cost effective then some fancy hotels."
Host, Scheller said, "Utilizing an online service like @SAP Concur makes it easy to track travel costs and know exactly where every expense comes from so you can avoid going over-budget."
Where to Stay?
When it comes to lodging there's a lot of options, some prefer using a hotel to get points on your card, prefer alternative options. The chat shared their lodging preferences.
Rusine said, "Definitely a hotel!
VirtuDesk said, "Same here!"
Stepanov said, "Likewise."
Packer said, "Hotels. I ask the client to book one for me if possible, if it is the MD (Managing Director) you ask they usually put you in a better hotel. One that suits their standards."
Host, Scheller said, "For trips of less than a week I tend to book hotels, but on longer trips I look to see if we have any corporate apartments in the area for the reduced stress that home-like accommodations provide."
Final Thoughts
The chat wrapped up with the participants sharing their key take away from today's chat.
Rusine said, "Travelling is fun but you can never be fully prepared for what could happen while you're at it. So, be always on your feet and be ready for emergencies."
Austin said, "First of all, you're an awesome host, great job today. Secondly, I'm with you on attitude. I try pretending I'm on vacation when I travel and keep that mode in my mind. Attitude is very important. You also need to know that mishaps can happen, so chill."
Scheller replied, "Such a great summary of insights, stress does absolutely nothing to help us. Might have to steal that vacation mindset from you next time I travel..."