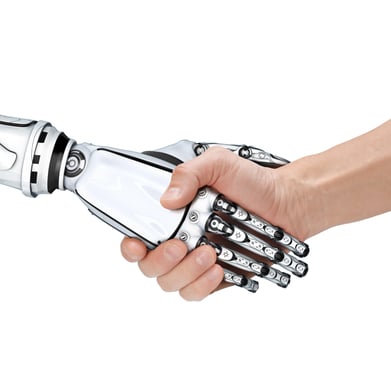 What is a collaborative robot?
A collaborative robot or cobot is a robot designed to assist humans as a guide or helper in completing a specific task or set of tasks. A regular robot is designed to be programmed to work mostly autonomously. In contrast, a cobot is programmed to work alongside a human in a helpful capacity. Depending upon the capacity, having a robotic "helping hand" can make a big difference in terms of productivity.
Non collaborative robots are designed to work autonomously. In fact industrial robots are far too dangerous to share space with humans and have been linked to many fatal accidents. They are great at performing monotonous jobs and complete heavy lifting but when they make contact with humans they can cause serious injury.
Collaborative robots, on the other hand, are designed to work alongside humans and can even complete tasks that help prevent injuries with the humans they work alongside. The most advanced cobots are functionally flexible so they can switch quickly between a range of tasks. They even emulate humans and, in some instances, respond to facial expressions to understand what is expected. It's fascinating to consider that technology has progressed to the point where a human facial expression can help a robot "think" and respond to a given task.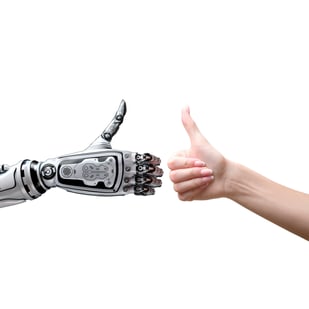 Technology has evolved beyond merely driving efficiency in the workplace and has moved towards enhancing the capabilities of a workforce by becoming a collaborative partner. Wearable robotic devices and smart machines have enabled man and machine to work together. The teamwork approach leverages capabilities of both humans and machines to create a most effective and efficient partnership. Cobots fit well into this equation. In fact, for some organizations, cobots can literally transform an entire operation.
How do you know if cobots are a great fit for your company?
Cobots are mostly used to boost performance, and this can be valuable in just about any industry that exists. Any type of environment in which things can be automated with human/cobot collaboration would be suited to introducing or building collaborative robots into existing workflow. Based on technological advances, cobots seem suited to both repetitive tasks, as well as, a series of changeable tasks. Odds are good this will only improve over time.
Companies that produce cobots are even planning for future needs. What works in an environment today may need to be greatly expanded in the future. By producing robots that can gain expanded capabilities to match growth and future need, robot manufacturers can help companies in any industry save time and money. They can also gain efficiency as it is required. A company that invests in cobots for their organization today will continue to benefit from expanded capabilities moving forward because of today's designs with the future in mind.
Collaborative robots are manufactured today in a way that is very effective. They are built so that they are easy to set up, flexible to work with, safe, and cost effective for various business types and sizes.
Once cobots are well established in industrial environments, they'll probably begin to appear in domestic environments too. Of course, this will present new challenges that will have to be overcome. Some day robots may serve humans breakfast, but while the challenges are being overcome, breakfast may end up in a human's lap until the kinks are worked out (see "The Breakfast Machine" below). Progress takes time. It will be interesting to see how things evolve.

By Julie Basello for Radwell International

jbaselloholt@radwell.com