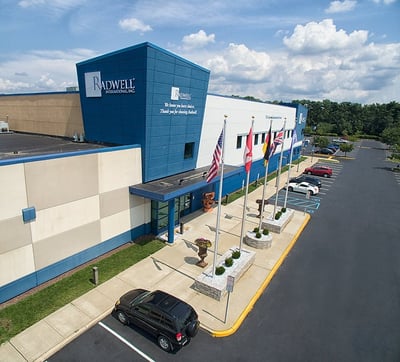 Radwell International is the industry leader in repairing and selling new, used and surplus manufacturing parts and equipment. We started off as Speck Industrial Controls in 1979 and have expanded to nine different locations throughout the United States, Europe and Canada. In 2016 we purchased a 312,000 square foot building in Willingboro, NJ to house our new global headquarters. Our new building is an interesting and functional space designed to accommodate the many facets of our business so we can support our other locations and our customers as much as possible.
Our Willingboro building was formerly an Express Scripts Medco pharmaceutical facility. Over a million dollars worth of packages ran through the conveyor systems, robots, and the automation that was in place in the facility. Radwell International took over the facility with that automation already in place. A lot of it we kept and maintained or we moved parts of it into a new area to reuse and re-engineer. By doing so, we were able to come up with a system that best fit our needs.
You can learn a lot about us by viewing our facility. Not only are we an industrial automation supply leader, but we are a remarkable and multi-faceted organization with a clear mission statement. At Radwell we work hard, but we also make time for social activities and for giving back to the community. That's a very important part of our culture here at Radwell. To learn more about our culture, read The Culture of Giving Back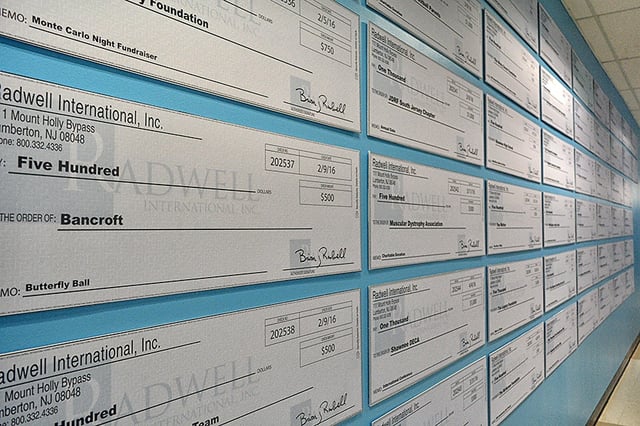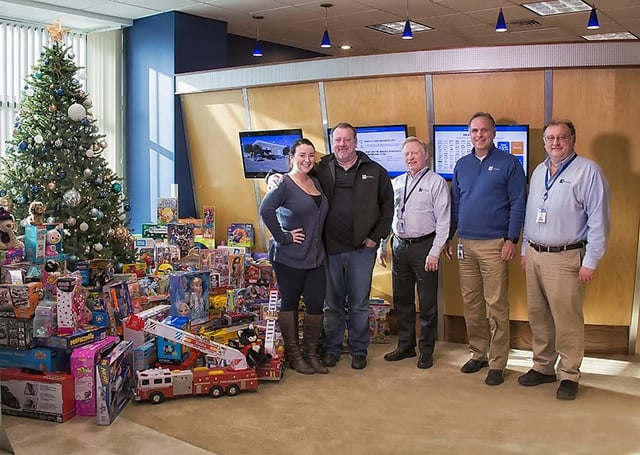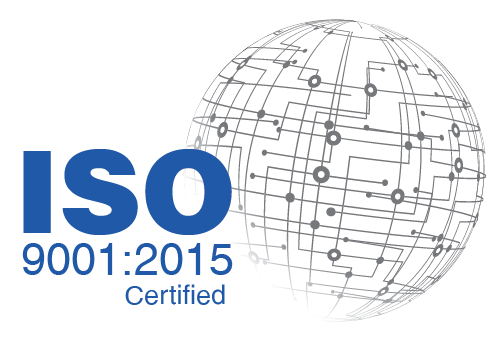 Another important part of our culture is quality. Did you know that Radwell International is ISO 9001: 2015 certified? If you're not sure what that means, Tom Foy, Our Global Training and ISO Manager can explain a little bit more about this designation here ISO Certification.
Now that we've completed that brief overview, let's take a look at our Willingboro headquarters.
Pre-Evaluation/Returns Area
The first stop is the Pre-Evaluation and Returns area. When we get a repair sent to us these are the employees that evaluate the unit before it gets to a technician. They then confirm if it's repairable, how much it would cost to fix the unit, and how much servicing they need to do to make sure they satisfy all of the customer's needs.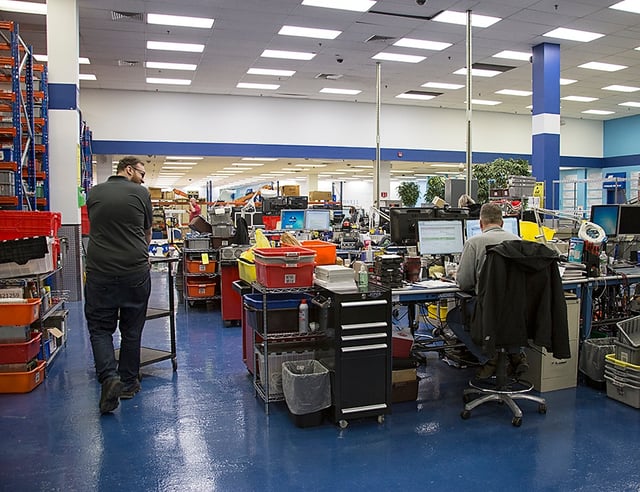 Drive Technicians
Our next stop is our Drive Technicians Area. Our drive technicians have the ability to test motors of all shapes and sizes. They ensure that whatever repair we did on a drive is functioning and working properly.
Robot Test Fixtures
Our robot test fixtures are always a favorite for people touring Radwell. We have many different robots from Fanuc, Nachi, ABB, Kawasaki, and Kuka. These robots are fixtures that can test repairs. To learn more about how robot test fixtures streamline the repair process read How Test Fixtures Streamline the Robotics Repair Process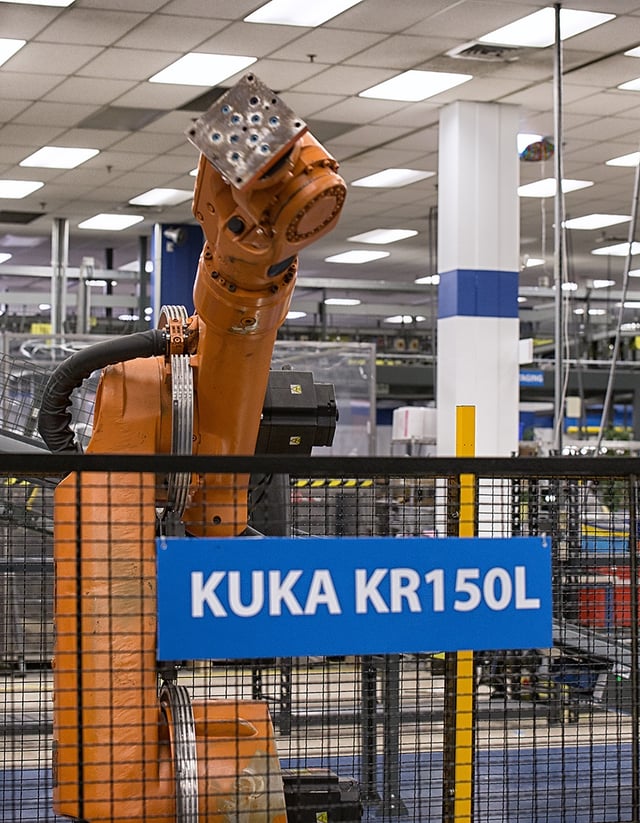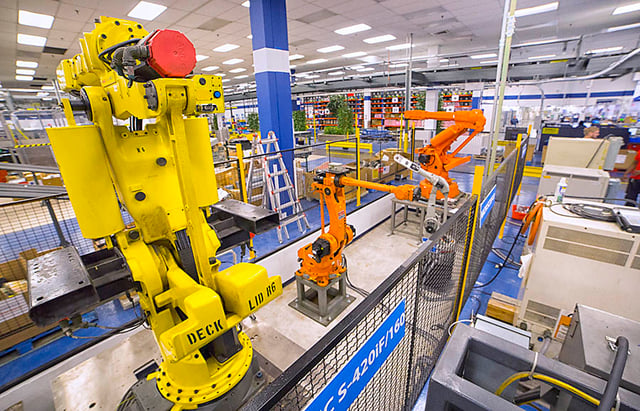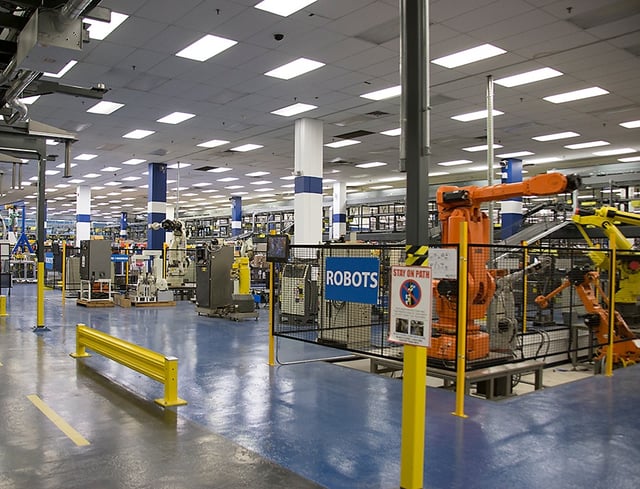 Main Technicians Area/Production
Our Production area is a very busy place. Each technician has their own pod to work on their repairs. They are grouped into teams of 10 with most of the repairs focusing on HMIs, PLCs, PCBs, and small drives among other types of industrial automation.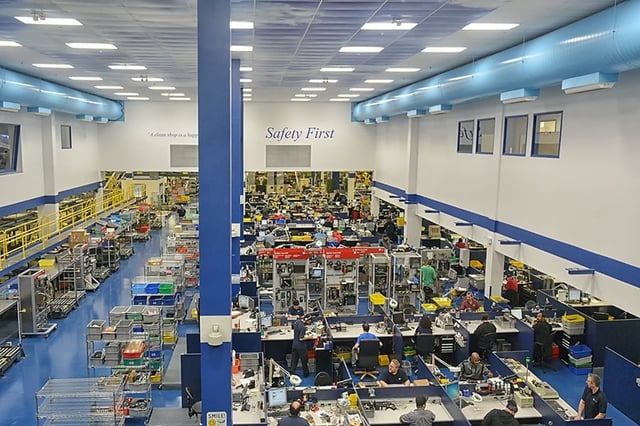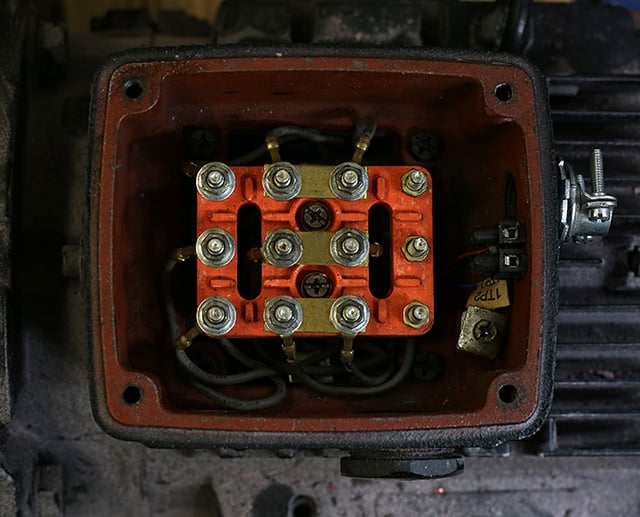 Breakdown Area
Our Breakdown area is where incoming goods are taken apart and then given to Receiving. They get items in from all over the world in different conditions and categories. They take them, sort them, dispose of packaging material, and find out what we are able to sell. This is the first filtering in our process. To learn more about our Surplus Liquidation process, read Surplus Inventory Liquidation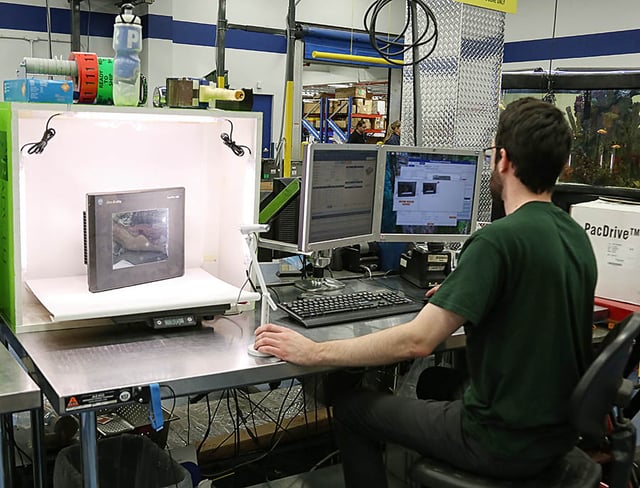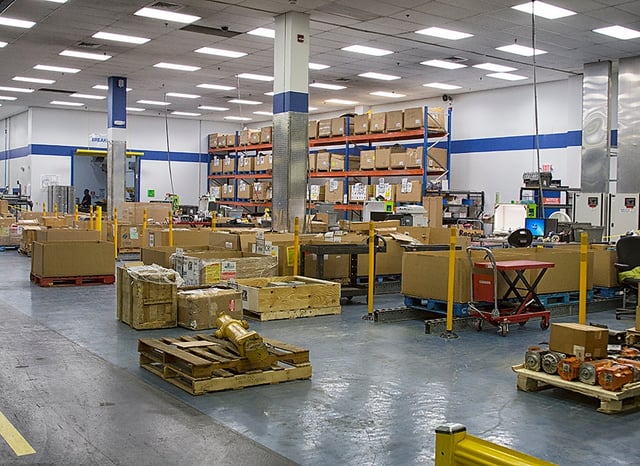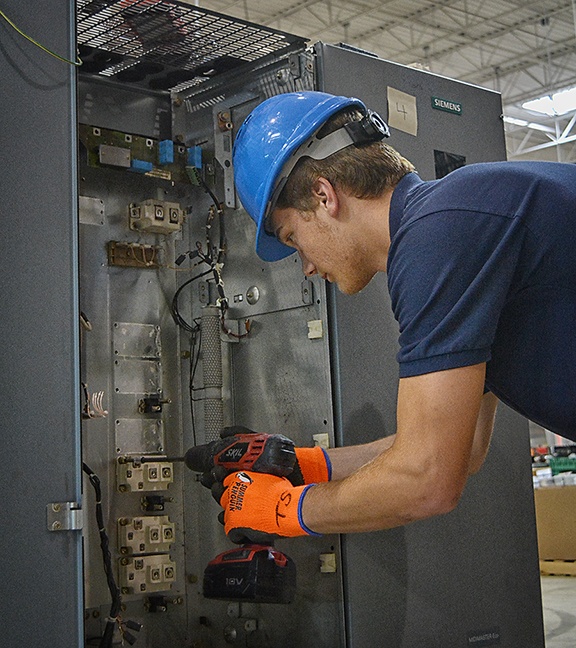 Receiving
Our receiving area is divided into two areas. We have Centralized Receiving for our smaller goods and Cage Receiving for our larger goods. Our conveyor and air tube systems connect Receiving, Production, Shipping, and Inventory altogether by spanning the entire building. This is where we receive units in, clean them off, photograph and barcode them, and enter them into our computerized system. Some of the items will then be stored in our AutoStore.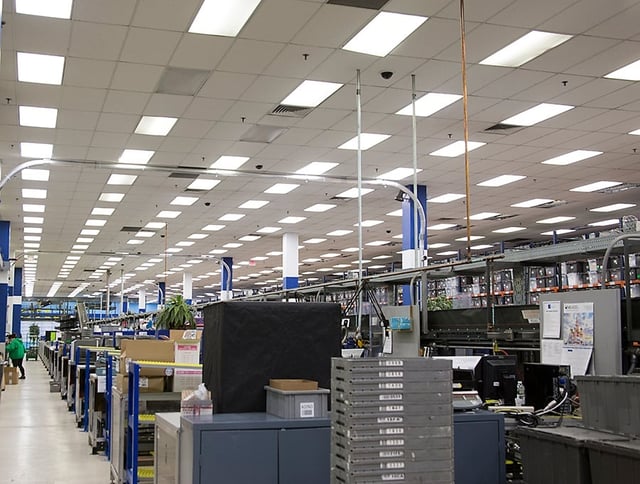 Back Warehouse
Our back warehouse contains over 38,000 bins that we pick from. We have 3 turret trucks and a stock picker to pick units as fast as possible. We also have over 10,000 Gaylords for our larger items.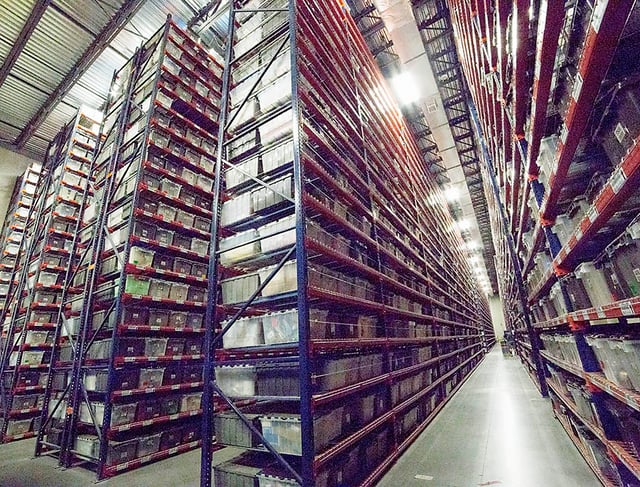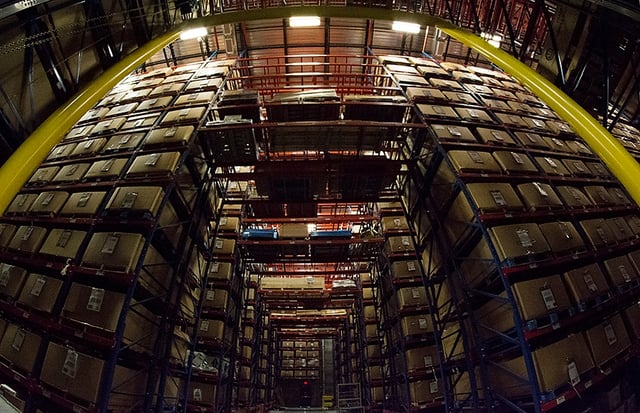 Swisslog AutoStore
Our Swisslog Autostore system consists of 34 robots that run on an aluminum grid with 50,000 bins stacked 16 high. There's 9 work stations that we have on the system, 4 picking and 5 put-away.
At the 4 picking stations we are capable of doing 120 picks per hour. The system itself has over 1 million parts that we're adding to every single day through the 5 put-away stations. The parts that we store within the AutoStore system consists of what we call "Ready to Sell" items.
Once an order is placed, these items are ready to go out to the customer on the same day. The AutoStore is a perfect choice for these parts because of its ability to quickly pick and ship the items. Right now we are doing close to 800 orders per day. Within the bins of the AutoStore you'll find a variety of different products.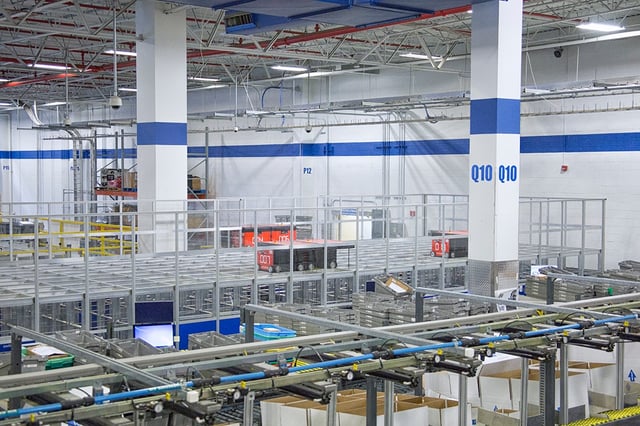 Shipping Systems
Our automated shipping system consists of a robotic box maker, a print and apply system, and a conveyor that transports boxes.
The robotic box maker makes 6 different sized boxes. Once a box is made a conveyor then takes it over to our packagers. Each box has its own lane and the packagers can then choose from which box they want.
After a packager has chosen their box size to fit the order, they then package the box with the material fed directly underneath of them, and then place that packaged box onto the conveyor. This then takes the box around to the back-end of our system. At the back-end we have a shipping and manifest system. This system takes the physical weight of the box, the dimensional weight, and rate shops it in order to find the best carrier for it. Once that is completed, the box automatically gets a label printed and applied to the top of it. After the box has the shipping label on it, the shipment gets sorted based on which carrier was specified.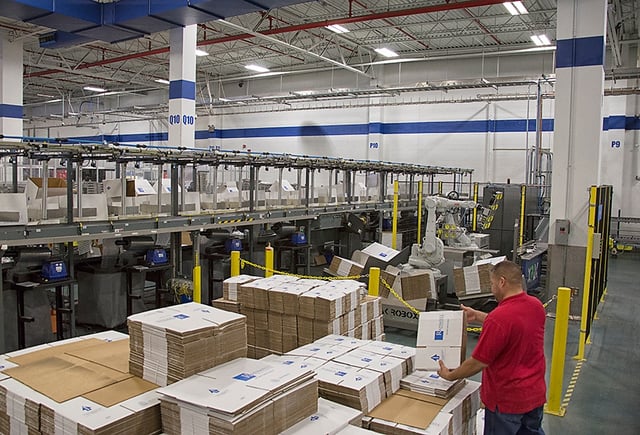 Conveyors
Our conveyor system is almost 2 miles in length and it connects our Receiving, Production, Shipping, and Inventory departments altogether across the entire building.
There are 92 total stations spread out along the conveyor system, and each of these stations is capable of sending bins from any of the other stations.
This has helped us enormously to get items to and from these different departments and to Shipping primarily so that we can get those products out as quickly as possible.
You may be wondering how we keep all these power-hungry elements like our Swisslog Autostore up and running. Radwell's headquarters has a massive emergency backup system. If the power goes out for any reason this room kicks in to supply the building with electricity for hours.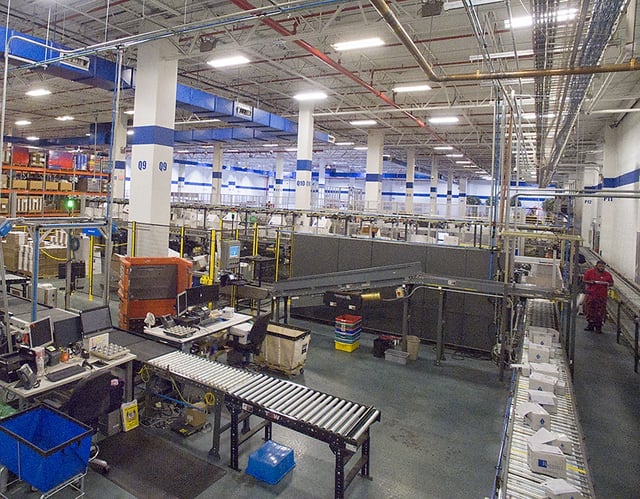 Small Parts Room
The Small Parts room is where we hold thousands of component-level parts. The core of our air tube system is also in our small parts room. The air tube system consists of 26 different locations where the Small Parts Team can distribute their parts to the appropriate technician.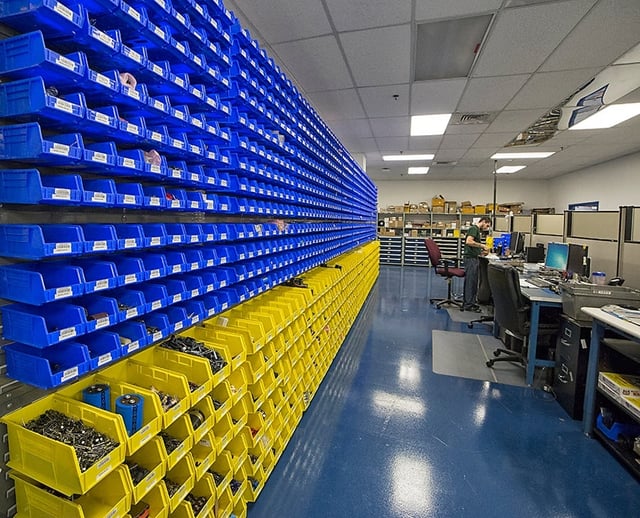 Motor & Machine Shops
Our Motor and Machine Shops are state of the art repair centers where we repair all different kinds of motors. As part of our motor and machine shop area, we are in the process of building a hydraulic and pneumatics lab. This will further expand our testing capabilities. We also have a welding room next to this lab which allows us to customize and repair parts for our clients.
For a more in-depth look at our Motor and Machine Shops check out our video with Jason Larsen and Mike Thompson on our YouTube channel here Motor and Machine Shop Tour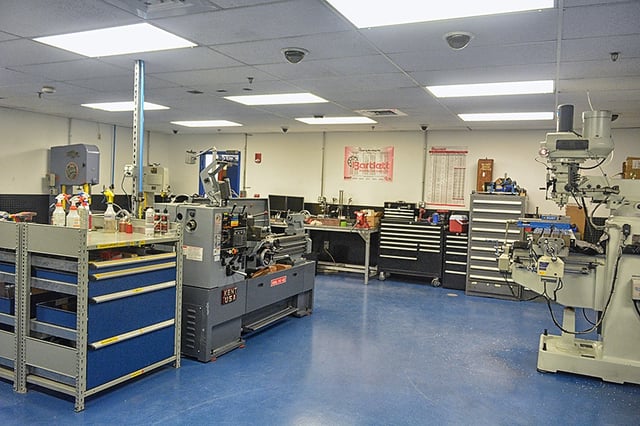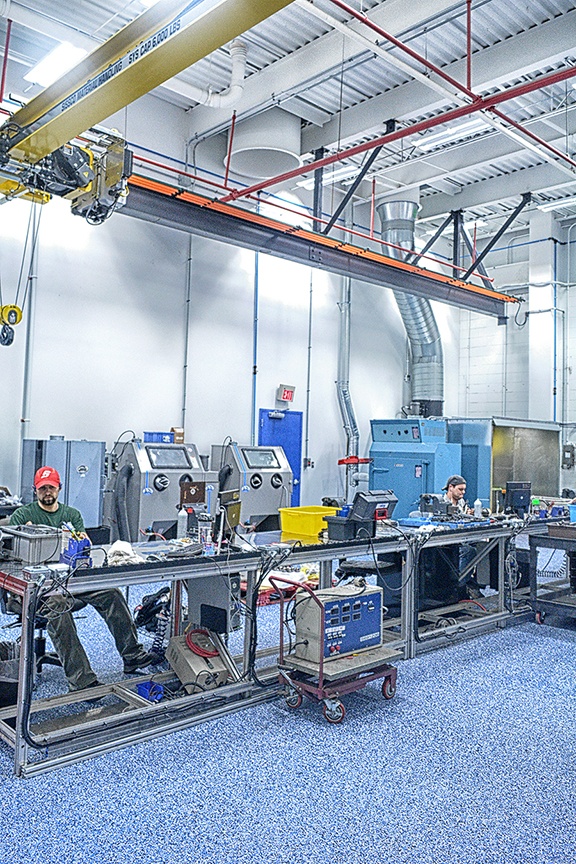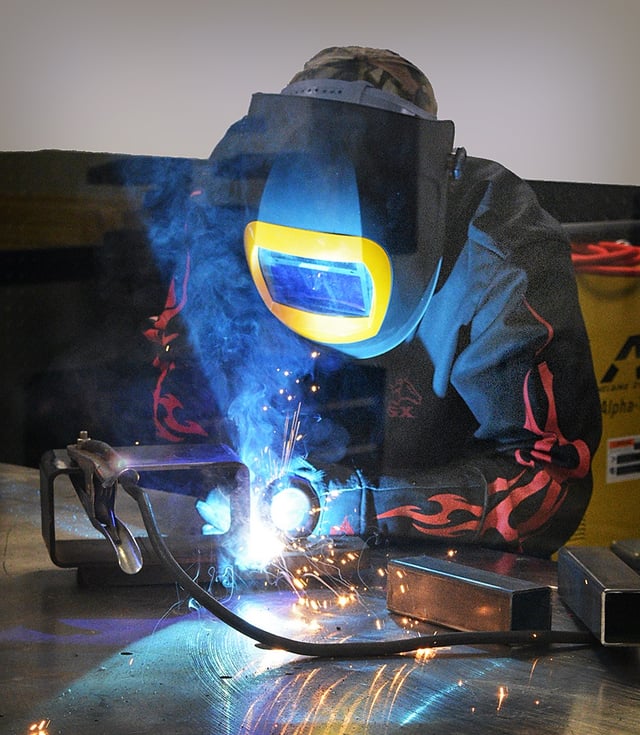 Engineering/Mobile Test Carts
Engineering is the area where we build test assets for our technicians to further expand on our test capability options. One of the most important things here at Radwell are our mobile test carts. These carts have the ability to test many different systems including analog and communications modules. Brands such as Allen Bradley, GE Fanuc, Mitsubishi, Modicon, Schneider Electric, Omron and Siemens can all be tested on our mobile carts.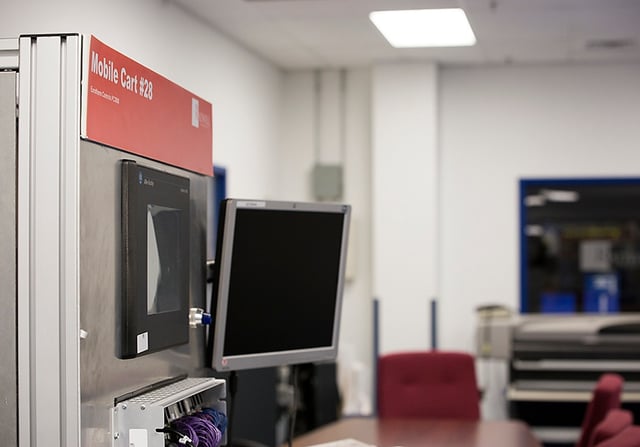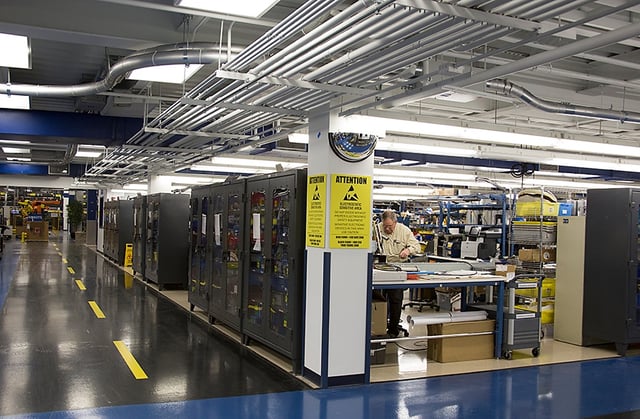 Gym & Cafeteria
Our gym is a nice benefit for employees at Radwell and it is open 24/7 for employees. Our cafeteria is a colorful and fun place. We have picnic style tables, ping pong, a pool table, arcade games, fooseball, shuffleboard, and cornhole. It's a great environment for employees to enjoy some downtime.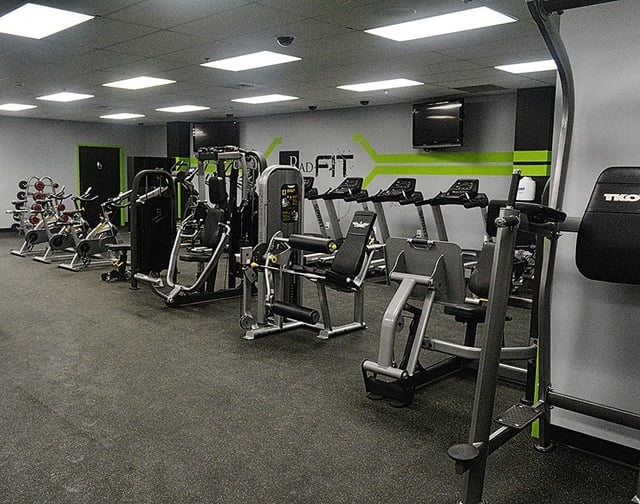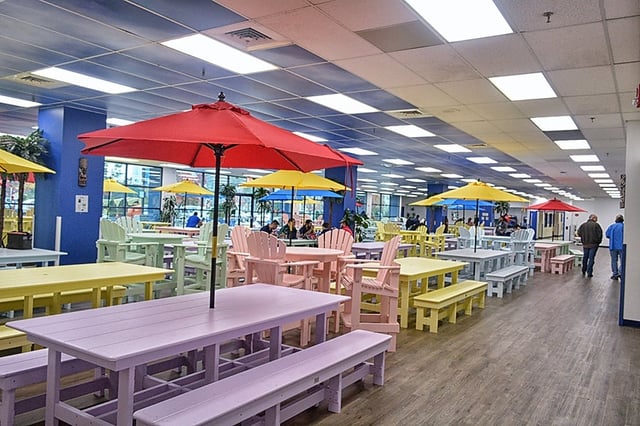 Purchasing/Accounting/Training and Conference Rooms
Our Purchasing department is where we find and purchase the majority of the surplus that makes up our business. Down the hall from purchasing is our accounting department.
Our headquarters has many conference and training rooms. These rooms are designed to facilitate meetings and communication. All of these rooms follow a Jersey shore theme and are named after Jersey shore towns. Our main conference room which overlooks our Production area is named Atlantic City.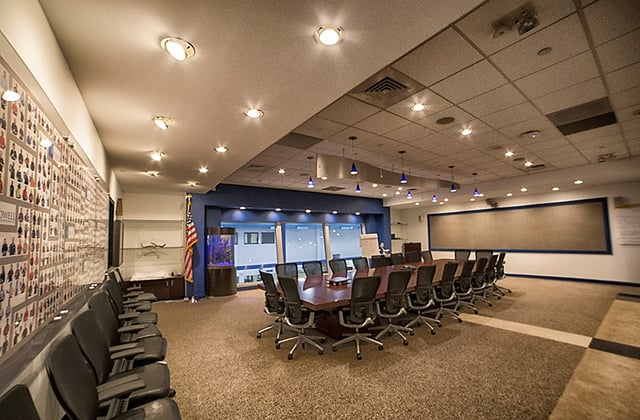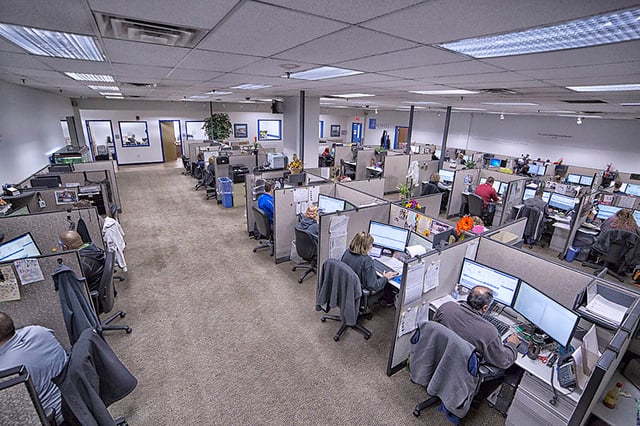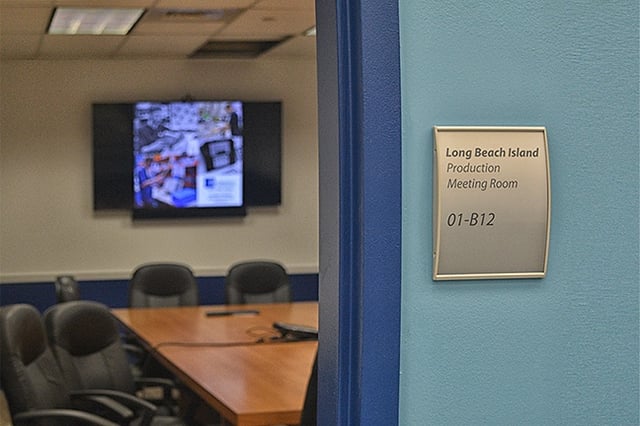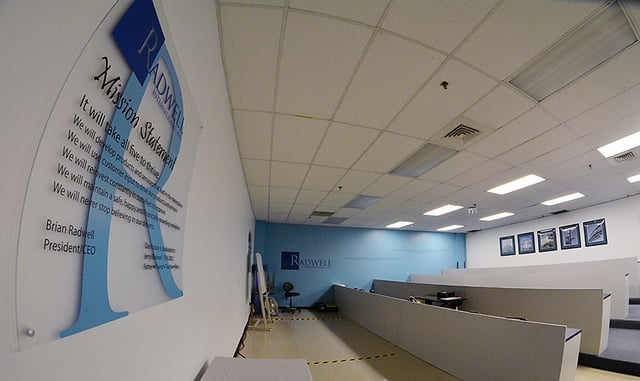 Sales
Our Sales Department is where you will find the men and women that you speak with when you call to order a product. We use 3 different price quotations when selling products; Repair, Surplus and Factory New. All product and services come with a 2 year warranty.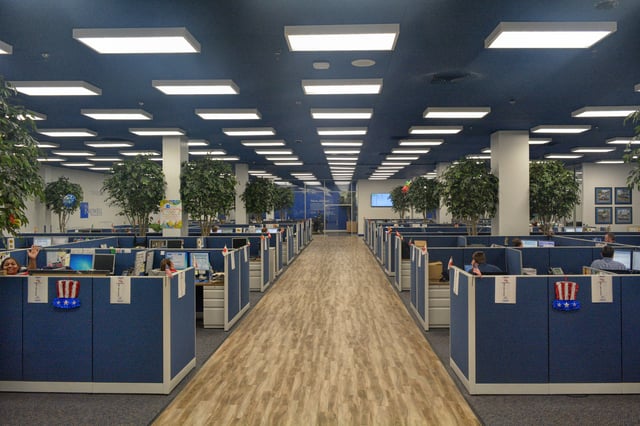 IT Department
Our IT Department is a top notch team of information technology specialists. This team is truly prepared for anything. Our IT Team also makes sure our 21st century server room is running efficiently and has a robust disaster recovery plan for any circumstance.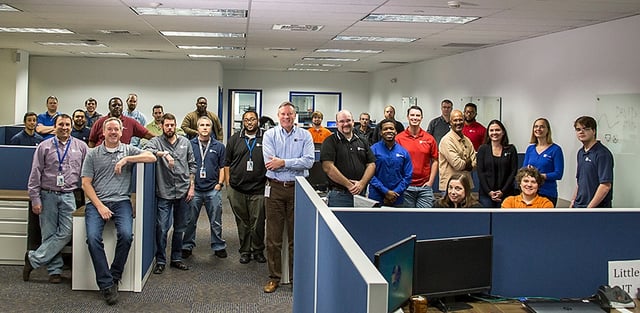 Executive Hallway
Radwell International is led by our President Brian Radwell. Todd Radwell is our Senior VP of Operations & Production, Jerry Spinuzza is our Senior VP of Sales & Marketing, and Dan Love is our Senior VP of Business Development. Russ Batdorf is our VP of Finance, John Radwell is our VP of Customer Service, and John Janthor is our VP of Information Technology.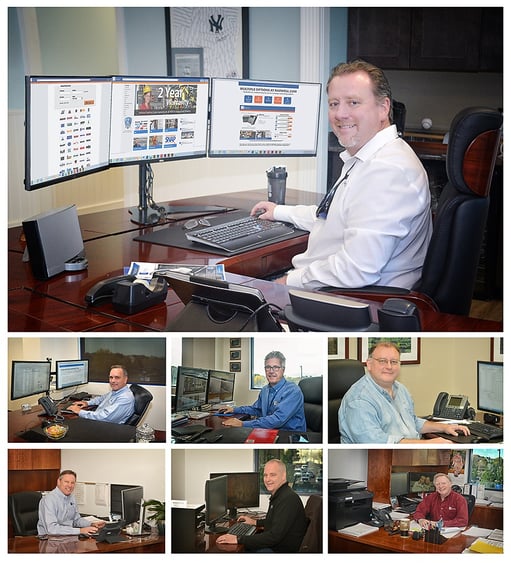 A video tour of Radwell Headquarters in Willingboro, NJ
If you would like to learn more about Radwell International's ISO Certification visit
,
To learn more about us,