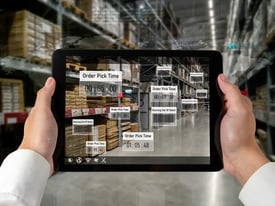 Artificial intelligence can have a great impact on the modern warehouse in terms of safety, productivity, and accuracy. What is artificial intelligence and where does it fit in a warehouse environment? The definition of artificial intelligence, according to IBM, is "a field, which combines computer science and robust datasets, to enable problem-solving. It also encompasses sub-fields of machine learning and deep learning, which are frequently mentioned in conjunction with artificial intelligence. These disciplines are comprised of AI algorithms which seek to create expert systems which make predictions or classifications based on input data." Ideally, AI is comprised of systems that think and act rationally.
Here are a few of the many AI functions that can have a positive effect on warehouse operations:
Machine Learning

Machine learning uses algorithms to learn from patterns and produce action for warehouse operations and activities. Machines collect data and allow for quicker reaction times to changing conditions, such as inventory changes or walking routes. Because machine learning is based on patterns, it will also increase organization within a facility and support supply chain improvements. As an example, automated material handling systems such as Swisslog AutoStore, use robots and bin storage to manage inventory. This type of system learns over time which products are most popular and moves the fast-moving inventory to the top layer of the inventory storage. Through machine learning, this system creates great efficiencies in inventory management. When systems notice patterns, gaps in the supply chain will also be noticed, providing management with information that can be used to close the gaps. Machine learning saves time, increases efficiency, reduces waste and improves safety.
Timelapse: View a Swisslog AutoStore being constructed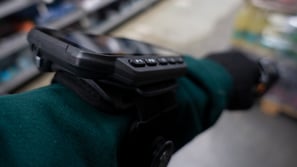 Wearable Technology
Wearable technology enables human workers the ability to interact with wireless computer devices while performing tasks hands free. Wearable technology devices typically use vision, voice, gesture or touch to operate. Things like speech recognition can help pave the way for voice picking in the warehouse which provides a hands-free operation for pickers. Smart glasses can help an employee immediately recognize barcodes because they come equipped with a camera that operates with computer vision technology. Wearable technology allows human workers to perform job functions with greater efficiency and accuracy. These devices also provide management with more data to analyze operational performance.
Robotics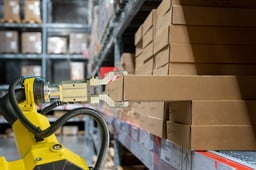 Robots can handle tasks like picking with no breaks and no downtime. They are far more flexible and scalable than human resources and because of this,
they can reduce the strain on human workers. They can load and unload palettes, perform picking operations or move inventory throughout the working environment. Robotics can assist in inventory management as used in automated material handling systems. Automated Guided Vehicles can help staff easily transport inventory with minimal effort. These types of systems, in the long run, can help reduce costs, increase productivity and promote a safer workplace.
Implementing AI and automation in a warehouse environment has many benefits. It will improve productivity throughout the operation, produce more accurate results and promote a safe work environment. With these benefits, artificial intelligence will make a positive impact in just about any warehouse, regardless of industry.
How are you using artificial intelligence in your operation?
Radwell International has been an award winning global leader in MRO and Automation solutions since 1979 with facilities in North America, Canada and Europe. With an inventory that stocks over 13 million parts, Radwell is your all in one supply chain solution.
Learn more about how Radwell can assist your operation
Join Radwell Automation Nation