Manufacturing holds relevance in so many different industries. So much of our daily lives can be circled back to manufacturing in one way or another. It is important for us to keep ourselves knowledgeable about the manufacturing industry, and the best way to do that is to relate it to fun topics. One interesting way that we can look at the industry is in relation to movies.
In this USA Manufacturing Hour on Twitter, Host Ruby Rusine, from Social Success Marketing led a discussion on the relation between the manufacturing Industry and the movie Transformers.
Icebreaker
The chat kicked off with an icebreaker. Host, Rusine asked participants "If you were a Transformer character, which one would you be? And why?"
Kirsten Austin from DCSC Inc. said, "Honestly no. I do however want to see the movie, my team members always quote from that movie and I have no clue what they're talking about."
Neil Hussey from Denco Lubrication said, "This is going to be awkward for me…never seen any of the films."
Phil Samuels from Intuilize said, "I'm afraid not."
Pavel Stepanov from VirtuDesk said, "I am not really a fan of movies so I haven't."
Nigel Packer from Pelatis Online said, "Like some of the other I have only seen bits of the movies. They tend to be trucks and cars so I would like to be a sailing yacht."
Host, Rusine replied, "Ohhh... that's a unique one! I like that kind of Transformers. Though we've seen some helicopters and planes, too."
Brett Kramer from FreightPOP said, "I think I would have to go with Optimus Prime... but I'd be helping make deliveries when I'm not busy fighting the Decepticons!"
Host, Rusine said, "Bumblebee and I have a lot in common. We're both small and unassuming, but we're also brave in our own way and resourceful. We're also both loyal to those we love, and we always try to do the right thing."
Kelley Plats said, "Obviously I'm Judy Witwicky...very concerned about the yard and the dog!"
Commonalities
Next, the chat discussed what the Transformers and the manufacturing industry have in common.
Austin said, "Well this is a guess but manufacturers always need to change to be in business. New technology, new team members, new ideas etc."
Host, Rusine said, "You are absolutely spot on!"
Packer Said, "There are a lot of machines involved, some doing more than one job?"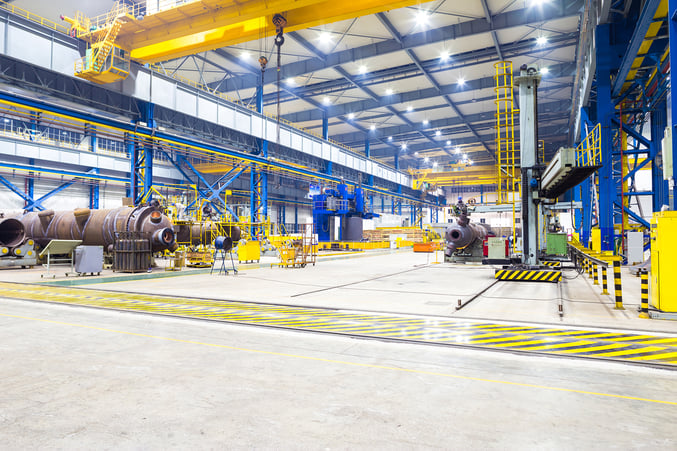 Stepanov said, "Perhaps creation and transformation. From raw materials arise new products and continuously transforming them through technology."
Host, Rusine said, "Great answer!"
Hussey said, "I guess like manufacturing they're constantly changing and evolving to keep up with the latest technologies?"
Stepanov added, "Both have machines."
Samuels said, "Using AI to take over the world?"
Plats said, "Constant innovation and development. Also a keen focus on developing partnerships. Can't forget teamwork!"
Kramer said, "Lots of machinery, nuts, and bolts! Also there always seems to be some trouble in the distance if you aren't fully prepared!"
Host, Rusine said, "Both are: Constantly evolving, Driven by the need to innovate, and Fierce competition."
Challenges With the Competitive Environment
Next participants discussed some challenges that U.S. manufacturing companies face in today's hyper-competitive environment.
Samuels said, "US must compete worldwide and there are different laws, regulations and circumstances that sometimes leave ISA manufacturers at a disadvantage."
Stepanov said, "Supply chain disruptions. We just heard a lot of them even in the news."
Plats said, "Vertical intergration is a big one, especially for smaller/more specialized manufacturers. But these small companies, like Transformers are more than meets the eye!"
Stepanov added, "I am not a manufacturer but I believe everyone will agree that the cost of raw materials is definitely one of those challenges. Inflation has really hit it hard which affects a lot of manufacturers."
Julia Gardner from Hourly – Insurance & Payroll said, "How do you turn a profit when there's so much competition!"
Packer said, "Cheap labor in other countries, political mismanagement, globalized corporations and the historical movement of manufacturing offshore. Not what you would want to hear but it is happening everywhere."
Kramer said, "Competition (from both copycats AND competitors), local regulations, supply chain problems, and labor shortages to name a few!"
Host, Rusine said, "Some challenges are: Globalization/Overseas Competition, New Technologies, Compliance with Regulations, Sustainability, and Shortage of skilled workers"
Advanced Technology
Host, Rusine, then described that the Transformers used advanced technology to transform. Participants were asked to share some examples of advanced technologies that are used in the real world that are happening in their own industry.
Packer said, "AI... Artificial Intelligence making people lazy."
Plats said, "AI is one, 3D printing of materials for tooling, automation for loading fixtures and inspection, advanced vacuum chambers, the emerging/improving tech seems endless!"
Samuels said, "Over the course of my career virtually all the mechanical machine tools have been upgraded or replaced by CNC Equipment. The floor operators are very sophisticated."
Kramer said, "Competition (from both copycats AND competitors), local regulations, supply chain problems, and labor shortages to name a few!"
Gardner said, "Tech is transforming the insurance field for small businesses! At http://Hourly.io we use real-time data to save business owners from guesswork on their workers' comp"
Stepanov said, "There are a lot! Productivity trackers: Timedly Project management tools: Asana or Clickup, Communication tools: Skype, WhatsApp, Video conferencing, Zoom, RingCentral, AI"
Host, Rusine said, "Here are some of them: AI, Machine learning, Blockchain, Natural language processing, Virtual reality and augmented reality, and 5G."
Manufacturing's Next Chapter
Finally, participants shared their thoughts on how they envision the next chapter for the manufacturing industry.
Plats said, "For me the world of Manufacturing has been one of endless opportunity. A place where people of different experiences and backgrounds can come together and make it happen! Join us!"
Samuels said, "Some changes can be foreseen and prepared for, others are unanticipated. The future belongs to those who adapt!"
Gardner said, "Eager to hear what you all predict!"
Jim from Buy Direct USA said, "At the end of the day, we learn about the failure of globalism and while we need some trade, self reliance in manufacturing is not only good for the environment, its good for the country as a whole."
Packer said, "All is not lost. There will be some chaos in the coming years as we start to move away from the global rhetoric. Nations will start to reshore their essential businesses and improve their own supply chains to ensure national security. Technology advances will be directed into the manufacture of products and parts in country. Raw materials will be a problem as we seek the minerals needed for manufacture. The drive to populate and mine planets/asteroids will create a new set of industries bringing those minerals back to the earth as new resources... and much much more."
********
About #USAMfgHour
Anyone who champions U.S. manufacturing can join in on a new conversation each week on Twitter using the hashtag #USAMfgHour. The chat starts at 11 a.m. Pacific Standard Time/2 p.m. Eastern. Share positive blog posts, helpful articles, news, important information, accomplishments, events, and more with other manufacturers and supporters from throughout the country.
Are you interested in hosting a #USAMfgHour chat? Contact organizers @DCSCinc, @SocialSMktg and @Radwell_Intl
To learn more about how Radwell can help your operation