Goal setting is an important part of success. In fact, goals are like a roadmap to a destination and without goals, forward movement can be directionless. Identifying the right goals is an important part of any strategy and can be effective in promoting both short- and long-term results. This is true in business but also true for life in general.
In a recent chat for USA Manufacturing Hour on Twitter, host, Pavel Stepanov from VirtuDesk led a discussion about setting effective goals for both the short and long term.
The Definition of Success
The discussion began with participants weighing in with their respective definition of success. As success is a very subjective thing to define, there were many varied answers.
Dan Bigger, a Manufacturing Advocate and Supporter in South Carolina said, "Great question. Right now it is raising good kids that will be honest, responsible, and contribute positively to society as they get older."
Nigel T Packer from PelaTis Online in Wales, UK, said, "What Dan said is life's greatest mark of success. Well said Sir."
He continued, "It is all down to perspectives, personal and business. Personal - changes with the day/week/month Business reaching the targets and KPI set at the beginning of the year."
Rebecca Prox from DSI/Dynamatic in Wisconsin said, "Success? Hm. That's a loaded question. In general, I think it means being really happy with what you've done or are doing."
Dave Meyer from BizzyWeb in Minnesota said, "Doing what you love, with people you enjoy. By that metric, I'm killin' it. The team at BizzyWeb and all our clients are just the best. Today we're taking the entire day off to focus on learning and getting new certifications with Hubspot and Google."
Kati McDermith from IndustryNet in Illinois said, "Doing what I love everyday, supporting manufacturing, and having so much fun doing it!"
Tod Cordill from Moderno Strategies in Oregon said, "I define success as leaving the world a better place while enjoying the journey."
Manufacturers' News said, "Staying engaged with the demands of the moment, with reason to look forward and little reason to look back."
Val from Monofrax in New York said, "For my company, success means our community, our customers, and our own people all prospering. For me, it means all the books."
Matt Long said, "Success is achieving the goals you set out for yourself. Success doesn't have to be wealth, power, fame or influence. It can also be as simple as getting out of bed and going for a run on a rainy morning."
Sam Gupta from ElevatQ in Canada said, "Measurement of planned goals against what actually achieved whether we are talking about growth, sales, customerexperience, or employee happiness."
Freight Pop in California said, "A feeling of satisfaction and fulfillment in your life, with a great balance of family, friends, and passions."
David Crysler from The Crysler Club said, "Staying healthy, spending time with my family, providing value to others, being free to do the things I want to do."
Host, Stepanov said, "Success for me means, self-growth, accomplishments, financial freedom, and work-life balance."
Are Goals Important for Achieving Success
The chat continued with participants communicating their thoughts on whether they believe goals are important to achieving success.
Julie Basello from Radwell International in New Jersey said, "Yes 1000%. Goals are a roadmap for your journey."
Ruby Rusine from Social Success Marketing in California said, "Success and goals are two sides of the same coin. You can't have one without the other - no matter if you are shooting for something big or something small."
Prox said, "I think the answer is dependent on what you're attaching "success" to. One can be perfectly successful without goals. However, I also keep in mind that dreams without goals are just wishes."
Gupta said, "Goals are super important. But don't overthink goals. Plan for easily measurable steps and have a rough ballpark of what you are trying to accomplish."
Matt Guse from MRS Machining in Wisconsin said, "Goals need to be written down and a plan should be created. Without a plan it's called failure or just a wish."
Bigger said, "Absolutely, without goals you have no direction or map. What would you all do without Siri and your map app?"
Gail Robertson from Gail Now in Canada said, "Yes goals are important for motivation and to tie to process."
Crysler said, "Without a doubt and I would add "written"... a goal that is not written down is nothing more than a wish."
McDermith said, "I think so. Goals set you on a path that leads you where you want to go. Without a clear goal, I tend to go rogue."
Meyer said, "Yes - you need to set goals, chart your course, and measure progress. SMART goals are a huge part of how I've gotten where I am - (you know: Specific, Measurable, Attainable, Realistic and Time-based)."
Janice from Social Success Marketing said, "Oh yes! Goals give you direction and help you stay motivated."
John Buglino from Optessa Inc in New Jersey said, "Set a goal - Hit a goal. Set a goal - Hit a Goal. Know what you are hoping to achieve and then crush it!"
Cordill said, "Goals help you achieve success when you define success as a very specific state of affairs. A goal can be a destination, like launch the product in Q4 or increase FY revenue by 10%. Or a goal can be a steppingstone, like engage 10 new prospects this month."
Chase Bodor from Plastics Plus Technology in California said, "What's the famous saying? If you don't know where you're going- you'll never get there. I think you can have success without goals. But, if you have a specific outcome in mind, you need to set goals and milestones. Doesn't have to be fancy or too complex."
FreightPOP said, "Goals allow you to break down your path to success and give you a blueprint of what you need to work on to get where you want to go. You can also have larger goals, with smaller "sub-goals" that help you get there. "
Kirsten Austin from DCSC Inc in Missouri said, "Goals both large and small provide a road-map and hold us to accountability."
She continued, "I have both personal and professional goals written down. It's wonderful to knock an accomplish off the list. It's good to see what's still "open"."
Long said, "Yes because they make the process of achieving success easier to manage and track. Goals can be used as benchmarks in situations where your success is achieved through many steps."
Host Stepanov said, "Yes. Goals are important to achieving success. They set your focus on what you truly want to achieve in life."
He continued, "Goals serve as your roadmap to success. They also help you measure and track your progress, and achieve even more. Every goal you achieve is an accomplishment."
Identifying and Tracking Goals
Participants were then asked to share how they identify goals and how they keep track of goals.
Crysler said, "I built a custom dashboard in Excel."
McDermith said, "SMART goals are a good place to start. But I ask my boss what his goals are for the company and then I build my plan using his goals. I set myself small goals along the way, but I am not always good at tracking them."
Meyer said, "For personal goals, I keep an old-school journal, with an old-school fountain pen. It's a nice departure from my nearly-completely-digital existence. For biz goals, we have a Google Sheet."
Austin said, "I have personal goals written down on a good old fashioned paper list at home. At work, I use a document that's shared with my team members. Lastly, I use a CRM System to keep me on task because I have ADHD and have to discipline myself."
Buglino said, "Align with the overall company KPIs, first, then set secondary targets. Revisit goals more than once a year. I typically look back at the end of each month. Start / Stop / Continue helps with the monthly audit."
Prox said, "Great question! A goal is an end-point of sorts, so to identify them, we have to first figure out where we want to land. Then we can set smaller goals along the pathway to reach the end point. What's going to get us from Point A to Point B?"
Gupta said, "What is more important is the recognition of goals than which tech or mode you are using to capture them. Try to figure out what's working for you and define the goal of 1.2x/2x with measurable activities on a daily/weekly basis."
Janice from Social Success Marketing said, "Break down it into smaller task -Keep a journal."
Long said, "My goals are divided into 'personal' and 'professional' and in both senses I have various colleagues, friends and family to help me keep accountable. I don't have a specific method to track them."
Bodor said, "I have a couple different types of goals I've been working on: 1- identity goals 2 - learning goals 3 - growth and dev goals I've been practicing starting with the end goal in mind. Break that goal over a timeline into smaller, achievable steps. Document It all."
Bigger said, "I look at where I want to be in a given timeframe and work backwards on the steps I need to get the tasks done to achieve the goal. Pretty simple really."
Host Stepanov said, "Ask yourself : What is it that you want?, What do you want to accomplish?, What is one thing you haven't done in life that will definitely change your life?"
He went on to say, "Goals should always be SMART. Specific, Measurable, Attainable, Realistic, and Time-Bound. You can also break them down into short-term goals. Then, use a dedicated app such as ClickUp, Weekdone, or Strides to track them. You can also write them in a notebook, or paste them into places where you can easily see them."
Short Term Goals v. Long Term Goals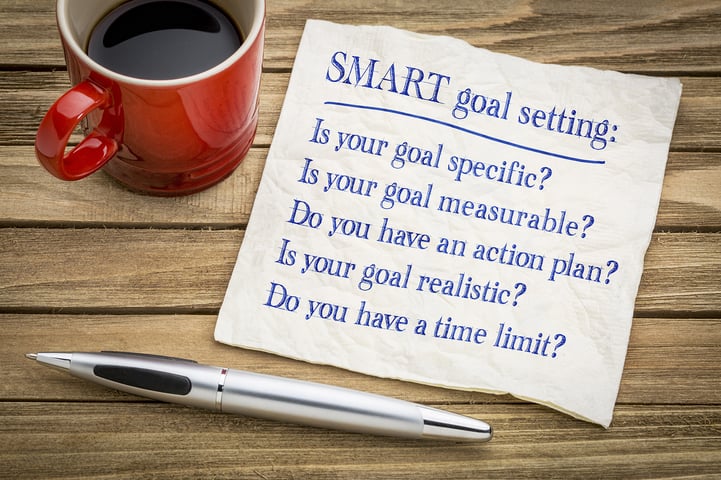 The discussion then turned to the difference between short-term goals and long-term goals. Participants shared their thoughts on the differences.
Crysler said, "I don't make a distinction. I take all goals and break them down into smaller milestones that way I feel like I'm making progress faster and it keeps the momentum."
Bodor said, "The difference between instant gratification and delayed gratification? Thought I'd throw a cheeky answer in there."
Buglino said, "How long you procrastinate?"
Prox said, "To me, "short term" is 6 months or less. "Long term" is anything over that."
Long said, "The complexity and scale of the goal. Short term goals should be completed in a relatively short space of time with relative ease. Long term goals are more complicated and might consist of many short term goals combined."
Meyer said, "Short-term goals should play into your long-term goals. You set your "rocks" first (the most important goals), and then the others flow in to either support the big ones or handle the other important stuff in your life."
Gupta said, "I am more of a finance guy. I take quarterly/yearly/monthly/weekly perspectives on goals. Not sure where to draw the line. But short and long could be subjective."
Bigger said, "Being systematic and honest with how long the anticipated goal will take to be achieved. Short term are steps to reach long term."
FreightPop said, "Short-term goals are the day-to-day/week-to-week goals that you can reach fairly quickly, while long-term goals are more big picture and are a sum of many completed short-term goals."
Erin Courtenay from Earthling Interactive in Wisconsin said, "Depends on how disciplined you are. If you are a goal setting rock star, your short term goals can almost be defined as "activities" or "tasks" to help you reach long term goals."
Packer said, "Your long term goals should be made up of changing short term goals. Each working to complete a different chapter of your story. My short term goals have changed every few months as I achieve them, each set contributing to the long term vision."
Rusine said, "In terms of projects I'd look at it this way: Long term: Eating an elephant. Short term: Eating a piece of the elephant one at a time."
Host, Stepanov said, "Duration is one difference. Short-term goals can be finished within 6 months to a year, while long-term goals take a longer time to accomplish. They could be accomplished after 3-5 years or even longer."
He added, "Examples of a Long-term goal include Increasing annual business revenue. Examples of Short-term goals include increasing lead sign-ups in the next 6 months, attending more conferences, or getting more referrals."
How Short Term Goals Affect Long Term Goals
Participants were then asked how their short-term goals may affect their long-term goals. They communicated their thoughts on the subject.
Prox said, "Short-term goals can lead you TO the long-term goal... or lead you AWAY from your long-term goal. It's important to connect them for small successes and large successes."
Meyer said, "If I don't achieve my short-term goals, I'm not gonna hit my long-term goals. You need to take it step by step."
Buglino said, "Hopefully short-term do not become long-term... You need short-term, small successes, to keep you motivated as you work towards long-term goals."
Cordill said, "Sometimes short-term goals are worthwhile alone. But often short-term goals can be steppingstones towards long term goals."
Gupta said, "Think of the short-term goals as the building blocks of a large building that you hope to construct this year. If you can't figure out how to lay that brick or make that cold call, most likely you will never be able to construct the building."
Long said, "My long term goals will still be achievable if I don't reach my short term goals. While success in the short term goals will reduce the time it will take to reach the long term goals, failure won't hinder the inevitable outcome."
FreightPOP said, "Short-term goals put you on track to achieve your long-term goals, so if you fall behind with your short-term goals, it can prevent you from achieving your long-term goals. You can always catch up, but it's better to not fall behind (easier said than done!)"
Bigger said, "In my humble opinion they are building blocks to long term."
Austin said, "I have to introduce this blog: https://www.dcsccorp.com/blog/how-to-get-er-done/
She added, "Sometimes to get large things accomplished, you must break it down into manageable tasks. Otherwise, you may not even start, or you'll give up too soon."
Host Stepanov said, "Your short-term goals are like baby steps you take before being able to leap. Setting attainable and realistic short-term goals allows you to stay motivated and focused on getting closer to reaching your main goals."
Separating Business Goals and Personal Goals
As the discussion ended, participants were asked if, when working with goal planning, should they separate business goals from personal goals? Participants shared their thoughts.
Gupta said, "This is a tricky one. I am all over the place on this one. Sometimes I track them separately and sometimes I mix them as you have one priority and you can focus on one task at a time, depending upon what's most critical."
Meyer said, "For me, it's important to have a mix of business and personal goals. Business success is technically on my personal goals, but I break my business goals down collaboratively across my entire team. We have KPIs and track scorecards on the biz side."
Bigger said, "Yes, they are 2 different lives that you are setting goals for."
Host Stepanov answered, "For us, yes, business and personal goals must be separated but should be aligned. This is because you have different steps to take on each and make your goal planning easier."
It's so important to set goals and structure a plan and a system that can help track progress for each set of goals. Formulating goals is the start of putting plans in motion. Setting effective goals is the key to achieving results in both business and in life.
***********
About #USAMfgHour
Anyone who champions U.S. manufacturing can join in on a new conversation each week on Twitter using the hashtag #USAMfgHour. The chat starts at 11 a.m. Pacific Standard Time/2 p.m. Eastern. Share positive blog posts, helpful articles, news, important information, accomplishments, events, and more with other manufacturers and supporters from throughout the country.
Are you interested in hosting a #USAMfgHour chat? Contact organizers @DanBiggerUsaMfg, @DCSCinc, @SocialSMktg and @Radwell_Intl