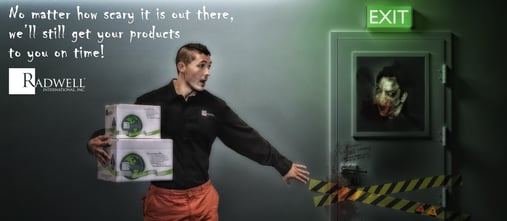 When marketing is at its best, creative people get together and create interesting, attention-grabbing content. Sometimes it's two people chatting. Sometimes it's a formal meeting of creative people. Regardless of who it is, inevitably it becomes interesting. As the thoughts flow from creative person to creative person, things tend to emerge that give flight to ideas and allow for expression in an unusual and sometimes powerful way. Other times it's just fun and makes us laugh as we develop concepts and throw around puns. And usually it's a little bit of everything mixed together. When it works, you definitely can feel it.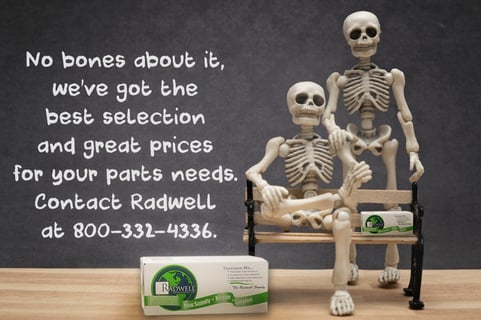 The other day, my co-worker, Ryan, and I were discussing creative content themed around Halloween. You might wonder what Halloween has to do with industrial automation. The answer is ABSOLUTELY NOTHING. That's the challenging and fun part of what we do. We need to humanize what looks dry and generally uninteresting on paper. If you are running a factory operation or managing a warehouse, what we do here at Radwell International is very relevant and quite interesting. But if you like pretty pictures on Instagram and don't know what a servo motor is, it might be a little trickier for us to grab your attention and show you who we are and what we do. That's where the zombies come into play. Yes, you read correctly. ZOMBIES. We wanted to do something really creative. Ryan is a videographer and I am a photographer so we tend to really get ahead of ourselves when it comes to concocting ideas for elaborate, and often way out of reach, photo shoots. We wanted to plan this enormous photo shoot centering around a Halloween theme and utilizing actual employees dressed up as zombies. We usually film or photograph actual employees in our regular marketing efforts but we don't usually put them in zombie attire with zombie make up on. That's the elaborate part. And slightly more elaborate than holding a Radwell box and looking positive and professional. It's interesting to direct fellow employees during a marketing video or photography session under regular circumstances. To direct them as zombies would be quite an undertaking and probably one that could not happen during working hours. Unfortunately, due to time constraints and lack of resources (zombie makeup, anyone?), we had to come back down to earth. So we moved on to plan B…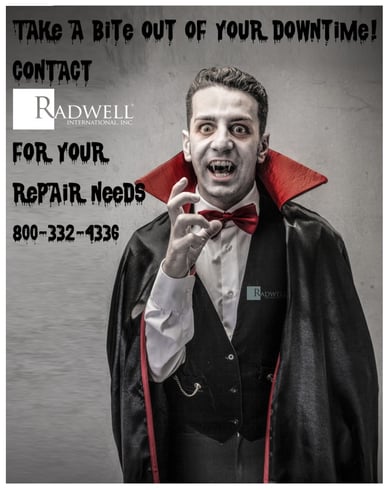 Plan B started with a bunch of goofy puns. Apparently Ryan and Andrew, the Marketing Manager, had too much sugar or caffeine at lunch the day we started this because the puns started flying. Puns are good. They make you laugh or make you think or make you groan because of how corny and bad they are. But usually if you have any sort of reaction to the puns, you remember them. Once the puns started and the laughter subsided, I decided that it might be a good idea to check into some stock photography to fit in with what I wanted to convey. As a photographer I like to think I can take every photo I need myself. The reality is, that's not possible. Sometimes you can't just grab the camera and go shoot a random photo of a zombie trying to enter a building. That's the reality. So I sat in front of my computer screen and started my stock photography search. For this campaign, I was the odd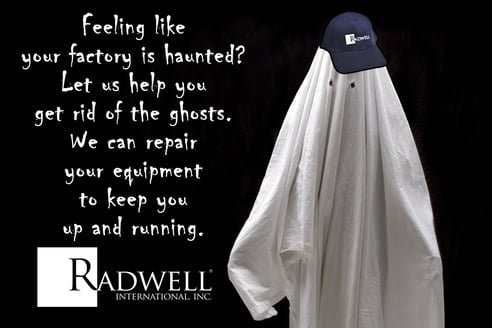 person creating stock photography searches that aren't what you might normally see. Searches like "Vampire holding a box (photo please)" or "Wolfman howling wearing clothing" are not things that NORMAL people enter into search engines. I mean, vampires aren't real. And then there's the basic premise that normal is incredibly overrated, which it is. But I digress…
Once I got past the slew of "vampires" that strongly resembled Edward Cullen from Twilight and his entire family, I was off and running. And I kept going. Thanks to those clever pun-masters in the marketing office, I had puns and clever "cute" phrases that would work for all kinds of Halloween-themed "creatures". I managed to get a vampire, a werewolf, a set of skeletons (sitting on a bench, of all things—so cute in a creepy kind of way), a Frankenstein look-alike, a ghost and a mummy all set up for our collection of Halloween-themed, call-to-actions centered around our products and services. My favorite themed piece actually did end up involving an actual employee holding an actual box. He is, however, trying to flee a zombie. We had to come back around to those zombies at some point. I think that one is my favorite.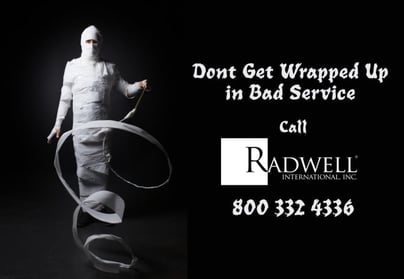 What we ended up with was a creative collection of fun Halloween memes that relate directly back to our products and services. They made us laugh, they were fun to put together and they got a few of us to brain storm for a little while. Mission accomplished!
Sometimes you know exactly what you want to do but in any department, many brains trumps one brain. Creative collaboration is an interesting process and one that I have grown accustomed to over a long period of time in my career. This particular afternoon of laughing about corny Halloween puns turned into one of our favorite sets of social media content so far. Now we're working on another creative, unusual, and slightly odd campaign for Thanksgiving with an autumn flair. There will probably be some unexpected creatures involved. That's becoming a theme for us. Then there's Christmas. The list goes on. Keep those puns coming.
- Julie Basello and Ryan Boring for Radwell International